Today, in Las Vegas, NV, Pubcon shared insights into the biggest hacks, coolest tricks, and hottest trends to help amp up my social media game. With Twitter dying to Taco Bell's Big Chapula on Snapchat and hacking karma points on Reddit, it may not surprise you to know: social media is changing, but we, as marketers, are getting smarter.
So, how are marketers adapting to the changes of social media? Read on for insights into the most important things I learned in social media today at Pubcon.
Session 1: Advanced Facebook Ad Techniques: How to Get the Biggest Bang for Your Buck
When I think of Facebook ads, I think of all the different strategies to implement for each different type of client I have. Today, Ashley Ward and Dennis Yu explained the types of Facebook ads you should use based on your business goals. Let's dive in!
Ashley Ward, CEO and Social Media Manager of Madhouse Matters, kicked off the session earlier today with some big tips in Facebook advertising, which include using conversion pixels to optimize ad costs, and some important advice on video ads.
But spending money on Facebook wasn't the primary focus, Ashley also shared advice on how to make money within Facebook Instant Articles.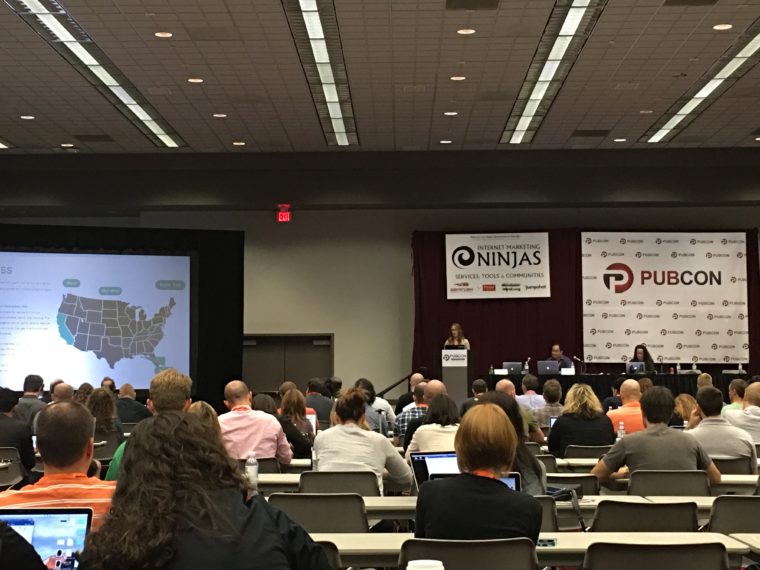 Below are a few key takeaways from Ashley's presentation:
When using carousel ads, create a story.
If you're using a claim offer, create a unique promo code specific for Facebook.
For video ads, check the box that users have to be connected to WiFi.
Bid for conversions after you set-up your ad to optimize ad costs.
To make money in Facebook Instant Articles, allow ads to be featured in your articles. To this, join the Audience Network.
The team at Overit put together this awesome sketch of Ashley's presentation:
"Use conversion pixels or die."@ashleymadhatter via @vizual_leader #Pubcon #SketchPubcon pic.twitter.com/JVWmgISJEs

— Overit (@overit) October 12, 2016
If you're interested in learning more, here are Ashley's slides:

Dennis Yu, Chief Technology Office of BlitzMetrics, shared the session with Ashley digging deeper into the more technical side of Facebook ads.
Here are a few highlights from Dennis's slides:
The campaign planner allows you to estimate reach and frequency.
Dynamic product ads are an extension of the carousel.
When you're targeting a small audience, force impressions with more ad content.
There is no limit of ads you can show on the right-hand side of Facebook.
Bookmark this page of Facebook marketing resources.
Want more advanced Facebook advertising tips? Follow Ashley and Dennis on Twitter.
Session 2: Twitter Advertising
Larry Kim, Founder, and CTO of WordStream, shared an in-depth overview of his personal favorite Twitter hacks. While Larry may come from the polar bear capital of the world and frolic in unicorn land, Larry is not blind to the dying breed of tweets, favorites, and DM's.
While yes, Twitter may be a dying social network; Larry has hacked, scraped, and automated Twitter tactics to grow is audience across various channels.
Let's dive into how to find Twitter unicorns with tips from Larry's session:
Higher engagement rate = lower cost per engagement.
Share 15 to 20 times per day to discover what type of content creates unicorns.
Your top 1-2% of your content is your unicorns. This is what you want to promote.
Don't use the handle Twitter advertising option.
Utilize the option to target keywords on Twitter.
Here's a snapshot of what people are talking about on Twitter:
@tombritton @lisabuyer @johnrampton @twitter this platform has yet to make even a dollar of profits

— Larry Kim (@larrykim) October 12, 2016

If you want to learn more about Larry's Twitter hacks, check out his slides:

Note: These are not the slides Larry used at Pubcon, but it shares similar hacks. 🙂
Want more from Larry? Follow him on Twitter.
Session 3: Marketing to Millennials: Snapchat – Reddit – Etal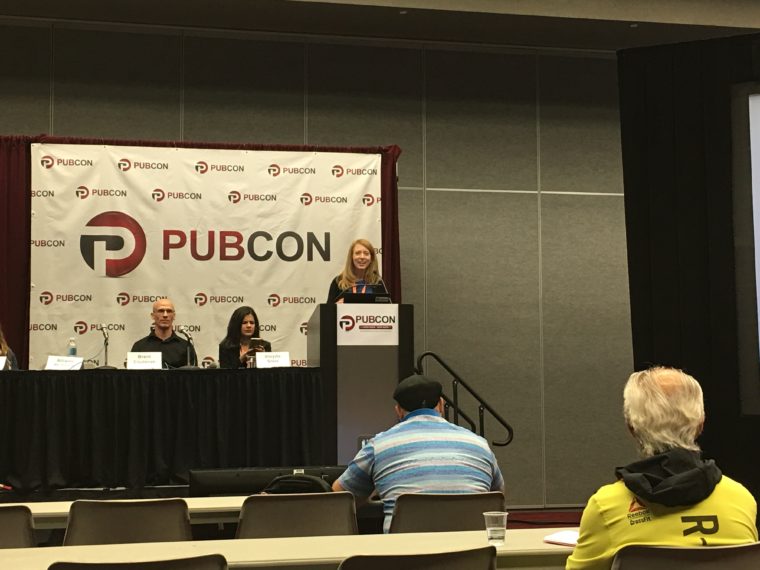 News alert! Marketing to millennials isn't all about following the big shiny new social network. It's about creating content that resonates with their beliefs, values, and lifestyle. Speakers Allison McGuire, Mana Ionescu, and our very own Managing Partner at SEJ, Brent Csutoras, promised to share their insights of success including pairing the right content with the right audience in their Pubcon session.
Big promises, I know. The shindig will fête social media beauties from Taco Bell, Paper Mart, and Reddit. Read below for tips and tricks.
Mana Ionescu, President of Lightspan Digital, tapped into examples of big brands using Snapchat in creative new ways to target millennials. From puppies, kittens, and coupons, Mana gives us everything we want to know about marketing your brand on Snapchat.
Let's take a look at some of the highlights:
Get listed on apps and directories like GhostCodes.
Sponsored Lenses start at 100,000 but bring a significant increase in traffic.
Geofilters average $5 per 20 square feet per hour.
Use sequencing when sharing your content to keep the ongoing engagement.
Check out her example of Taco Bell using Snapchat:
From @tacobell's Bacon Club Chalupa to @amazon's Snap Deal, @manamica talks marketing on Snapchat #pubcon 🌮 pic.twitter.com/45uYODHOzx

— SearchEngineJournal® (@sejournal) October 12, 2016
Ah, Reddit. I wouldn't call myself a connoisseur of Reddit hacks, but Brent Csutoras dropped some major knowledge down in his presentation. Think: ways to hack karma points, how to find subreddit traffic, and logarithmic voting algorithm (try to say that 3 times!).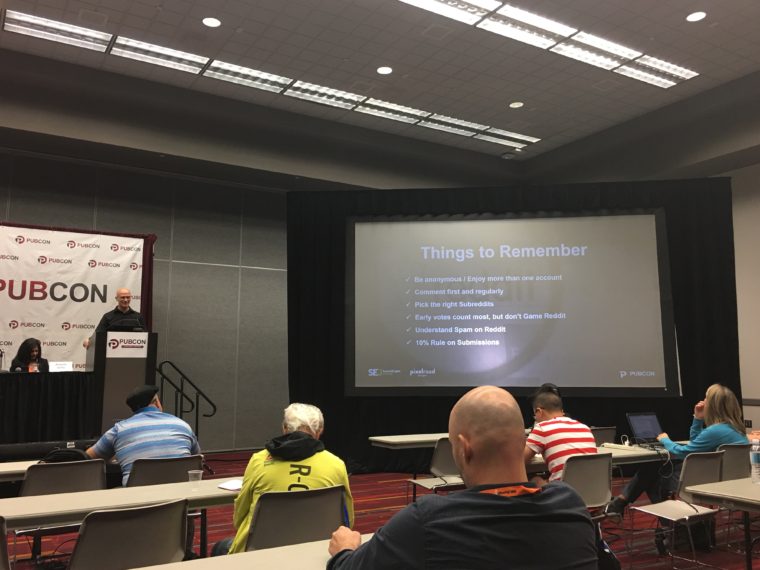 Here are few of my favorite tips from Brent:
Republish content on subreddits like Quoteporn to earn karma points fast.
Your first 10 upvotes will make or break your submission.
Follow the 9:1 rules; 1 out of every 10 submissions is your own content.
Scrape subreddit RSS feeds to find content to repurpose.
Here's what people are sharing on Twitter:
@brentcsutoras #pubcon2016 pic.twitter.com/u7hfS0RteZ

— KRONiS|Stamina Music (@KRONiS) October 12, 2016
Be sure to follow Allison McGuire, Mana Ionescu, and Brent Csutoras on Twitter!
Other Pubcon Day 2 Highlights
My personal favorite booth comes from the Human Rights Foundation and their Flash Drives for Freedom wall.
Probably the #pubcon stand with the best goal: https://t.co/omwpFllOIL – donate yours to bring information to North Korea 🙌👏 pic.twitter.com/5PWYMGYJAc

— Aleyda Solis (@aleyda) October 12, 2016
Our very own Executive Editor, Kelsey Jones, presented at the US Search Awards. And, of course, the team members from SEJ dominated the photo booth.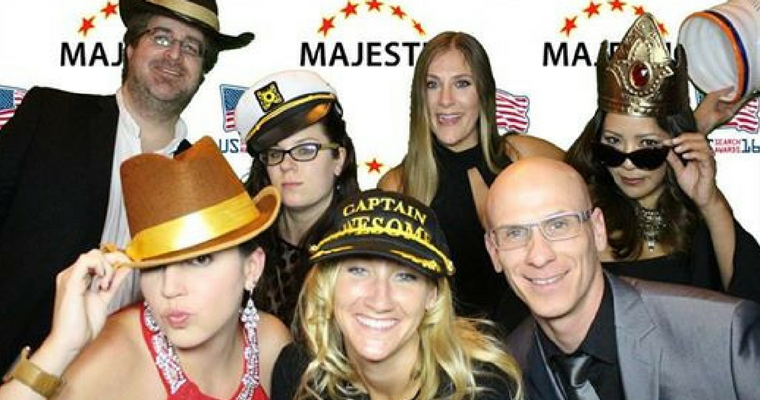 Photo booth at the US Search Awards was sponsored by Majestic.
Photos taken by author.