Pubcon-mania is in full force, and I'm certainly not mad about it. We live in a world where algorithms are now real-time, link building combines with PR; and we can even choose what pages we want Google to crawl. So, it makes perfect sense that leaders in SEO would cover these topics at the Las Vegas Convention Center for Pubcon.
And, just in case you missed our handouts, you can still download SEJ Pubcon Passport guide.
Session 1: Tech Issues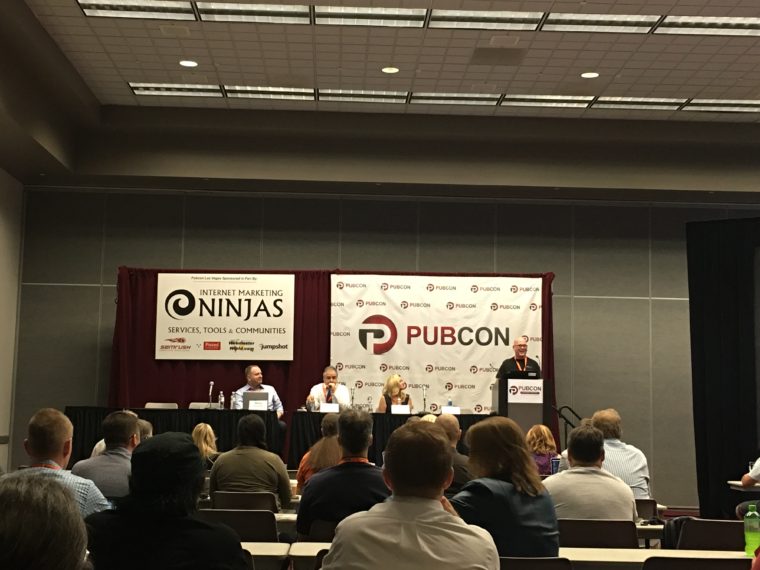 As an SEO, I enjoy the privilege of getting my hands wet in many different kinds of projects. But, I do fall victim to the discretion of developers from time-to-time. So, the first session I attended was Tech Issues with presenters Barry Adams, Michael Gray, and Dawn Anderson.
Barry Adams, a consultant at Polemic Digital, covered the importance of Google AMP pages going into some of the most technical aspects of implementing AMP pages. And, he quite possibly quoted my favorite statement of the conference, "Go AMP or go home."
As an SEO, I'm a promoter of all things mobile. But, due to the implementation requirements of Google AMP, I've seen some resistance amongst my clients. It was refreshing to see Adams mention he has seen similar feelings. Let's check out some highlights from his slides:
Google AMP pages are alternative versions of your web pages primarily built for speed and mobile.
Google's Validator won't validate unless your structure data is correct so we know exactly what type of content we're looking at.
Google AMP does not support JavaScript. You have to use the AMP version for fonts, video, iframes, etc.
Create a separate Google Analytics view for your AMP.
Here's what people on Twitter had to say:
Remember: AMP is all or nothing. @badams #pubcon

— SEOMike (@SEOMike) October 11, 2016
@badams calling it what it is: "Google AMP". AMP is leading us where Google wants us to go. G says "nonono, AMP is open source" #pubcon

— SEOMike (@SEOMike) October 11, 2016
In case you're interested in learning more from Barry on Google AMP, here are his slides:
Using Google to Hack Your Site #Pubcon
from
Barry Adams
Michael Gary, the president of Atlas Web Services, a discussion was jam-packed with wise words and strategies giving insight into some of the industries top tools for crawling your site.
Gray's two-minute sitemap trick drops knowledge on SEO newbies everywhere. It's about learning to follow all of the necessary steps to complete a kick-ass site audit that your clients will love and appreciate.
Here are a few of my favorite tips and tricks I learned from Gray:
Your sitemaps should be pinging search engines once a day or week. You need to know this number.
Make sure your sitemaps are listed in the robots.txt file.
You may never have 100% of your site indexed. If you're at 15%, it's a good sign.
Make sure to crawl your site every 3 to 4 months.
Website Auditor, Screaming Frog, and DeepCrawl are all great tools to audit your site.
Anderson shared insights into studies for Google's crawl behavior that was not for your average SEO noob. While Anderson's extensive list of accomplishments might make it seem like she spends her days behind research papers and old English castles, the reality is quite the contrary: Anderson is out and about constantly digging up new theories and busting myths on indexation and crawl budget.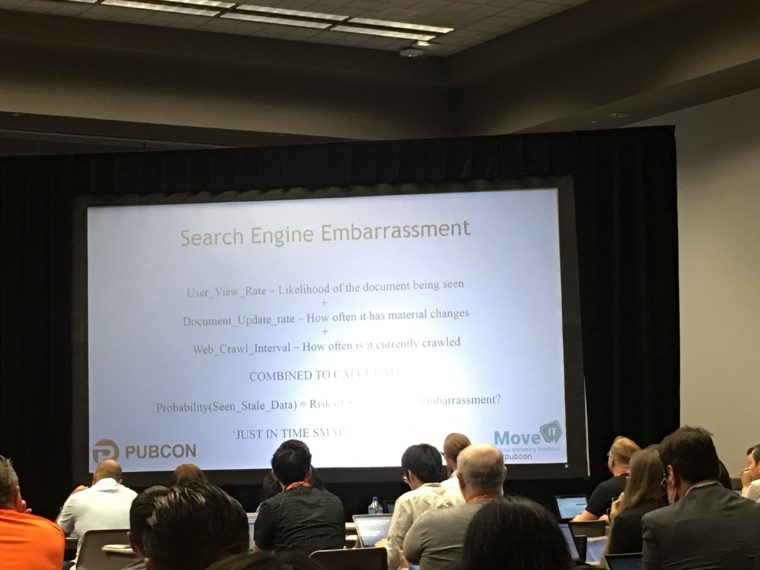 During this session, she gives us an inside peek into her discoveries, let's take a look:
Crawl budget is made up of 'host load' and 'URL scheduling.'
Crawl budget does not relate to your domain; it is handled on your IP.
Crawl stats in Google Search Console include all types of files (CSS, HTML, JavaScript, etc.)
Use Screaming Frog, Botify, or Splunk, to review your log server analysis.
Optimizing for readability can have a profound effect on the amount of time your site gets crawled and traffic.
Here's a look at what people are saying on Twitter:
@dawnieando awesome presentation! jam-packed with great nuggets. thank you! #pubcon

— Linda Caplinger (@lindacaplinger) October 11, 2016
Next year let's give @dawnieando a full hour slot at #Pubcon and make it mandatory for SEOs to attend. OK?

— Barry Adams (@badams) October 11, 2016
If you're interested in learning more from Dawn, check out her full slides below:

Want more insights on these tech issues? Follow Barry Adams, Michael Gray, and Dawn Anderson on Twitter.
Session 2: Link Building in 2016
Pubcon is rife with some of the coolest SEOs around, which is why I choose to sit in on my second session of the day at Pubcon with Dixon Jones and Loren Baker.
Their presentations on link building in 2016 nailed it for those link builders looking to do things differently with a little techie twist.
Dixon Jones, Marketing Director of Majestic, took a deep dive into building links based on your entity. He explains as Majestic changed their name from "Majestic SEO" to "Majestic" they started competing for Google's Knowledge Graph against "Majestic Wine." To win the placement, he began building links to his entity.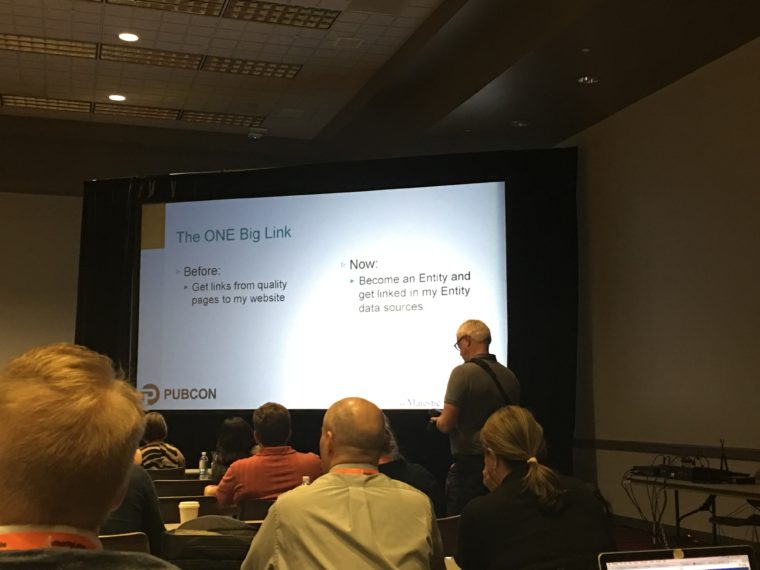 Below I highlight key tips:
Build links to your entity, not a page.
Become an entity and get linked to your entity data sources.
Wikipedia is an example of a data source.
Majestic won The Queen's Award for Enterprise Innovation; this is a data source.
Create schema to support links built to data sources.
Here's what people are saying on Twitter:
Be in the Google knowledge graph; it is the future of SEO. #Pubcon @ Las Vegas Convention Center https://t.co/pWZEQbPS8c

— Bill Slawski (@bill_slawski) October 11, 2016
If you want to know more about building links as an entity from Dixon Jones, check out his slides on Dropbox.
Loren Baker gave lots of link building tips. Since founding SEJ in 2003, Loren Baker has been busy growing (and revolutionizing) link building strategies for his clients with his company, Foundation Digital.
In this presentation, Baker discusses how he not only uses site audits as a tactic for link building but as investing in your brand equity.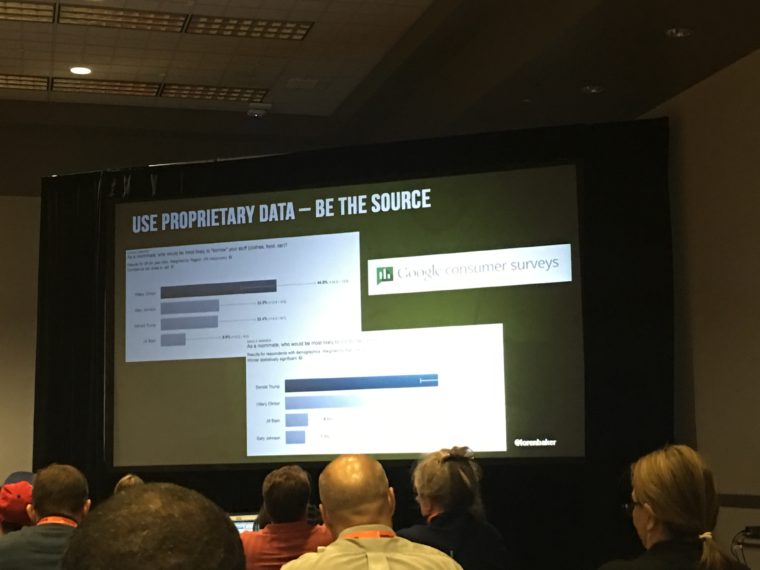 Let's take a look at a few highlights:
One of the best tools to acquire data, especially natural language data, is Google.
Answer The Public is the new keyword research tool.
Co-citation links are ideal because of the build brand equity and long-term relationships.
Consider hosting infographics in a nested area of your site.
If you're hosting a local event, pitch radio stations.
Return the favor of a link by offering the site that linked to you a site audit.
Here's what people are saying on Twitter:
Link building tip: Search Google News for 'infographics' for potential sources that may want to link to you ~ @lorenbaker #pubcon #seo pic.twitter.com/mRVV9tPnC0

— Katy Katz (@katykatztx) October 11, 2016
Great stuff from @lorenbaker right now at #pubcon. When you create content, make sure you get it in front of people on sites like @Visually

— Kyle Olson (@BecauseSEO) October 11, 2016
Google Consumer Surveys for proprietary data. 10 cents per complete for 1 question! @lorenbaker #pubcon https://t.co/A3W5PuWPkX

— Kevin Wagstaff (@ColoradoSEOguy) October 11, 2016

Still want more link building tactics? Follow Dixon Jones and Loren Baker on Twitter.
Session 3: Link Building Strategies That Move The Needle
Luckily, I was able to sneak a peek at Paul Madden's link building session. He went from 83,000 .info sites, affiliate marketing, to paid link acquisition paying 200 Bangladesh employees to build 2.7 million links in 7 months. Ultimately, he wore his black hat SEO badge with pride. He now runs Kerboo Data Intelligence which helps identify black hat SEO techniques and links.
Here are some highlights from his slides:
A lot of people stop building links for content once they hit a number the client is happy with, don't. Keep building links.
When working with a blogger, investigate their community. You want to know who they are engaging with regularly to ensure they have a real audience.
Anchor text is not dead.
And, you're going to have to ask Paul about his 301 redirect technique when buying sites in your niche. It's ah-mazing!
Be sure to follow Paul on Twitter for more link building tips!
Tomorrow's Pubcon Sessions
If you're at Pubcon, swing by SEJ team member, Brent Csutoras' session.
Marketing To Millenials
Brent Csutoras & Allison Mcguire
Wednesday, October 12th, 2:45 PM
Salon I
Say Hi to the SEJ Team!
If you're at Pubcon, say hello! The SEJ team will be in Booth #114. You can check out our past video interviews with Pubcon attendees. See you soon!
Photos taken by author.