SenSEO is a Firebug FireFox addon (this means you have to install FireBug to use it) checking important on-page-SEO criteria and calculating a grade of how good the current site fulfills these criteria.
The tool adds one extra tab to FireBug window which allows to inspect the current page.
The first thing to do is to identify a keyword (or a key phrase) to inspect the page against it. Just type in the search box and click "Inspect SEO Criteria."
The tool will run an analysis and return a generalized report where
A green color of the label means your page passed the test;
An orange color means there is a waning;
A red color indicates a failed test;
A grey color shows the element wasn't checked.
The tool checks the following page elements:
Title Tag
The general recommendations:
Use this tag only one time.
Title should include all keywords.
No more than 65 characters in it.
Title should not contain more than 15 words.
Meta Description
General recommendations:
Use this tag only one time.
Meta Description should include all keywords.
No more than than 150 characters.
Meta-Description should not contain more than 30 words.
Meta Keywords
Use this tag only one time.
Use only relevant keywords which can be found in the content.
No more than 10 keywords.
Keywords should be comma separated.
Headline Tags
General recommendations:
Use headlines to structure your content.
Use H1 only one time.
H1 should include all keywords.
Use H2 and H3 tags.
Page Content
Suggested recommendations:
Images should always have alternative texts.
Keyword density for visible content should be 5%-7%.
Keep the links to a reasonable number (fewer than 100).
Offer unique content on your page.
Make sure your code is semantic and valid.
Optimize page load time of your site.
Path
Recommended:
Try to keep the path short.
Don't use dynamic parameters.
Use hyphens instead of underscores to separate words.
Words in the path should be lowercase.
Path should not go deeper than 3 levels (I'd say this one is questionable).
I'd say there are few questionable recommendations but this is what the machine can do: for example, the tool won't be able to evaluate how "catchy" your title is but it will be able to identify how many keywords you used in it.
You can also click through to "Show components" tab to see the list of all SEO-relevant elements of the page: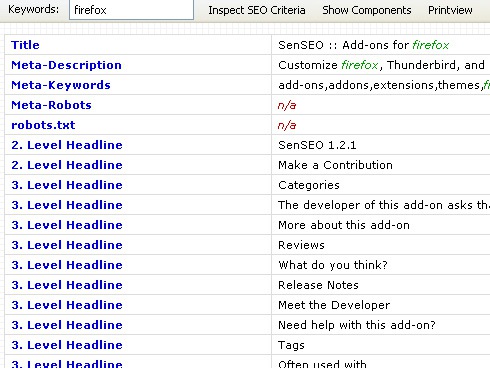 This is the best feature of the tool I think.
If you choose to give the tool a try, don't forget to share your thoughts in the comments!