I've been asked a few times what I think about NicheBot, so I decided to go ahead and review the tool.
The first thing that came to my mind was that the service clearly has some reputation management problems. A quick search in Google for the tool name returned the following:

This may be quite enough for some people to never give it the second chance. In reality, the thread is rather old and not exactly focuses on the tool itself.
NicheBOT is a (paid!) third-party keyword research tool that combines a number of popular keyword research tools and does it for a quite affordable price (min. $17.50 per month).
Let me share my first impressions with you:
Easier Keyword Phrases Generation
While tools like Wordtracker and Keyword Discovery generate the list of phrases for any base keyword, Nichebot does exactly the same for the list of words, the process is as follows:
1. Generate your initial keyword list via familiar tools like Wordtracker and Keyword discovery (for the latter I got "Cannot access KD, please contact the administrator")
Example: using Wordtracker we get a table containing keyword phrases and related data next to each one:
100-Day count (number of times search phrase appears in the database of WordTracker over the last 100 days);
Predicted daily count;
Keyword Effectiveness Index (effectiveness of a keyword in terms of search frequency and competition for the keyword. The higher the number, the more likely you can place for a top 10 position);
Ratio (this number is calculated by the ratio of comparing every one search to all competing websites (competition results). Exactly opposite to KEI, the closer this figure is to 0, the less competition and easier it is to secure a top 10 position);
Competition (number of competitors that have specifically optimized their web pages for this keyword in their title tags, etc., all from the data requested by your Google API Key).
2. Choose a few phrases from the initial list and use the "Deep-Digging" tools to uncover your complete keyword list. The best thing about this set of tools is that they allow for "bulk" research: copy paste the list of words and get the tool search for suggestions for each of them. A great time saver for those who need to research multiple words daily.
The process looks like this:
Place a list of related keywords (one per line) in the box below (up to 20 keywords at a time),
Select the search options (e.g. broad or exact match);
Select the language and territorial area to obtain those keywords;
Pick a project folder to place your results;
Choose how many levels deep to dig each keyword (this one is cool too: For each keyword phrase you paste into the box above, you can have NicheBOT do a redundant search many levels deep to acquire extra keywords. Moreover, the tool will filter duplicate results via its de-duplication process).
After the lists of phrases is generated and can be found in your basket, open any of them and get the necessary data (Google Competition or Wordtracker data). You can also sort the tables by any column; to find lowest competition for example: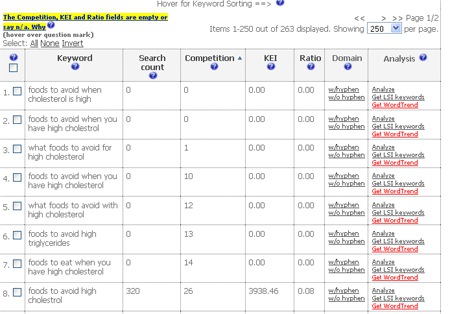 3. More tools available inside:
SEMRush competition research;
Page keyword extractor;
Keyword ranking checker;
Wordtracker collector (It allows to collect WordTracker search counts for a keyword list without having to conduct individual searches).
Easier Keyword Organization
Nichebot allows to create folders and save keyword phrases by groups – a great feature for better keyword categorization.
Besides, surprisingly the tool turned out to be really fast, so you can store the words online and categorize them there.
Things to Improve
1. Manuals
There are very detailed manuals and even instructional videos, but none of them presented some simple promotion-free step-by-step guide on how to use the tools.
All the PDFs I downloaded were very general describing the benefits of the keyword research and seemed to target beginners rather than experienced SEOs who are likely take advantage of the tool. Well, there is an exception of course, like this matrix (pdf) comparing the search engine the tool runs on.
2. The interface
The service seems to include plenty of useful tools but after the first login you seem to be overwhelmed: too many links, sections, question marks and explanations.
Take Raven SEO tools for example (which I reviewed earlier) – the service is also multi-feature but they managed to present all of them in such a clutter-free, clear way that the advantages are seen immediately after the first login.
The tool was reviewed under SEJ policy.