Google Analytics is receiving a significant update with 4 new features designed to improve marketing decisions and get better ROI.
The 4 key features available in the "new" Google Analytics are:
Smarter insights that use machine learning to identify trends.
Deeper integration with Google Ads.
Customer-centric data measurement.
More granular data controls.
In an announcement, Google cites a study which shows marketers currently find it difficult to get a complete view of customers and glean useful insights from their data.
Google's update to Analytics addresses that by providing marketers with the data they need to improve ROI and make long-term plans:
"To help you get better ROI from your marketing for the long term, we're creating a new, more intelligent Google Analytics that builds on the foundation of the App + Web property we introduced in beta last year.

It has machine learning at its core to automatically surface helpful insights and gives you a complete understanding of your customers across devices and platforms."
Here's more about each of the new features available in Google Analytics.
Smarter Insights
Google Analytics is now capable of alerting marketers to important data trends. This is made possible by utilizing Google's existing machine learning models.
As an example, Google Analytics can use website data to identify products rising in demand because of new customer needs.
These capabilities can help marketers be proactive, as well as reactive, by predicting future actions customers may take.
"For example, it calculates churn probability so you can more efficiently invest in retaining customers at a time when marketing budgets are under pressure."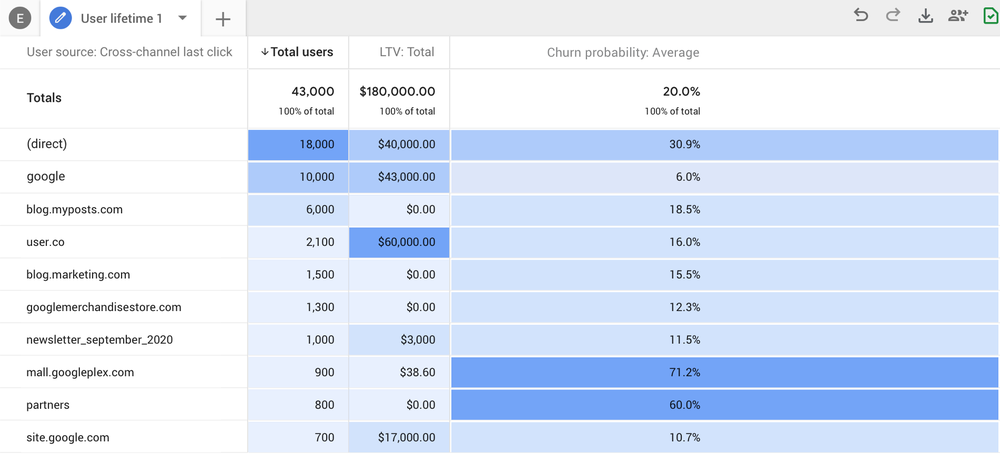 New predictive metrics will be added over time, such as estimating the potential revenue marketers can earn from a defined group of customers.
Marketers can then create custom audiences to reach higher value customer groups.
Deeper Google Ads Integration
The above example of creating custom audiences based on Google Analytics data is possible due to a deeper integration with Google Ads.
"With new integrations across Google's marketing products, it's easy to use what you learn to improve the ROI of your marketing.

A deeper integration with Google Ads, for example, lets you create audiences that can reach your customers with more relevant, helpful experiences, wherever they choose to engage with your business."
Google Analytics now measures interactions across the web and apps, which means it can report on conversions such as YouTube engaged views that occur in-app and on the web.

Marketers now have a more holistic view of their results with the ability to see conversions from YouTube video views, Google and non-Google paid channels, Google Search, social media, and email.
Customer-Centric Data
Google Analytics has evolved from measurement fragmented by device or platform to customer-centric measurement.
Again, this change is designed to give marketers a more complete view of how customers interact with a business.
Google Analytics customer-centric measurement uses multiple identity spaces, including marketer-provided User IDs and unique Google signals from users opted into ads personalization.
Now marketers can, for example, see if customers first discovered a business from an ad on the web and later completed a purchase on the business's app.
Over the long-term, marketers can gain a better understanding of the entire customer lifecycle – from acquisition to conversion and retention.
"Based on your feedback, we simplified and re-organized reporting so you can intuitively find marketing insights based on the part of the customer journey you're interested in.

For example, you can see what channels are driving new customers in the user acquisition report, then use the engagement and retention reports to understand the actions these customers take, and whether they stick around, after converting."
New Approach to Data Controls
Google Analytics now offers more granular data controls that marketers can use to manage how data is collected and retained.
These controls can also be used to specify how data should be used for advertising.
Marketers can choose when to use customer data to optimize ads, and when to limit data use to measurement only.
Google notes these options can help marketers adapt to a potential future with limited cookies or identifiers.
"It uses a flexible approach to measurement, and in the future, will include modeling to fill in the gaps where the data may be incomplete.

This means that you can rely on Google Analytics to help you measure your marketing results and meet customer needs now as you navigate the recovery and as you face uncertainty in the future."
How to Use These New Features
What Google calls the "new" Analytics is now the default experience for new properties. The company will no longer be investing in the old version of GA.
In order to stay up-to-date with future improvements to GA, Google advises creating a new 'Google Analytics 4' property (previously called an App + Web property) alongside your existing properties.
You can learn more about how to do that in Google's help guide here.
Source: blog.google