Marketo, an industry leader in marketing automation software and customer engagement solutions, has recently added SEO tools to their lineup.
To learn first-hand about their new offerings I recently attended Marketo's Marketing Nation Summit, and talked with Mike Berger, Director of Product Marketing at Marketo, about the company's new line of SEO tools and whether or not they can contend with competitive tools in the marketplace.
Mike ran down the benefits of Marketo's new tools and explained how they can help marketers strengthen their SEO strategy and improve visibility.
To find out more watch the full interview below:
These are the key takeaways from the video:
In the interview, I learned that Marketo's SEO tools are accessible to current users of the Marketo platform via a simple login to the My Marketo page. It is currently a standalone tool with more integration expected in future versions.
The SEO tools are designed primarily for use by B2B and B2C marketers, and lets them enter their keywords and competitors which to track their progress and make changes as necessary.
Marketo's tools can also help with on-page and off-page optimization by analyzing the elements on your site to ensure you are helping search engines find your site and your content.
Secondly, the tools help you analyze your keywords to make sure that you are using appropriate terms to drive the right traffic to your page and improve your overall SEO. They will also look at the keywords your competitors are using and suggest terms that are working for them so that you can be proactive and more competitive.
From an off-page perspective, Marketo's tools will analyze the inbound links to your site and your competitors' sites and suggest links you may want to go after, according to the keywords you're targeting. The tools will show you links pointing to your competitors' sites that are not pointing to your site, which gives you the opportunity to be proactive by reaching out and trying to build similar backlinks.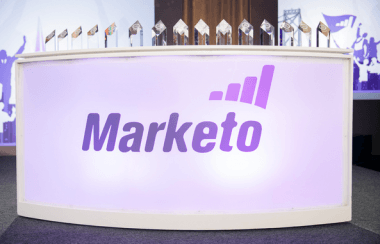 Marketo Rolling Up on the Competition
If you already use Marketo, you now have a very capable set of new SEO tools to add to your marketing mix. If you're in the market for an integrated, all-in-one solution, Marketo has a bit of catching up to do before they can be truly competitive with other offerings.
But Marketo's SEO tools do offer features their competitors don't. For example, HubSpot's set of SEO tools does not diagnose and make suggestions about your off-page optimization, it only includes on-page optimization features.
Looking forward to Marketo's future releases, which they plan to have even better integration with the rest of their platform.
Please visit SEJ's YouTube page for more video interviews.