Two months ago, the internet blew up over Google AMP (Accelerated Mobile Pages). And, just when you thought you passed the Structured Data Testing tool and implemented your AMP HTML file extensions perfectly, you realize your AMP pages are not showing up in the search results.
Are you asking: Where are my AMP pages in the search results? Does AMP happen in real-time? Or, does it take a few hours for Google to index your AMP pages?
Well, take comfort in knowing you are not alone. Yep, the SEJ team is right there with you.
In true early adopter fashion, SEJ launched our AMP pages on March 29. Since the launch, we have seen traffic to our AMP pages spike from 50 to 700 sessions. High-fives all around!

As you can see below in our breakdown of AMP traffic, the majority of our traffic is coming from play.google.com/newsstand.

However, when we search in the search results, our AMP pages are nowhere to be found. Sound familiar? Others are having the same issue.
So, it's no wonder that only 25% of SEO professionals have taken steps to implement AMP. And, while there may be more legwork involved in creating AMP pages, Google has created a new problem: With countless hours spent, it's hard to know when and where your AMP pages exist in the SERPs.
To help you cut through the noise, we're going to share our experience here at SEJ. But, first, let's give you some insight on how we assembled our AMP pages at SEJ.
Implementing AMP
For implementing AMP, Vahan Petrosyan, our lead developer here at SEJ, used the following plugins:
But, you will likely need a little more than a plugin if you want to implement AMP. Here is what Vahan had to say about using plugins alone:
"Simple installation of plugins gives only standard and limited functionality of customizing posts. I did custom development using that plugins actions hooks and modified standard look for our AMP pages. We modified styles, added slide menu from right using pure CSS3 techniques, sticky share buttons,and modified Google Analytics default tracking code in order to include custom dimensions and event tracking such as share buttons, menu items clicks,etc."
Here are screenshots of the sleek reading experience on mobile: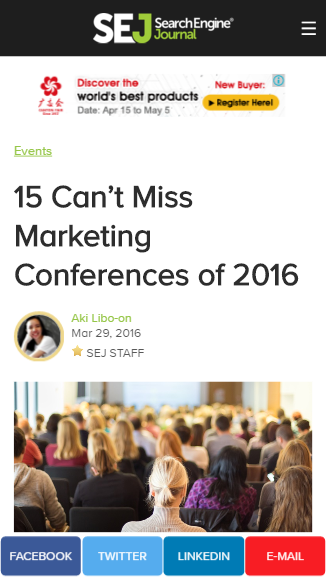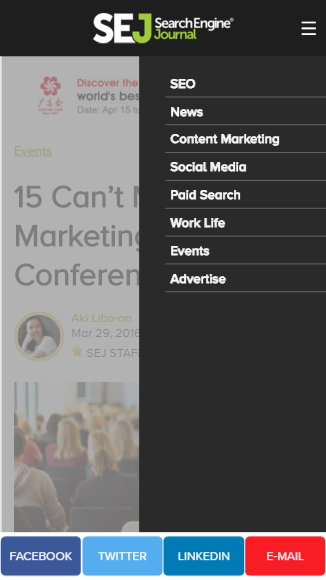 We're excited about the new look and interested to see how it affects traffic.
Where are My Google AMP Pages?
Restructuring your mobile website to cater to Google's new features is just part of the job description when you launch a website, right? But as we've come to learn, the theory "build it and they come" isn't so true. Based on our experience at SEJ, Google AMP pages are not real-time. Since we launched our AMP pages on March 29, 2016, we have not seen them in the search results even though we're getting traffic to our site from AMP pages. We noticed an uptick in traffic 9 days after launched our AMP pages. So, essentially it took Google 9 days to index our AMP pages.
The SEJ team reached out to Gary Illyes to confirm this. Gary stated in a recent interview with SEJ,
"In general the same applies on AMP results as on normal web results: we have to crawl and index the page in order to show a result for it. Depending on the site this can take from a few minutes to days, but most of the time it's pretty fast."
One theory: While Google's AMP pages are being praised as the fairy godmother to all the small businesses in Internet land, you may not see an immediate boost if you're not first to implement. I'm noticing a large amount of the bigger publishers (mainly brands that partnered with Google in their beta testing) for AMP seemingly get first dibs in the Google search results carousel.
Now, with Google News featuring up to 14 pieces of AMP content from publishers that have already launched their AMP pages, it's going to continue to be a race to see who gets their first. This could potentially hurt smaller businesses.
Another theory: Google will only display news articles. These news articles will only show up in the AMP carousel if Google views content as recent news for the topic you're searching for. The AMP carousel is a Top Stories carousel so perhaps your news articles are newsworthy enough for the carousel. Google will only display Article, NewsArticle, and BlogPosting schema types into the carousel at this time.
If you double checked your schema, head over to the Webmaster Central Forums and/or the AMP Error Reports in Search Console. You can also look at the new AMP filter in the Search Console.
When the SEJ team asked Gary Illyes why we're not seeing AMP pages expand faster outside of news sites, he responded,
"The format itself is open to anyone who'd like to speed up their sites, it's not limited to only one kind of site. Currently, we're testing AMP results with a limited set of publishers, but we're exploring ways to show AMP results from more sites."
Also, Google does not guarantee your articles will show in the AMP carousel. It depends on the searcher's search query and Google's algorithms of whether or not they display your content, even if you've passed the data structuring test and validated your AMP pages.
We also asked Gary Illyes why AMP users are able to get traffic to their site via AMP pages but still not see their AMP pages in the SERPs, Gary stated,
"AMP pages, just like normal webpages, can be accessed in many ways: from bookmarks, from search results, directly from the browser, an so on. If I know that a site is AMP enabled, I will very likely stick the "/amp" to the end of the URLs on the site, and so the publisher will likely see a direct visit in their tracking software. This is not necessarily what's happening to SEJ, but that's my best guess."
What's Next for AMP?
For publishers, we simply wait. AMP pages are newbies to the SEO game. They are still trying to figure out where and how they fit into this crowded space. As Google continues to adapt and evolve their algorithm, the time and money invested will be worth it.
Image Sources:
Featured Image: Georgejmclittle/Shutterstock.com
Screenshots by Vahan Petrosyan. Taken April 2016.