For a while now, search marketers have been struggling to find out which Rich Snippets and AMP results their sites are ranking for, as well as how much traffic and the CTR those results are providing. As of today, Google has rolled out a new feature in their Search Console, called Search Appearance, that will provide webmasters with exactly that data.
From Google:
We've just started rolling out a change in Search Console's Search Analytics feature that lets you drill down to look at how your AMP pages are doing in Search. With this, you can filter for AMP results ("which queries lead to my AMP pages being shown?"), compare how their metrics stack against other search results links, or see how the visibility of your site's AMP pages has evolved over time. It's visible for all sites that show AMP pages in Search.
Once you have logged into Search Console and selected the website you want to review, open up the Search Traffic menu and select Search Analytics.

From here you will notice a new option called Search Appearance, which when selected, will show you Analytics on the type of search result that was shown, such as regular Search Result Links and AMP, with more filters to come in the near future.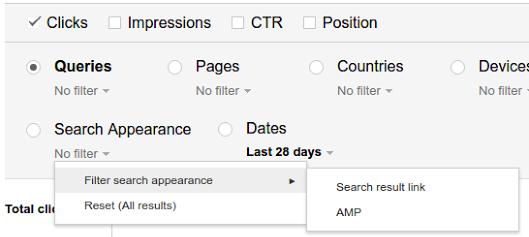 What is really exciting and powerful, is you can now actually see what Queries are providing you these types of results as well.
Select the Query view and then set your Search Appearance and Date filters, without selecting the view radio button.
Search Queries With AMP Results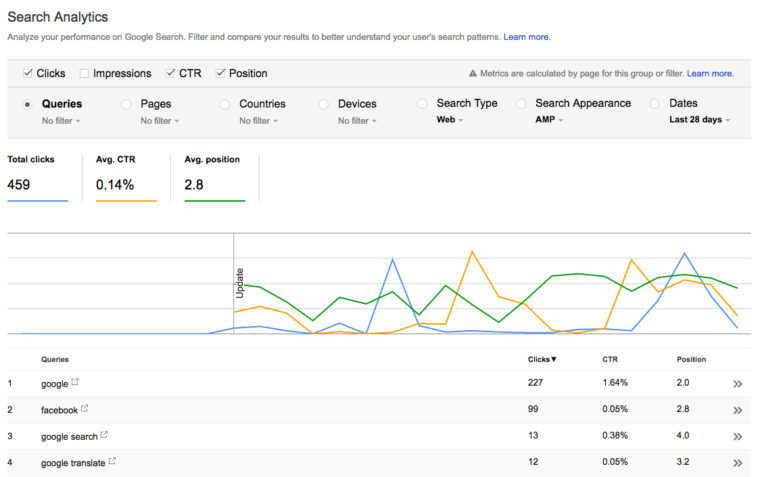 We would love to hear your thoughts on this new feature; Do you like it? How do you plan to use it?
All images screenshot by author