Branded traffic is imperative to the success of international SEO and SEM campaigns.
However, only a few SEOs fully understand what drives the growth or decline of branded search traffic.
Here is a recap of a presentation made by Josh Braaten, CEO of Brandish Insights, who recently discussed today's most overlooked measurement strategies to boosting international branded search marketing performance at the International Search Summit in Boston.
When Branded Traffic Starts to Decline
If you had to do SEO or PPC for one of these brands, would you rather work on: Louis Vuitton or Tiffany & Co.?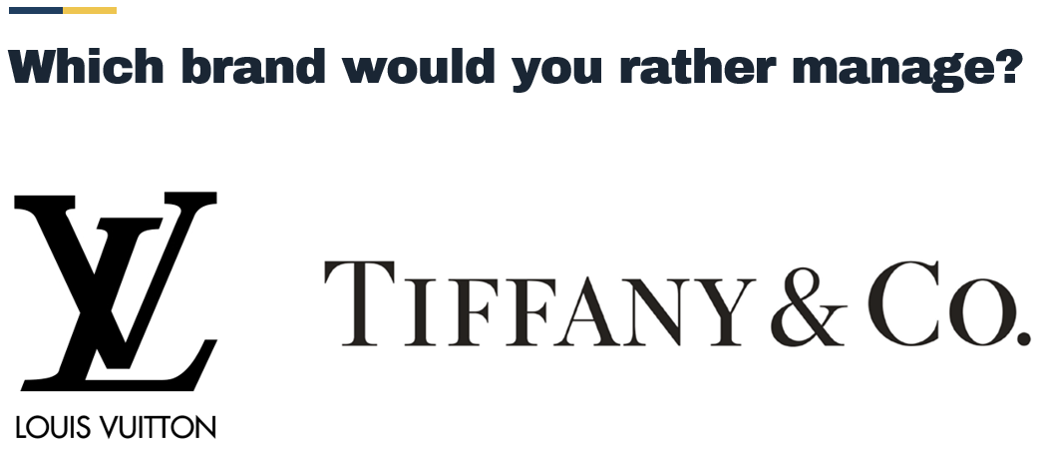 Let's look at the search trends in the U.S. for both of these brands.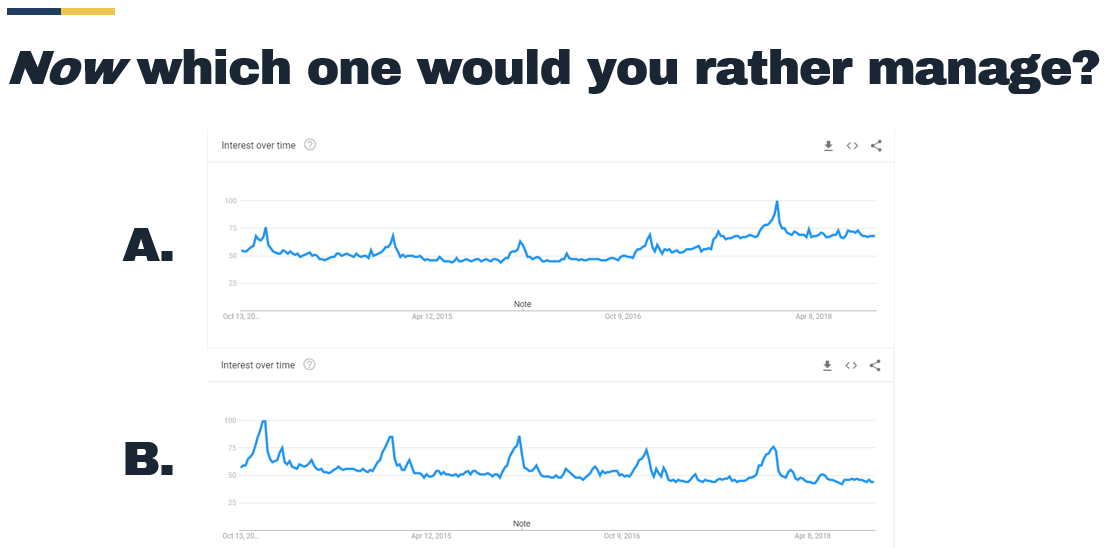 Louis Vuitton is company A, with a $144 billion market cap and about 16 percent of it is estimated to be just purely brand.
On the other hand, Tiffany & Co. has a $15 billion market cap. Over a third of that is affiliated to their brand.
And yet their branded traffic is on the decline.
This is a huge issue.
When branded search impressions decline, it's one of the most tragic things that can happen to a search marketer.
There's no amount of non-branded search that you can go after once your brand declines a certain amount because that converts the best.
Once you lose it, it's gone and you might end up essentially missing your marketing plan.
What's Driving These Trends?
So, what's driving Tiffany & Co.'s trend?
In an MSN article, "22 Iconic Brands That Could Disappear in 2018," columnist Donna Freedman cites Cheatsheet:
"The idea has long been that [U.S.] men should surprise the women in their lives with those little blue boxes of bling. That may have worked for the baby boomers, but the jewelry market is increasingly made up of women who buy their own baubles."
There's nothing that this company is doing wrong.
It's a cultural trend in the United States where more U.S. women are buying their own jewelry at places like Kendra Scott and Alex and Ani versus going there as a shopping event with a significant other at Kay, Jared, Zales, or even Tiffany & Co.
Even if your brand has an amazingly solid and steady reputation today, the cultural winds that blow in different regions of the world can make or break a company.
The Importance of Measuring Branded Search
Branded search terms provide the best ROI for most businesses.
With this in mind, it is important to invest in measuring branded search.
For search marketers, being able to understand how brand measurement works is paramount.
If you work for an international client, measuring your brand can help you:
Diagnose differences in global performance.
Determine optimal budget allocations.
Develop region-specific content strategies.
Overcome cultural barriers to growth.
Grow a worldwide market leading brand.
Current Options for Brand Measurement
Today's search tools are able to report what happens to our branded terms and social tools for social listening, social monitoring, sentiment, brand mentions, and the like.
Also, major platforms (e.g., YouTube, Facebook, Spotify) offer brand lift solutions.
All these options for a brand lift are usually a control-and-expose type of experiment where you compare the people who saw the ad versus the people who didn't and then you look at the lift in there.
In essence, these are people who saw the ad and how many people saw one ad versus all of the other brand touch points.
In a world where (consumers) are trying to get away from advertising, these brand lift studies – while helpful for advertisers – aren't necessarily a true measure of a brand.
In order to truly measure your brand, you have to look at the broadest stance possible and what a potential market is. This can be done through market research.
Brand Measurement Methodology
Measuring your brand is really about measuring your consumers.
But first, there are a few elements search marketers should look for:
Statistically accurate metrics: We don't want anecdotes.
A representative panel: You have to ask, "Who are the people representative of my target market?"
Here are the five steps of the brand measurement process:
Survey platform selection: Survey platforms vary in their accuracy, pricing plans, and analysis capabilities. Google Surveys, SurveyMonkey Audience, and Pollfish represent good options for search marketers.
Panel and study creation: Parameters are defined for respondent panel composition, desired levels of statistical confidence/margin of error, and brand measurement questions.
Research commences: During the survey collection period, respondents are recruited via apps (e.g., Google Opinion Rewards), survey-gated content, or programmatic advertising.
Brand metrics and analysis: Once the study is completed, a thorough analysis of the data occurs via human and (increasingly) machine.
Results and recommendations: Brand metrics should be refreshed quarterly, biannually, or annually (depending on the brand's growth rate) and should accompany existing company goal-setting processes.
Search marketers should also understand eight key terms related to the brand measurement process:
Brand awareness: Measures the portion of a market that can identify a brand either when prompted with a list of brands (aided awareness or recognition) or unprompted but provided a category (unaided awareness or recall). Example: When it comes to <category>, what brands come to mind?
Brand frequency: Measures how often respondents self-identify hearing about a brand in recent memory across all forms of media. Example: In the last year, how often have you heard about <brand>?
Brand familiarity: Measures the levels of self-reported familiarity a respondent has with a brand. Example: How familiar are you with <brand>?
Brand favorability: Measures the portion of a market that would recommend a brand to another individual with a consumer net promoter score (NPS) methodology. Example: How likely is it that you would recommend <brand> to a friend or colleague?
Brand emotions: Measures the portion of a market with positive, negative, and neutral affiliations toward a brand based on sentiment analysis of their opinions about the brand. Example: How does <brand> make you feel?
Purchase consideration: Measures how consumers weight different factors in their minds while planning a purchase. Example: Which factors are important when considering <product category>?
Brand preference: Measures the relative preference among respondents between a list of given brands in a product category. Example: Which <product category> company do you prefer?
Brand demand: Measures the portion of a market who is a current or recent customer of a given brand. Example: When was the last time you purchased from <brand>?
So why do these concepts matter?
If awareness is high, but familiarity is low, you need to double your frequency.
If awareness is high and favorability is low, then you should pull back on advertising and fix your product before you waste more money on advertising.
Understanding how these different metrics can guide your branding efforts is important, and it becomes even more important at an international level.
Here are a couple of case studies from global brands.
International Example: Trust
Which of these automobile brands is trustworthy?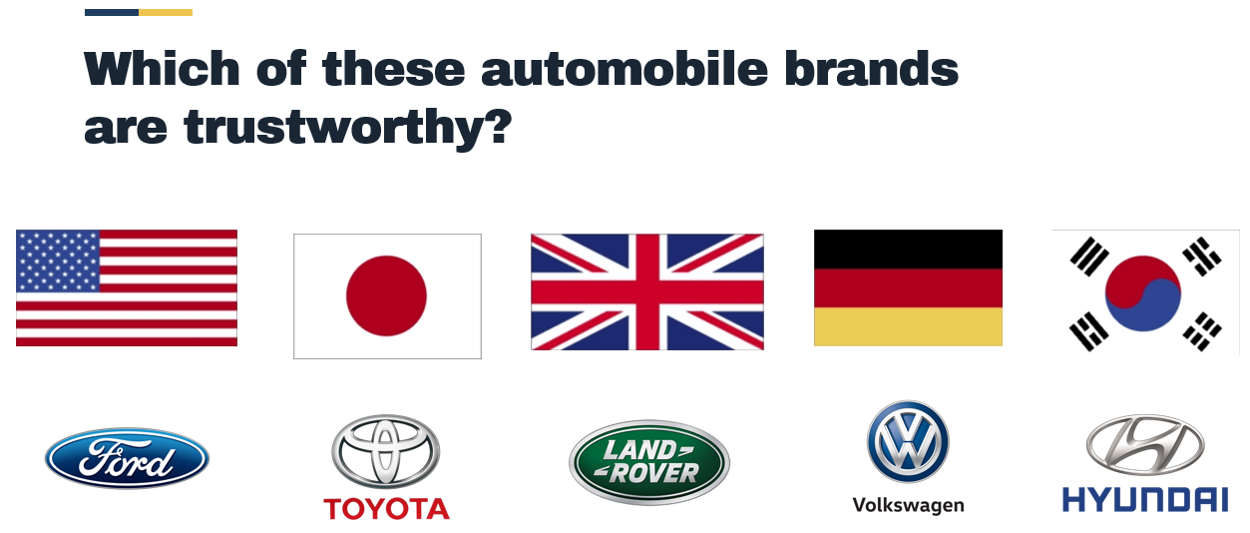 Every manufacturer scored the highest for trust in their country of origin. That makes sense.
Every country, except the United States, trusted its own manufacturer above other manufacturers.
In the United States, Toyota is loved over Ford, but that is like the only exception.
And trust varies wildly in some cases for brands.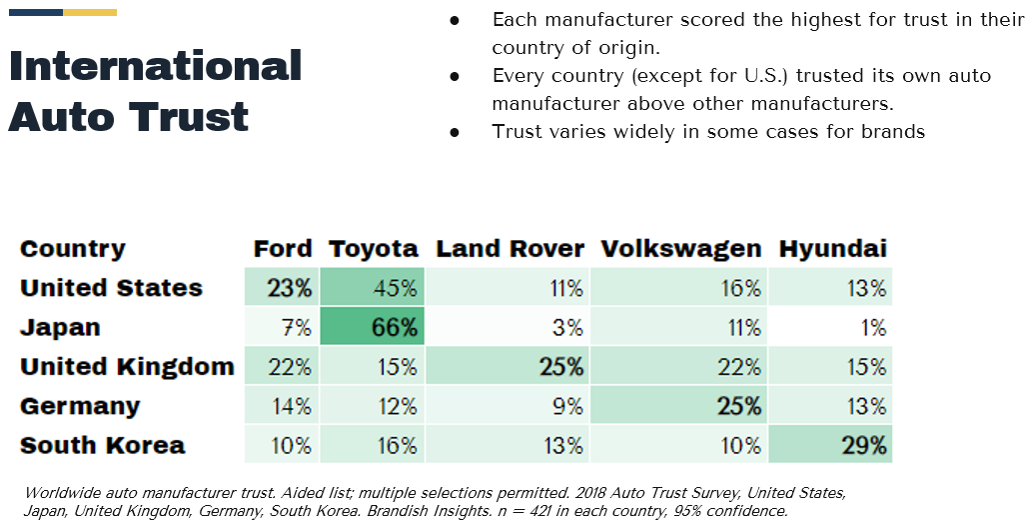 If you're Ford, would you put more money into the UK or would you put it into Japan to try to sell more Fords?
The more sensible option would be to put it into the UK because there is a much higher level of trust for that auto manufacturer and so conversion rates are going to be naturally higher.
If you have higher trust, you're going to have higher conversion rates.
For countries, like Japan, where there's very little trust in the brand, running a familiarity-type campaign is a better option.
International Example: Consideration
Braaten, who ran a site for a forest conservation group in the U.S. and Canada, found out that Americans are less likely to shop with forest conservation in mind as opposed to Canadians.
Consumers in Canada are learning to shop responsibly and are actively looking for conservation certification logos to know which brands they should trust.
This isn't the case in the U.S.
So, if you're a conservation group, you should implement different brand strategies for the U.S. and Canada.
Try to convince people in the U.S. that conservation matters.
Show people in Canada how they can be an effective consumer that values conservation.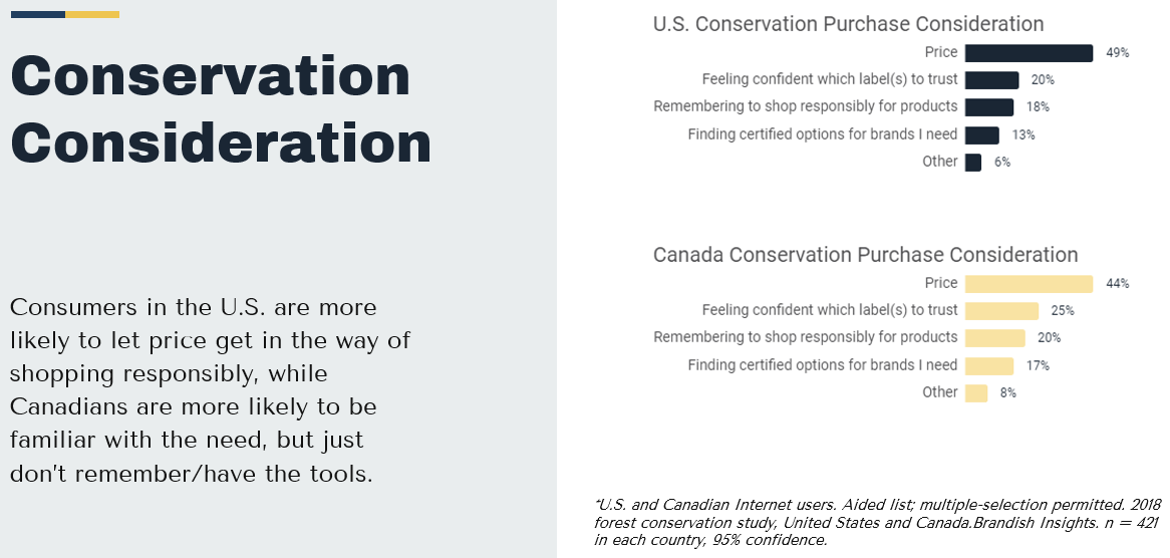 Ultimately, this case study shows the importance of brand measurement at an international level.
If we don't know how to measure the differences between how a consumer sees brands in each country, we run the risk of running the same branding strategy in each of these locations.
International Brand Recommendations
Once you figure out what the issues and opportunities are with a brand, it can help impact (brand and revenue) numbers.
International search marketers should be:
Strategic about regionalization.
Mindful about the country of origin.
Aware of the social issues and norms.
Start measuring your brand metrics so you know which areas to improve.
More Resources:
---
Image Credits
All screenshots taken by author, December 2018