Have you ever heard about microformats? If you still need someone to clearly explain what it is about, check out Joe Hall's post on development trends that will impact SEO.
Microformats look for a new way to format markup languages. Essentially, they offer a new standard for identifying important information.
There's one really nice FireFox addon that uses Microformats to analyze the page content: "Operator" is an extension for Firefox that adds the ability to interact with semantic data on web pages, including microformats, RDFa and eRDF. It can turn really useful for spotting the essential microformats used on the page.
Once you install it, you'll be able to see the toolbar that can be toggled using View > Toolbars > Operator Toolbar. (Useful tip: To make the tool hassle-free, find the checkbox in Options that causes the toolbar to auto-hide when there is no data on the page).
The toolbar breaks data found on a page into the following sections:
Contacts;
Events;
Locations;
Tagspaces;
Bookmarks;
Resources.
Here are a few examples of what each section stands for:
1. Try visiting your Twitter profile page. The tool will extract your contacts: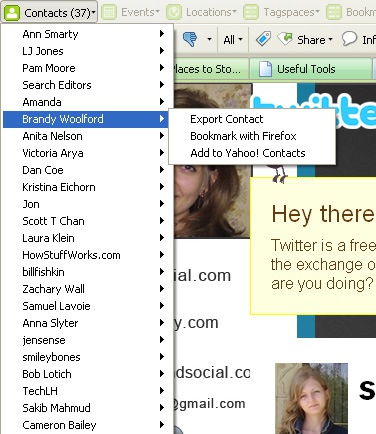 2. Now, go to Delicious home page and watch the tool extract all tags (you can search each tag on Flickr, Delicious, Technorati, etc):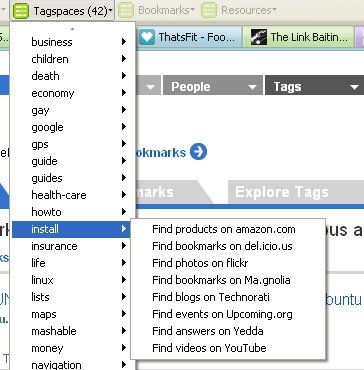 The tool offers a few really cool features:
Its "Highlight" feature allows you to find the tag by choosing it in the drop-down;
The operator can be accessed via the status bar icon (the button can be added via the Operator options dialog. Check the box that says "Display icon in status bar") or the toolbar bar icon (The Operator toolbar button can be added to your Firefox toolbar by selecting View > Toolbars > Customize).
You can add or delete data formats to be displayed. In the Operator options panel, there is a Data Formats tab. This tab has a listbox that contains all the data formats that will be displayed. You can use the New button to add data formats and the delete button to remove them. You can also change the order in which the data formats are displayed.
You can also add or remove actions taken for each data format. In the Operator options panel, there is an Actions tab. This tab has a listbox that contains all the actions that will be displayed. You can check or uncheck the checkbox to determine what actions are displayed in the Operator menus.
You can also install user scripts to add optional functionality.
The tool was reviewed under SEJ policy.