By now, most business owners and marketers know how important it is to have a Facebook business page.
Facebook is a platform that provides an easy way for you and your customers and prospects to interact with each other. It's also a fantastic place to:
Alert people about sales and coupons.
Announce new products or services.
Highlight your lesser-known products.
Share photos of your company's community involvement in events such as 5K runs.
But even if you're sharing the right variety of content on your business Facebook page and responding to customer messages and comments in a timely manner, you're still not reaping all the benefits of your page if you don't also take advantage of Facebook Page Insights.
This post will explain everything Facebook Page Insights can tell you and how you can use that information. This is a 2-part post where both Facebook Insights in part 1 and Facebook Analytics will be discussed in part 2.
Getting Started with Facebook Page Insights
Once your business Facebook page has more than 30 fans, it's easy to access your analytics.
Just go to your page and look at the top – you'll find "Insights" between Notifications and Posts.
Click that, and the Insights dashboard pops up, offering several types of information at a glance: Actions on Page, Page Views, Reach, Post Engagement, and more.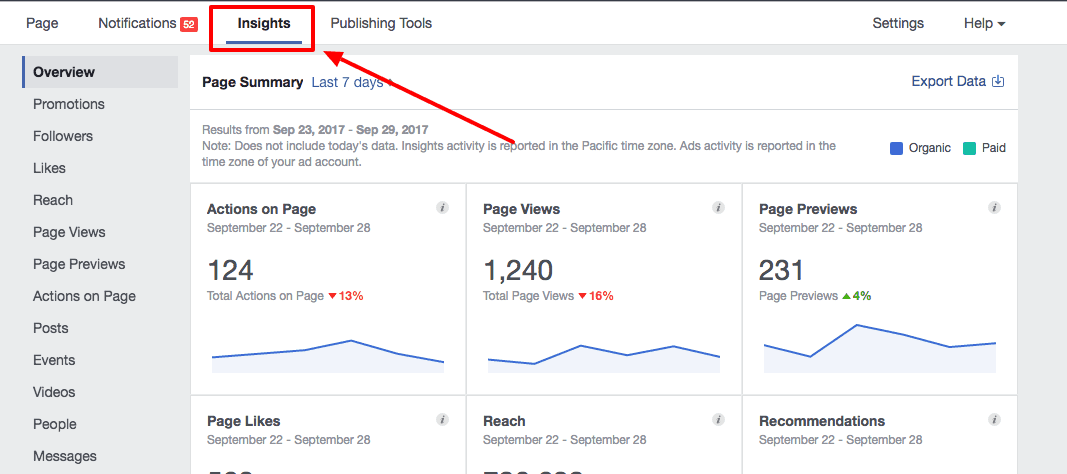 Scroll down a little, and you'll see your five most recent posts, along with their individual reach, engagement, and targeting information.
You can choose "Boost Post" to quickly and easily get more exposure for any of these posts, especially those that are already performing well.
You'll be able to choose a budget for your boost, specify a target audience, and set the duration.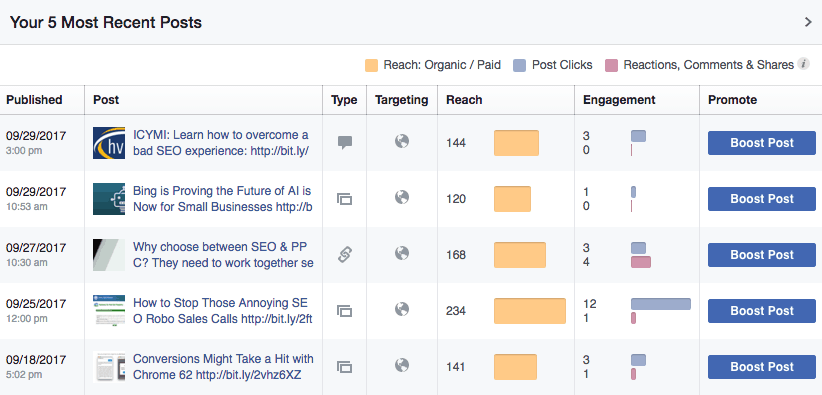 Below your own data, you'll find a section called "Pages to Watch."
Here, you can compare how well your page is performing in comparison with similar pages. That can be a rich source of strategic intelligence!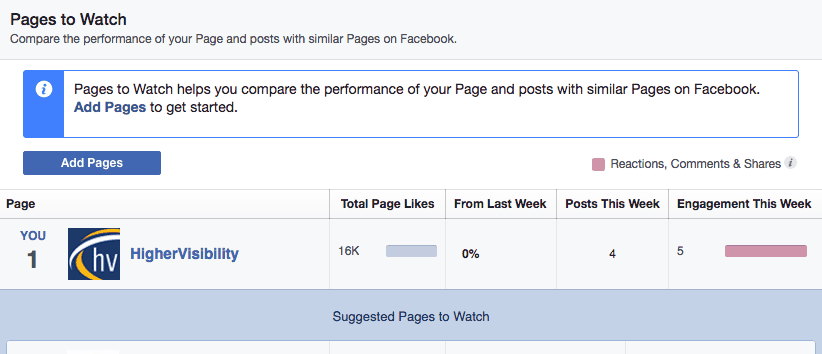 Facebook Insights gives you a pretty comprehensive look into what's happening on your company's Facebook page and how your fans are responding.
But, more importantly, you can use this and the other features of Facebook Insights to do a better job of promoting your business on Facebook – and using the data you gain from your business page's posts to improve your business itself.
Facebook Insights Features You Should Be Using
The dashboard, also known as the Overview, is the first thing you'll see when you open the Facebook Insights analytics tool. Look over at the left sidebar, and you'll see a list of the many areas of Insights.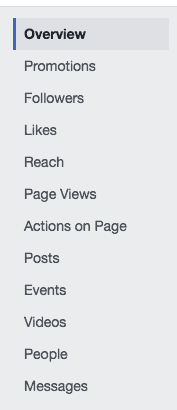 Let's take a quick look at these options and what they can tell you:
Promotions
If you've given any of your posts a "boost," this is where you can see how those promoted posts are performing. You can also set up new promotions, and there are different options depending on what your goals are.
Followers
Shows you how many people are currently following your page, how many new followers you have, and how many have unfollowed.
Likes
This is where you can see how many total likes you had for your page, which ones were paid (Facebook ads) or unpaid (organic), how many people have liked or unliked your page, and where the likes happened — mostly directly on your page, but these likes can also happen in other places.
Reach
This includes not only how many people liked, reacted to or commented on your posts, but also how many Hide, Report As Spam and Unlikes your posts generated. It's a good barometer for gauging how your content is being received.
Page Views
Find out which sections of your page are getting the most views. You can also see who viewed what and how, with a breakdown by Age and Gender, Country, City, and Device.
Page Previews
See who merely previewed your page, with breakdowns by age and gender.
Actions on Page
Find out which actions were performed and by whom, such as clicking your phone number, directions, website link or a call to action.
Posts
View not only how well your posts are performing (and when), but also those of your competitors or other pages you follow.
Events
If you use your Facebook business page to promote events, this is the section where you can find out your audience demographics and who clicked to buy tickets.
Videos
The Facebook Videos Analytics tab tells you what your overall video views are, which are your top 5 videos, and the number of "10-second views" you had (when your videos are viewed for 10 seconds or more).
People
Get to know your fans by finding out what countries and cities they are in, and even which languages they speak. That information, along with the Page Views and Page Previews tabs, can help you tailor different posts and promotions to different demographics.
Messages
Find out the number of conversations you've had with people on Messenger and your average response time to customer messages, as well as the percent of messages that were blocked, deleted, or marked as spam.
Others
Other sections that might or might not appear on the sidebar, depending on your Facebook for business usage and the nature of your business, include Branded Content and Local.
Branded Content appears when you get a mention from a Verified Page, and is something you'll want to share and promote.
Local is for businesses with a local presence, and can tell you the demographics of people in your area and even how many passersby saw your Facebook ads on their mobile devices.
Conclusion
Facebook Insights and its many analytics data can tell you about pretty much everything that happens on your business's Facebook page. However, it's up to you to do something with that information and improve your page's performance!
You can use Facebook Insights to help you optimize the promotion of your next event, better time the publishing of your posts, target certain demographics, and just discover what works and what doesn't.
Facebook itself isn't the only source of Facebook page analytics, but it is a great place to learn about how your posts and events are performing and get ideas about how to make them better.
More Facebook Marketing Resources Here:
---
Image Credits
Featured Image: DepositPhotos.com
In-Post Photos: Taken by Adam Heitzman, October 2017.