I already looked at some useful things you can do with Twitter lists. Today I am sharing another tool that makes sense of Twitter lists and lets you track updates by any group of Twitter users united in the same list.
Listiti is a new tool that sends you an email alert once a word is used in Twitter list. Here's how it works:
1. Create a Twitter list of people who Tweet about the topic you are interested in;
2. Go to Listiti and create an alert by providing:
The Twitter list slug,
Key terms (you can choose to track the exact match or any of the words);
Your email to send the alerts:

3. You should now go to your email box and confirm the alert: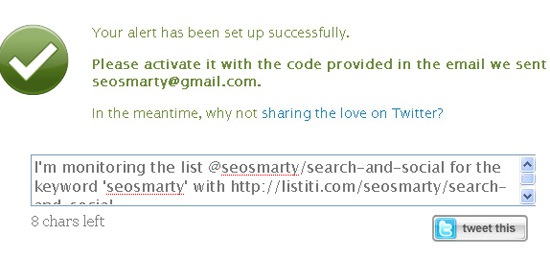 4. After confirming you will see your alert status:

5. Now, once the Twitter users within the list (or any of them) mention the word you are tracking, you'll receive an email alert that looks like this (yes, this is me mentioning the word just for the sake of the test):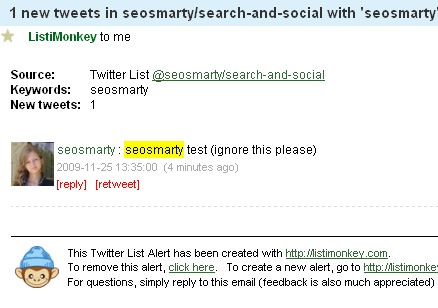 I haven't used the tool long enough to share some success story, but this seems like a very useful utility that can be used both in keyword research and reputation management.
The tool was reviewed under SEJ policy.