Twitter lists have been introduced just a couple of weeks ago and it is still not really clear to many people how the lists can be used. Let's take a look at just three examples of how the lists can turn useful:
1. Create a Group Tweet Widget
Say you are part of some team or a community and you want to create a collaborative widget of what you all Tweet about. Twitter lists can be a perfect way to do that:
Go to Twitter List Widget generator;
Provide your user name, list name and title (Setting tab);
Customize the look and feel (Preferences, Appearance and Dimensions tabs);
Grab the code and let your team members add it to their personal pages and blogs:
2. Subscribe to Lists by RSS
What can be a better use of a Twitter list than the ability to stalk the group of people more effectively. While Twitter (surprisingly) doesn't allow to subscribe to a list by RSS, there are already external tools for that!
TwiterList2RSS is a good example:
Just create the list of people you really want to subscribe to (be very selective);
Grab the list link;
Go to the tool and provide the list link:
Here's an example of our collective S&S Twitter list: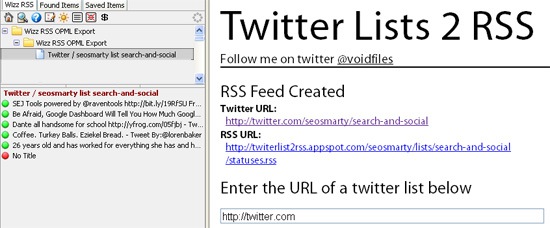 3. Monitor Popular Lists, Promote Lists
There will be plenty of Twitter lists directories and trackers, right now we already have one good example – Listorious. The site tracks popular and new lists as well as allows to share your own lists:
Find popular media lists;
Find popular news lists;
Find popular marketing lists;
Search Twitter lists;
See most popular tags;
Submit your own list!