I shared once a tip on how to track (and compare) competitors' rankings with Raven Tools. Today I am looking further at the feature that allows to watch your competitors grow to timely learn what they are doing.
There's one nifty feature inside Raven Tools called Competitor Manager. It allows to easily compare your site with your competitors and offers a few other handy options.
The tool can be found when you hover over DASHBOARD menu tab: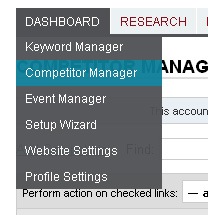 The first thing to do is to add your competitors to the list which is very easy: just click "Add Competitor" link and copy paste the domains of all your competitors (one per line).
You can also allow SERPs tracking for all of those you add in bulk. This means that after you add your competitors, you can track his rankings at SERPs tracker:

After you add your competitors, give the tool some time to collect the data. After it's done, you will see the following SEO-relevant info in the table (that will allow you to compare all the domains against yours at a glance to see how well you are doing):
The quality score of each domain (based on the Quality Analyzer);
The Google PageRank of the home page;
The pages in Google and Yahoo indices (based on Google's and Yahoo's public SITE: operator);
The backlinks to the the home page (based on Google's and Yahoo's public LINK: operator).
From there, the competitors can be easily added or removed from the SERP Tracker. Additionally, clicking on the Research link for any competitor will take you to a domain result in the Research Assistant.
You can also export your competitors to a CSV file or remove them from the table: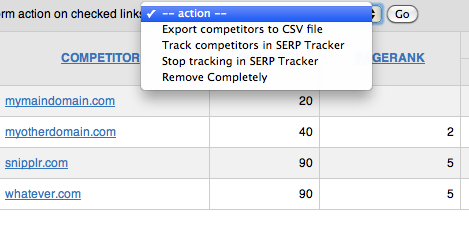 Clicking on a competitor will take you to its related website record in the Website Directory: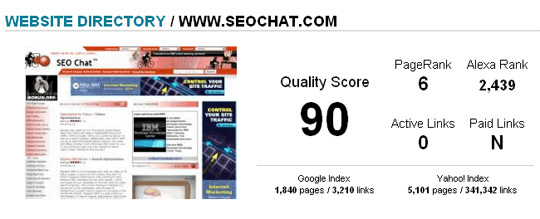 Competitors can be tagged to better organize and filter them (to tag your competitor, click tiny tag link next to its domain in the table).