Google recently announced changes to how it will be targeting ads starting on January 18, 2017. From that date forward, all ad groups with no targeting method selected will be displayed throughout the entire Google Display Network (GDN).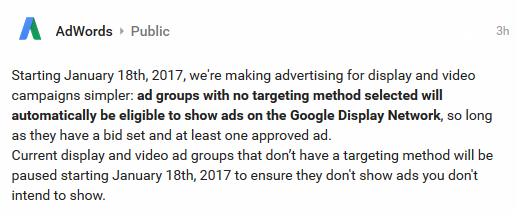 Yes, you read that correctly. Ads with no targeting method selected will just get served to anyone. Currently, ad groups without any targeting in place do not get served at all. In order for an ad group to be served throughout the GDN, customers have to target their campaigns by topics, keywords, and/or audiences.
That's about to change, but thankfully you don't have to do anything in order to prepare for it. Google is not about to pull a fast one and start serving non-targeted ads without a customer's approval. Google is going to automatically pause any ad groups or campaigns you've created that are not targeted.
However, going forward you will have to be cautious about targeting any ad groups you create, because after January 18th Google will be pushing them out regardless of whether or not they're targeted.