With hundreds of thousands of advertisers now using call-only ads, Google is finally upgrading them with a feature that is available with other ad types.
Ad extensions, additional lines of text that appear at the bottom of an ad, can now be used with call-only ads.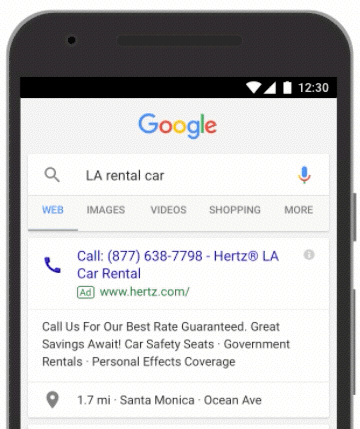 In Google's testing, adding extensions to call-only ads can improve click-through rate by an average of 10%.
When you keep that in mind, and also consider that calls convert three times better than web clicks, you start to realize how much potential these ad units can have.
The following extensions for call-only ads are now available to all advertisers:
Location: Include information about your business location that could encourage customers to visit in-person
Callouts: Highlight unique selling points of your business, such as free shipping or hassle-free returns.
Structured snippets: Add specific details about products and services. For example, a hotel might advertise that it offers a spa, restaurants, meeting rooms, etc.
Advertisers may be pleased to know that they won't have to do the same work twice. Any account level ad extensions you have already applied will be automatically added to call-only ads.