I have mentioned many times how Raven Tools help you with keyword research and competitive research through multiple built-in third-party tools. This week I am sharing how all those keyword research tools and data can be aggregated through Raven Tools Research Assistant feature.

The Research Assistant feature is divided into three sections:
Domain Research
The Domain Research query returns details about a website, including:
Organic Keywords
Organic Traffic
Organic Costs
AdWords Keywords
AdWords Traffic
AdWords Cost
Competitors in Organic Search
Competitors in Paid Search
Common Keywords with Competitors
Additional Competitor Data
Keyword Research
The Keyword Research tool finds related keywords and URLs that rank for those keywords. Clicking on a keyword will take you to a new related keywords view. Each view includes:
Number of Results
Cost Per Click
Current Volume
Average Volume
Page Analyzer
The Page Analyzer utilizes semantic and keyword analysis to determine the key themes and relevance for the content of a Web page. From there, you can conduct further research, like finding keywords or websites related to the analysis results.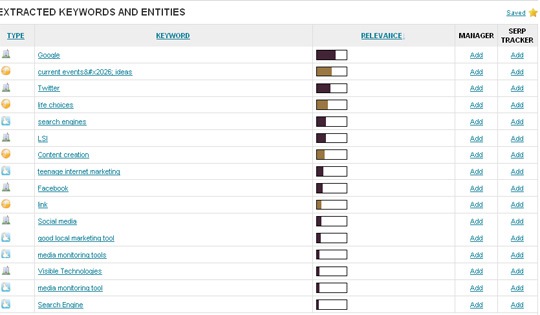 Additional Features
Right from the Research Assistant dashboard you can also:
Set the target language for keyword and competitive research (especially useful for non-US users);
View your "saved" searches:

From there you can also download and view the PDF report of any search you have previously run and saved.