I've been covering quite a few backlink checkers that can turn handy for competitive research as well as looking for the potential penalty reasons and evaluating your own link building efforts. Throughout the past week a few people shared another cool backlink checking tool with me that has a number of useful features.
Followtopia , initially a "Dofollow" search engine, has actually more options to check in. Let me cover the ones I liked most of all.
First, let's try to search for anything there:
The tool generates the list of most powerful pages and shows if "Nofollow" attribute has ben applied to the external links on the page (for you to know if you need to waste time trying to get a backlink there):

What's more, you will see that search results page contains lots of useful information. For each listing the tool fetches:
Links to the page;
Links to the domain;
Keywords found on the page;
MozRank;
Domain MozRank.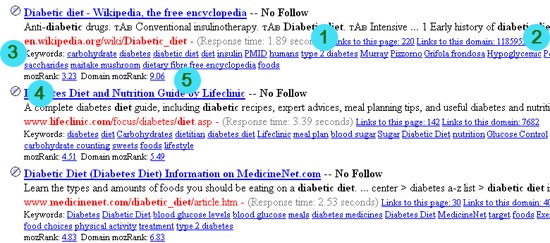 This info listed above turns particularly useful for backlink research. The tool supports [link:] operator that finds the page (or domain) backlinks and displays them together with all that data I just mentioned. I found it cool for backlink power research.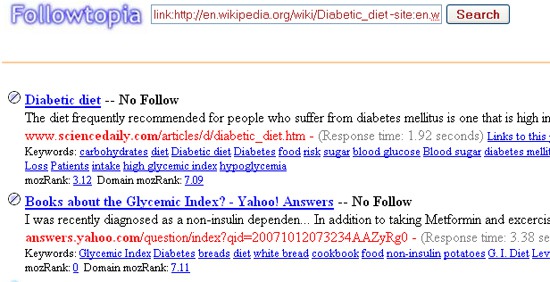 Now, a couple of suggestions to the developer (looks like they are eager to make the tool better!):
Put some work into the design. While I don't actually think a good look is really an issue for a free tool, I think a few styles would help to make the data easier to scan and analyze.
Add some "About" and "FAQ" pages. The tool really lacks some well-put tutorial. And I wasn't able to find any info on the data sources (looks like they are using Yahoo! but the home page says "Followtopia search indexes the entire internet (well, as far as we can crawl)" that sounds as if they have their own crawler).
The tool was reviewed under SEJ policy.