Super Search is a valuable option for real search addicts. It's handy addon that combines over 160 of the people search and web search engines in one toolbar.
Super Search for Firefox allows users to perform web searches, people searches, reverse lookups, public records searches, due diligence and background research, using multiple tools and databases.
Two main features include:
Access 67 most popular engines right from the toolbar search;
Access all included 160 search engines from the toolbar drop-downs.
After being installed, the toolbar looks as follows:

As far as you can see, all search engines are grouped into 4 categories:
Web search (Google, Yahoo, Bing, StumbleUpon) including real-time Twitter-based search as well as social search;
People search (Twelow, Facebook, YoName, ZomInfo, etc);
New, Blogs and More (including Craiglist, Google and Yahoo Groups);
Video, Images and Audio (YouTube, Revver, Vimeo, etc)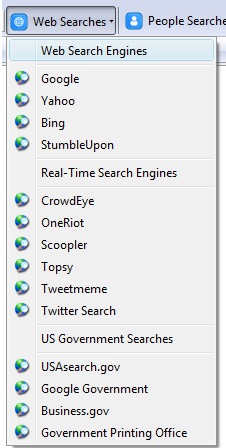 There's also a separate section to the left of the search files called "Search links" which allows for more search options including WhoIs reverse lookup, maps and how-to: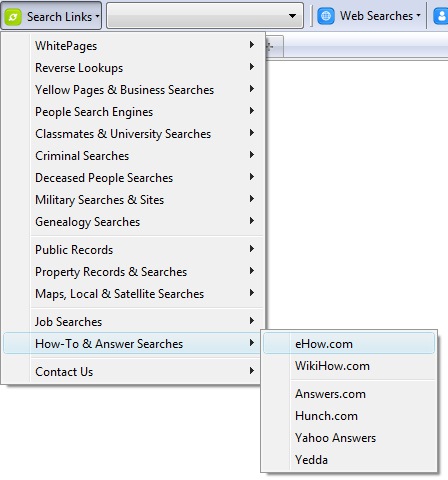 Note: the addon obviously caters for the US users, and there's no way to configure it if you want to search any local version of the chosen engine.
The tool was revived under SEJ disclosure.