E-books are sexy.
Especially when compared to their more homely cousin, the "white paper."
There's nothing wrong with a good whitepaper.
In fact, the depth of information they provide is a boon to any content marketing strategy. The only problem is, they can be notoriously stale, overly dense, and just plain inaccessible to a casual reader.
Particularly in 2016, when beautiful visual elements are in abundance with skilled designers and creative programs, and you have to create cool stuff to rise above the noise.
Enter: the e-book.
They're just as deep as a whitepaper, with room to articulately educate a reader. The main difference is e-books are sexy.
Rife with custom illustrations and appropriately branded graphics, they make a perfect marriage of media-rich marketing and informative content.
E-books can engage readers on multiple levels. There's no doubt they can be a boon to your business – when done correctly.
How can you guarantee your e-books will be a successful part of your content marketing strategy?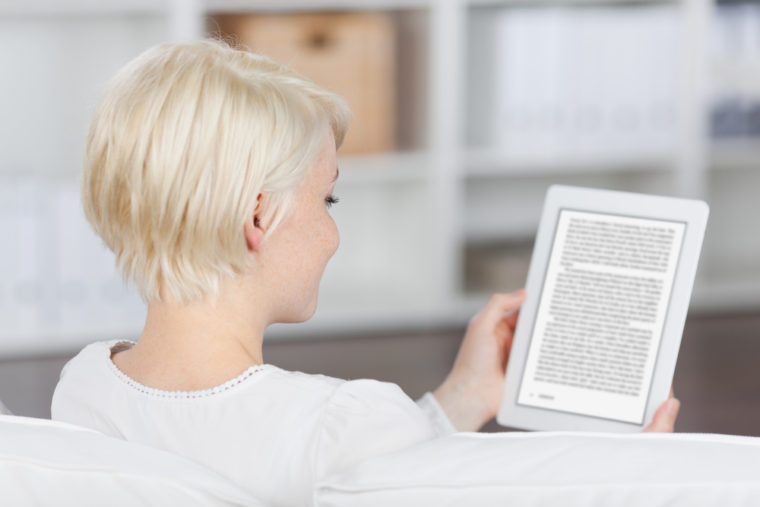 Let's take a look at what exactly constitutes a great e-book, and three essential tips to win at creating an e-book that represents your brand well.
What Makes up a Great E-book? 3 Ways to Do it Right
Simply put, e-books are an electronic book hosted on the internet. In the context of online marketing, an e-book represents a piece of "fat," or "rich," content.
Contrasted to the "thin" content of a shorter blog post, fat content takes a deeper look at the subject in question, giving a level of information to the reader they just couldn't get from a shorter read.
In fact, Jesse Noyes, the senior marketing director of Kapost, said in an interview with Content Marketing Institute,
"Fat content will become the focus of marketers everywhere."
One reason is because Google's algorithms are giving preference to deeper content like e-books. They are simply seen as more valuable.
1. Professionally Done Means a Professional Impact
There's a lot of projects that are perfect for "do-it-yourselfers" – e-books aren't one of them.
Remember how e-books are the sexy version of whitepapers? Well, the reason for that lies in the design.
Due to their length, and depth of information, the graphical accompaniment of an e-book is very important to stimulate the reader and maintain their engagement.
But with such a large piece of content, too often e-books are rushed or under-professionally prepared.
For example, when Buffer came out with one of their first e-books, I was disappointed. For such an awesome brand, the e-book design… left a little to be desired. (Kevan Lee, if you're reading this, I'll redo it for free to show you the potential in eye-catching design your great content can have!)
This can defeat an e-book's purpose entirely, or even damage the brand reputation of those they represent. Check out what one of the recent ones my team designed for a brand looks like. Every single illustration was crafted from scratch.
I like to tell my clients that every single e-book your brand creates should be "Hubspot-style" in the originality of design, graphic creation, and quality.
It can be a laborious and challenging task to design a media-rich e-book with consistent branding throughout – often too challenging for the average business.
Even more important than the graphical elements is the written content. E-books exist to take an in-depth look at a subject, and that requires in-depth research (something that takes valuable time.)
Plus, writing coherently over the course of many pages can be challenging for the average marketing professional who isn't comfortable with the medium.
So, instead of doing it in-house, consider going with a professional agency.
It's not enough to simply have an e-book, you want something that you can be proud of and will benefit your brand. A poorly designed one will stick out like a sore thumb, and may even hurt your reputation in the eyes of your audience.
With an agency, you can guarantee a deep level of research, expert graphical design, and a timely delivery – all without burdening your resources further than they already are.
2. Rule of Thumb: Evergreen Means Ever-Relevant
One important step you can take to ensure the long-term impact of your e-books is to ensure they deal with "evergreen" topics.
Much like the trees for whom it is named, evergreen content always looks fresh – no matter the season.
In effect, this type of content deals with subject matter that will be useful well down the road. Yes, best practices do change over time, and very few subjects will be just as useful in a decade as they are now.
But a lot of marketers are drawn in by content with only fleeting relevance. The latest internet meme or viral video trend might make for a catchy piece of content now and for a few weeks, but will seem dated down the road.
Because e-books are designed to deal with topics in depth, they are the perfect medium for evergreen content.
Your audience will find them educational now, and new readers will find them useful in the future. With the ability to be shared over a longer course of time, the impact on your SEO will be greater as well.
3. Make a Library of E-books
What's better than one e-book?
A library, of course!
Some of the most effective marketing companies are compiling their e-books into an online library, a hub where people can select from dozens of deep content pieces.
Hubspot has a great example of an e-book library, and we're even building our own at Express Writers.
Coschedule is another brand doing their library the right way.
A library of e-books can represent the first stop for discerning readers who want to educate them on a subject relevant to your business.
Rather than "just another site with a blog," with a whole library of dense content, your business can cast itself as the authority in your field.
And it's not just going to be your opinion either. E-books have proven to resonate well with Google, and a library of them will surely have a positive SEO impact on your site, putting you in front of casually browsing readers.
Conclusion
There's no doubt that e-books are a powerful marketing tool for any brand.
When done correctly, they act as "fat" content, which delves into subject matter in a deeper way than a simple blog post ever could.
If you're going to invest in a project as lengthy as an e-book, ensure the content featured is "evergreen" so it remains relevant long after publication.
Google recognizes the value of such content, and creating in-depth e-books is a great way to improve your SEO, in addition to providing value to your readers.
You don't need to stop at one e-book, however. Creating a library of them can define your brand as an authority in your field, drawing new customers to you and empowering current ones.
The most important thing to remember is an unprofessional e-book is painfully obvious. To ensure the effectiveness of yours, consider going with pros who have the time and skill to do it justice. With the right touch, a sexy, professional e-book can be a boon to your customers – and your brand.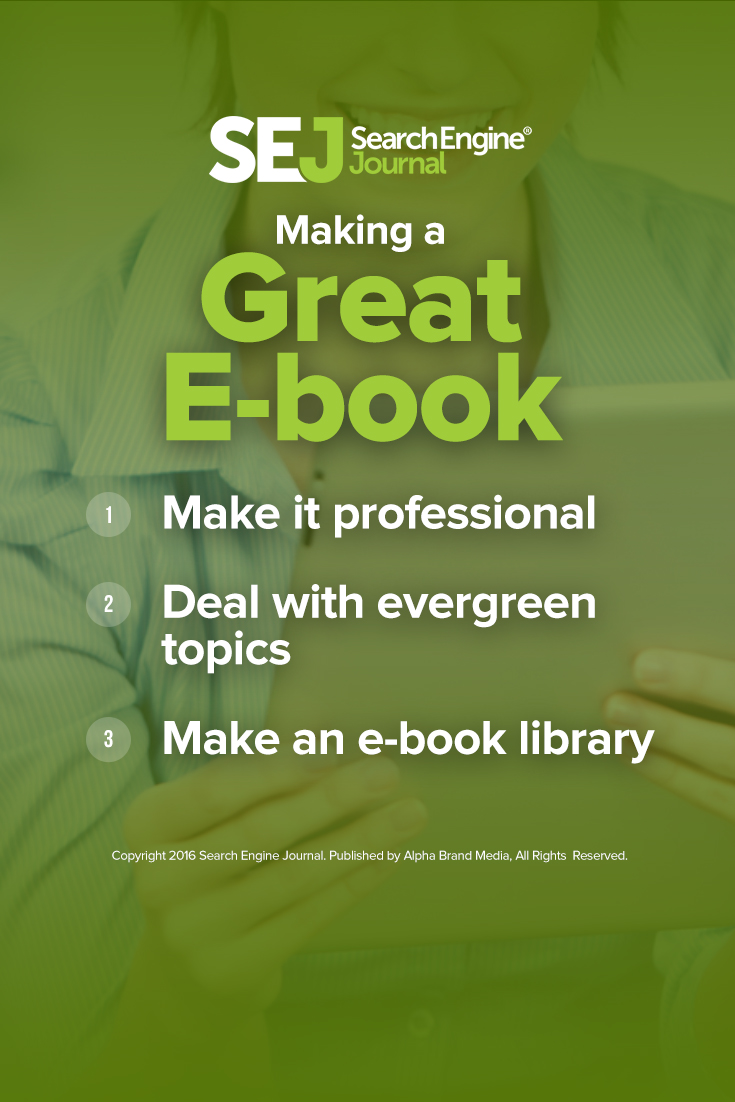 Image Credits
Featured Image: Image by Julia McCoy
In-post Image: racorn/DepositPhotos.com