This is a sponsored post written by WebCEO. The opinions expressed in this article are the sponsor's own.
With digitalization, most organizations now conduct marketing and sales operations via online tools. Marketing automation platforms like Salesforce Pardot, Oracle Eloqua, SimplyCast, Marketo, and Hubspot need to provide SEO tools to help bring their customers' websites a steady flow of organic keyword oriented traffic. Surprisingly, some of the above platforms are not currently offering SEO tools, or they don't do so comprehensively.
Besides SEO tools, another must-have for modern marketing automation platforms is the ability to provide Lead Generation Widgets, which provide free information or analysis in return for an email address.
LeadGen for Digital Marketing Agencies
WebCEO, one of the three leading SEO tool platforms (along with Moz and Raven), provides white label SEO tools for agencies to call their own, as well as a LeadGen widget specifically for use on digital marketing agency websites.
This widget runs an express SEO Audit for visitors to an agency's website and emails a PDF report with the agency's branding to these visitors within a few minutes. The report will show the results of a quick scan of a visitor's website, including whether the site ranked in the top 10 for two keywords on three search engines, a check for toxic backlinks, a test of the site's mobile device optimization, a technical audit for broken links and server issues as well as mistakes in the website's HTML code, such as the duplication of Title tags on various site pages.
The end-user will not see the exact issues they need to fix, because this information would remain the province of the digital marketing agency who provided the report. Bottom line: the report will whet the appetites of visitors to hire digital agency websites to fix mistakes on their websites.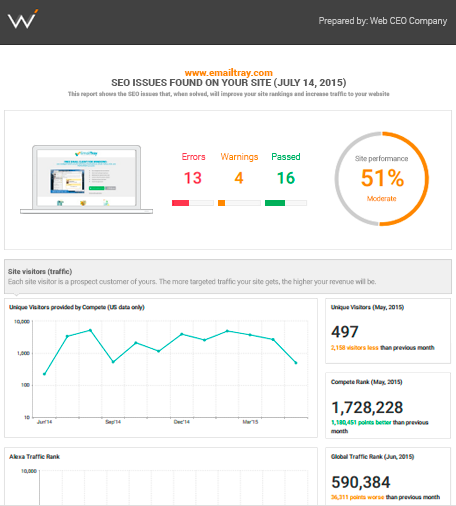 Agency Partners Use the Lead Generation Widget for Free
WebCEO provides this widget free of charge to its Agency Unlimited partners ($99 per month, basic fee) for a maximum of five "free" SEO audits per day. WebCEO partners can specify if they want the widget to disappear from their website once those five audits have been performed on any particular day, or if they are willing to pay an extra 49 US cents for each additional report on that day.
WebCEO White Label Program
WebCEO also offers a White Label program for Agency Unlimited partners who want to operate their own branded SEO tools on their own domains or sub-domains without WebCEO's existence to show anywhere. Partners can allow visitors to their digital marketing agency websites to sign up for free SEO tools for 30 days or less at the cost of only $2 to the partner.
To save an agency on rank query fees, visitors and paying agency clients can be limited in the number of scans they can perform and the number of keywords and search engines they can analyze. Moreover, visitors and paying clients can be limited to a read-only role when they sign in. Everyone, including partner employees, their site visitors, and their paying clients, can sign on to the tools using their Facebook, G+, or Yahoo IDs.
Marketing Automation platforms clearly need to conduct SEO and Lead Generation. Providers like WebCEO can fill in the gaps when they are otherwise lacking.
Image Credits
Featured Image: Image by WebCEO
In-post Photo: Image by WebCEO