I have reviewed a couple of FireFox addons that allow you to easier discover related content as you browse. Here's another option that offers you to find more content based on the phrase you highlight on-page.
HeadUp invites you to select any word and find related content in a handy pop-up.
Headup uses a proprietary semantic engine that cross references multiple online sources in order to understand what the objects it identifies are.
Here's my step-by-step experience with it:
Install the HeadUp:
Just install and restart your browser – and you are almost done.
The installation could be easier if they didn't require me to install an extra Microsoft app – SilverLight (which I did):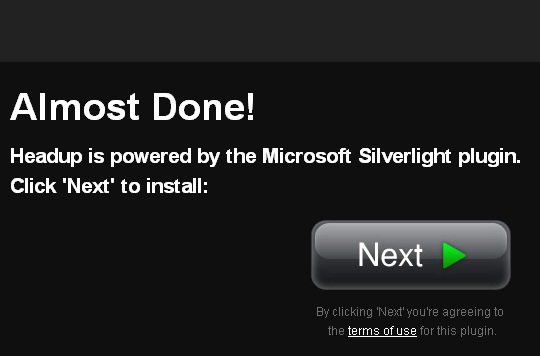 Configure HeadUp:
After you install everything you are asked and restart the browser, you should see a tiny yellow icon in the status bar which when right-clicked allows to add your profiles (your privacy is up to you) for the tool to deliver you "customized" results: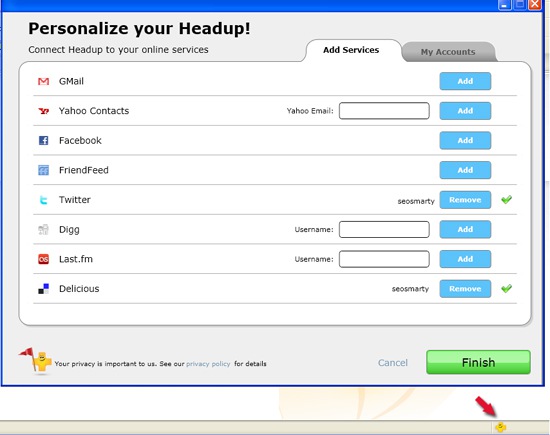 Use Headup
After all is done, you are free to go ahead and try it. Navigate to any page, highlight the term you are interested in – this should cause a tiny icon like in your status bar to appear which you can click to see more related content for that term:
Related images (from Yahoo image search);
Related news and blogs (based on Yahoo and Google search);
Related search results (based on online sources, I assume). For each listing in search results see:

Delicious bookmarks;
Diggs.
Summary
What I liked:
The tool seems clutter-free (you only see it when you need it);
The popup doesn't follow you throughout all open tabs until you close it – it stays where you open it, so no bugging at all.
What I didn't like:
The tool is not really fast.
What I wasn't able to see:
I wasn't using the tool long enough to notice the customization I was supposed to configure via the settings.
The tool was reviewed under SEJ policy.