Content is at a premium these days.
Think about it: The content marketing industry will have a projected worth of $300 billion by 2019.
Everybody needs content, everybody wants it…
But not everybody is willing to hustle to publish it – especially the high-quality content that naturally earns clicks, links, shares, and top rankings in Google.
The people who steal valuable content are the people who want a quick way to get profitable traffic.
They just don't want to put in the time, research, effort, blood, sweat, and tears that go into creating it.
The thing is, you did put in the work.
You made it happen, and your content is a high ROI asset for your brand.
When someone swipes it, they're stealing your livelihood. While you're trying to profit from hard work and brainpower, they're trying to profit from laziness.
How can you protect yourself? How can you defend against content thieves?
Here are a few tips to help keep your content assets safe and sound.
How to Deter Content Thieves: 5 Tactics to Protect Your Content Assets
The age of the internet and digital files/publishing has made it easier than ever for thieves and copycats to steal content.
If you want to defend your assets, you need to take an approach that covers multiple bases: writing, technology, and copyright.
1. Develop Your Writing Style So It's Immediately Recognizable
When you write with your own voice, it's a lot harder for thieves to steal your content and pass it off as their own.
Your distinctive style will shine through, and more people may be able to recognize your writing and alert you to the theft.
To develop your style so it's yours, practice, practice, practice.
The only way to keep getting better at writing is to keep doing it.
Along with that, try the following:
Pretend you're having a conversation with your reader while you write. Use the language you would in that situation.
Do you have phrases, words, or sayings you repeat all the time in real life? Add them to your writing where you naturally would in conversation.
Loosen up your writing. Feel free to use contractions to sound more informal ("don't" versus "do not," "can't" versus "cannot"). Barely anyone enunciates perfectly while speaking (unless you're Mary Poppins), so if you loosen up, you'll sound more like yourself.
2. Put Your Name on Everything You Publish
Some content thieves are lazy in every way, including the method they use to steal from you.
Often, they'll use technology to scrape your site for content, then take the entirety without editing it.
If your name appears alongside every single piece you put out into the world, it will make it much harder for lazy thieves to use this tactic and succeed.
Usually, when your name appears next to your content, it's called an author byline.
Here's an example of a byline that appears at the top of an article from Fast Company: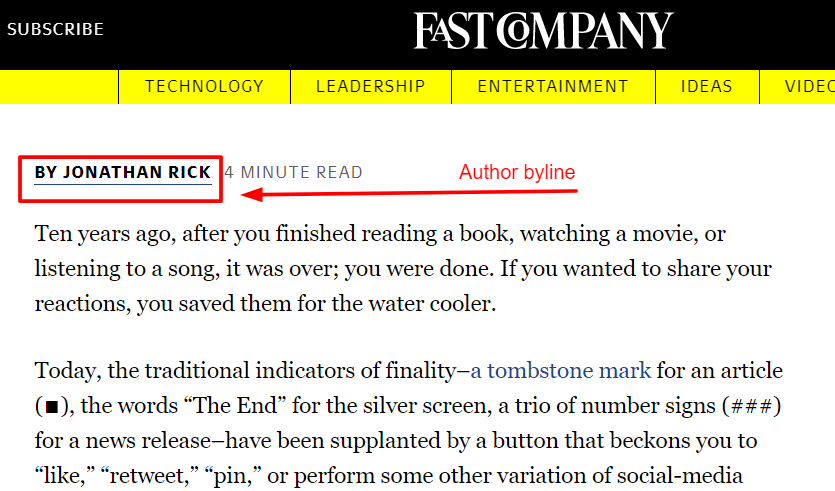 And here's an example from the same article, which also includes a byline at the bottom: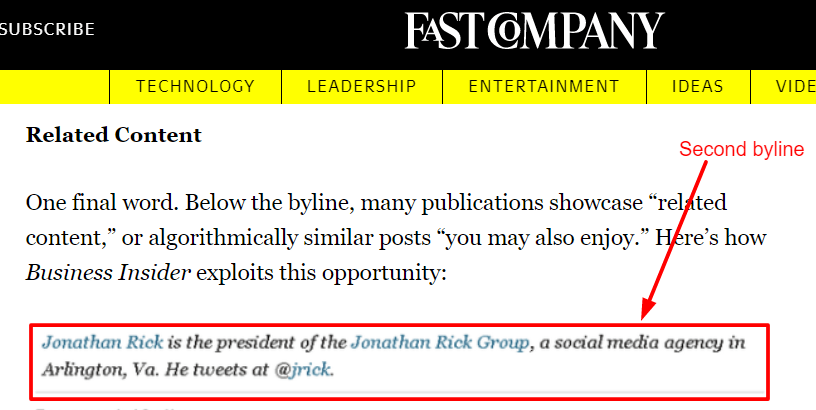 This is a good best practice for marketing reasons, but also for security.
If your name appears on all your content, you can use a common way to catch content theft: Set up a Google Alert with your name. That way, when the above scenario occurs, you'll easily catch it right when it's published.
Plus, adding your name at the bottom of your content gives you a record of your authorship. It may be insignificant for more intelligent or savvy thieves, but it will at least ensure the lazier ones fail.
3. Watermark Your Images
If your content contains custom images, it's a good idea to watermark them to deter theft.
"Watermarking" simply means you place a logo or a bit of text on top of the image. The logic is that nobody wants to steal an image with your name plastered on it – then they can't pass it off as their own work.
Watermarks can be obtrusive or subtle, depending on your preference.
Here's an obtrusive watermark example (they're using "watermark" as placeholder text – imagine your own brand name in its place):
As you can see, the watermark covers the whole image. You can still see the picture, but the watermark is really noticeable.
Here's a more subtle example of a watermark from Content Marketing Institute: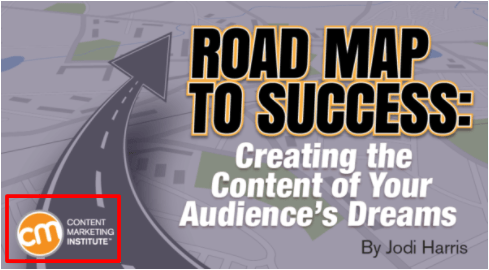 This is arguably the better option because it looks more professional and less annoying.
However you choose to do it, this type of tactic can deter a big percentage of thieves, and may be worthwhile. It will also act as a red flag for readers, especially when the lazier thieves steal your content wholesale and publish it without editing it.
Check out this guide to adding watermarks to digital photos for more information. Or, if you're working in Microsoft programs, here's a guide to adding a watermark in PowerPoint.
4. Add a Copyright Notice to Your Site/Content
Along with content thieves who intentionally steal work that's not theirs, the internet is full of people who steal unintentionally – either because they don't understand copyright, or because they're oblivious.
Adding a copyright notice to your website and content is helpful for these types of people. It alerts them that unauthorized use of your work is a violation of your rights as the creator.
WordPress recommends posting your copyright notice in a visible place on your site where it can be seen at all times, like in the sidebar. They also advise content creators to add a notice underneath blog posts.
They provide a template you can edit so it suits your needs:

5. Get a WordPress Plugin for Added Protection
If your site and blog run on WordPress, there are plugins available to help protect you from content theft.
For instance, Copyright Proof automatically creates a time-stamped certificate for each post you create. These are digitally signed, so they are incredibly helpful if you need to prove you created the content later.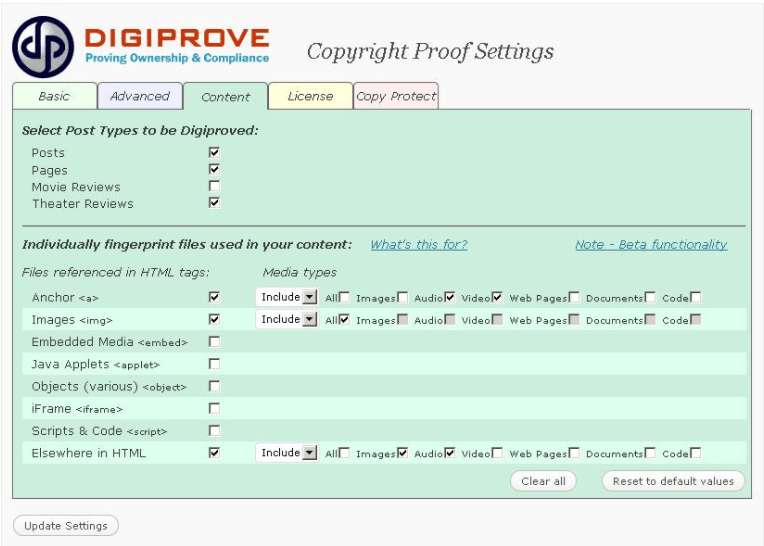 If you want to thwart content theft by disabling right-clicks and dragging and dropping images from your page, you can get a plugin like WP Content Copy Protection.
Lots of people drag and drop images that aren't theirs without thinking, so disabling this action can be a good first line of defense against those unintentional thieves.
Yes, This Is the Internet, But You Can Still Protect Your Content
The internet can often feel like the Wild West in terms of copycatting.
That said, you can still defend your turf against content bandits.
The keys here are to be proactive, be prepared, and make sure you're not a sitting duck.
Protect your content assets so lazy thieves can't get away with their chicanery and profit from your hard work.
More Content Marketing Resources:
---
Image Credits
Screenshots taken by author, April 2018
In-post Photo # 3: Techgyd.com