Content marketing is nothing without content strategy.
It's like a boat without a wheel. It drifts aimlessly in a sea of content, lost and taking on water. Pretty soon, that directionless boat sinks.
Enter strategy. Put the two together – the boat (content marketing) and the steering wheel (content strategy) – and something amazing happens.
You can steer your course and chart new territory.
Your content marketing will net real, quantifiable, stellar results.
Results like:
Also of note: B2B marketers who saw increased success in their content marketing over the course of a year overwhelmingly owed it to investing in higher-quality content (85 percent) and developing/adjusting their strategy (72 percent):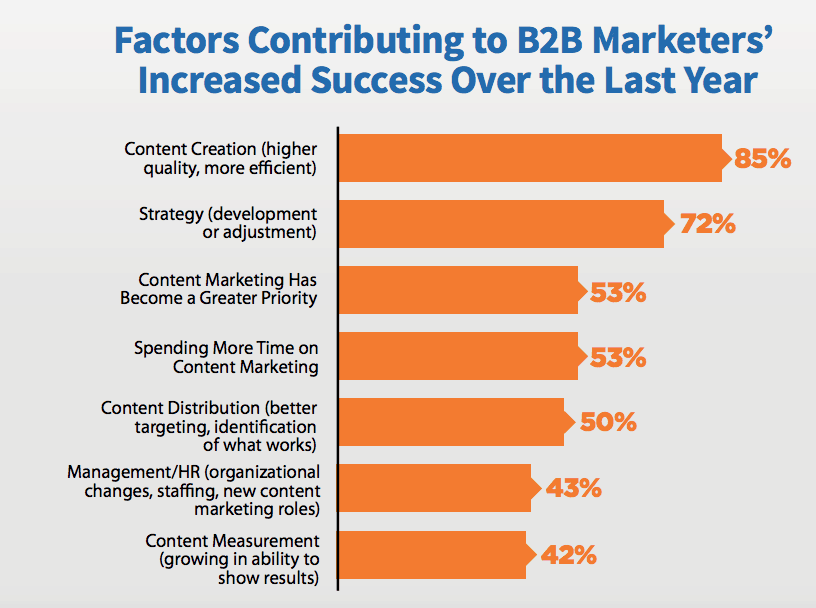 With content + strategy, you won't just float – you'll sail.
And, as your boat glides off into the sunset on the horizon, the other boats will be still be drifting in the dark, lost in the vast, endless ocean of the internet.
Of course, you have to have your strategy well in hand before you can start sailing. You can't build a successful, long-standing, high ROI "content ship" without the proper blueprints, tools, and materials.
So, what are the fundamentals you need for a solid strategy to sail your ship? Let's explore them together.
6 Fundamental Rules for Building Your Content Strategy
The time and energy you spend plotting your course and building up your ship will pay off – you could easily rule the high seas of content.
Without the right strategy, your ship will sink. Follow these fundamentals to avoid holes in your plans.
1. Find & Fly Your Unique Flag
Knowing who you are as a brand needs to underscore your entire strategy. You have to find what makes you unique and fly that flag proudly on your main mast.
It's a two-pronged process. You must first differentiate yourself. Then you have to have a clear idea of your goals.
Differentiate Yourself
Without differentiating yourself, you'll never stand out. If you never stand out, your content marketing will never even leave the port.
That's why the first fundamental rule for building your strategy involves knowing who you are. This must include knowing how you differ from your competitors in the best way, and leaning into those differences to set yourself apart.
Think about your favorite brands for inspiration. How do they differentiate themselves? What do they offer that their competitors don't? What makes you choose them over other brands?
You need to figure out the answers to those questions for your business, too.
Check out how Etsy, the virtual handmade marketplace, differentiates itself on their home page:
The link underneath this statement takes you to a page that effectively explains their mission and values.
They do it in a way that underlines their standout qualities: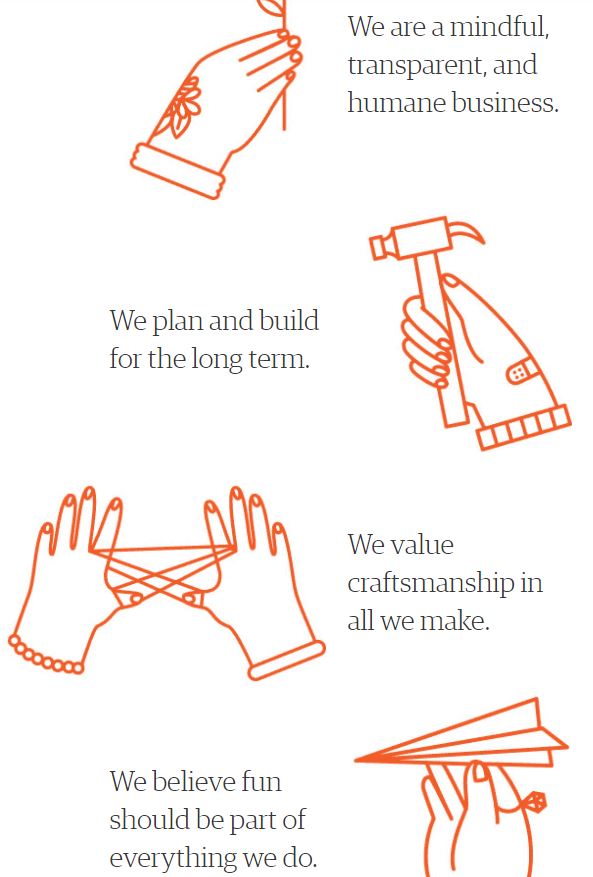 Outlining your own standout factors in such a clear manner will help direct your entire content strategy.
So, what makes you different? Boil it down to one or two sentences, and make it your mantra.
Don't skip this crucial step for success. It will be the wind in your sails.
Understand Your Goals from Where You're Sitting
Goal-setting is vital for measuring ROI. After all, how can you know how far you've gone without a clear starting point?
So, look at where you stand. Do you already have leads and customers? Or, are you just starting out?
Your goals will look different depending on which rung of the ladder you're on.
If you fail to set goals, then measurable, quantifiable success goes out the window, too. (Goodbye, concrete ROI.)
2. Use a Spyglass to Find Your Audience
It's impossible for any brand to reach every type of person. Instead, you need to hone your focus to a target audience who needs what you're selling, wants it, or is looking for it.
The better you know your audience, the better you can reach them.
To really nail this fundamental, you need to know:
Who they are (age, gender, location, occupation, education, income)
What's important to them (hobbies, values, lifestyle, attitudes)
Their pain points (problems they face that your business could potentially solve)
In other words, you need to know and understand your ideal customer intimately to reach them effectively with content.
This could mean you need to conduct market research, send out surveys, or talk to people one-on-one. However you do it, you must get to know them like a close friend.
Once you know your targets well, you can adjust your content, including its tone of voice, topics, and knowledge level, to directly address them.
3. Map Out the Best Way to Reach Your Targets
Once you understand who you're trying to reach with your business, you can commence the actual reaching out.
One fundamental way to do this strategically is through targeting long-tail keywords in your content.
Keyword research will help you discover long tail keyword opportunities – tapping into how your audience is searching for a topic.
To narrow down high-ROI keywords, SEMrush and Keyword Tool are good places to start looking.
Don't forget to find questions you can answer through topical research. Sift through resources like Quora, blog post comments, BuzzSumo, and social media discussions to see what people are talking about in your industry and what information gaps you can fill.
4. Know Your Ship Manifesto (Your Content Creation Cores)
You have goals and a standout factor that sets your brand apart. You know your audience and how to reach them. What's next?
It's time to focus on your content cores, the key pieces that will support your content creation. These include:
Where you will build your content
The types of content you will focus on building
How often you will create and build them
Ideally, you will build your content on a platform you own (your domain vs. a proprietary blogging platform or social media site). You will focus on only a few content types (long-form blogs being essential), and you will commit to a consistent publishing schedule.
These cores form your overall content manifesto. You're outlining where, what, and how often – and you're pledging consistency for all three.
Why consistency?
In terms of publishing, if you commit to consistently pushing out new content, you're apt to earn better rewards.
5. Build & Create Your Content Ship
At the center of your content strategy lies the content itself.
This is your ship – it's what everyone sees out there on the internet. It's the vessel by which you surge forward with your goals.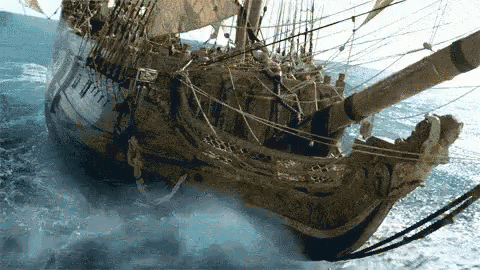 All the other fundamentals – your target audience, your keywords, your research, and your publishing schedule and promotional tactics – help with that forward motion.
But they can't do everything.
If your content is clunky, thin, poorly-written, or unorganized, it's dead in the water no matter how many life preservers you throw at it.
It's essential that you're honest with yourself about what you can do for content creation. If you only have the resources to write high-quality posts once a week, that's better than nothing. If you hate writing or simply don't have the necessary time to research, ideate, and write great content, outsource your writing and hire a freelancer who knows your field.
6. Know How to Propel Your Content Ship to Reach Your Goals
After you start creating content, you can't leave it to fend for itself. It needs help getting where you want it to go.
How will you propel your ship in the right direction? There are two ways:
Strategic publishing
Effective promotion
Without these two propellers, your content will drift for a while before eventually sinking like a piece of lead.
An anchor is the last thing you need. Instead, unfurl your extra sails: your editorial calendar and promotional tools.
The Editorial Calendar: Scheduling & Strategizing Post Publication
A good editorial calendar helps you track, schedule, and strategically publish your content "assets."
Content Marketing Institute calls this the tool "no content marketing pro should be without."
A calendar can take any form you want: a simple spreadsheet you share with colleagues, a scribbled page in a notebook, or a full program like Evernote or Trello.
Whatever method you choose, the goal is the same. It helps you stay on track with your content ideation, creation, publishing, and promotion.
Content Promotion
Content promotion is as simple as spreading the word about that new blog post you just published. It can involve these types of actions:
Informing your email list about the new post
Sharing the post link on your social media accounts
Tagging, mentioning, or emailing influencers/other brands you quote in the post
Creating a low-budget ad to promote the post on Facebook
All simple actions, but they can make a huge difference. For instance, 81 percent of marketers who engaged in social promotion for at least 6 hours/week experienced noticeable increases in traffic to their sites.
Additionally, 85 percent of B2C marketers said creating social media content is the most critical tactic to content marketing success. Meanwhile, 89 percent cited social promotion as the most effective paid method to promote content.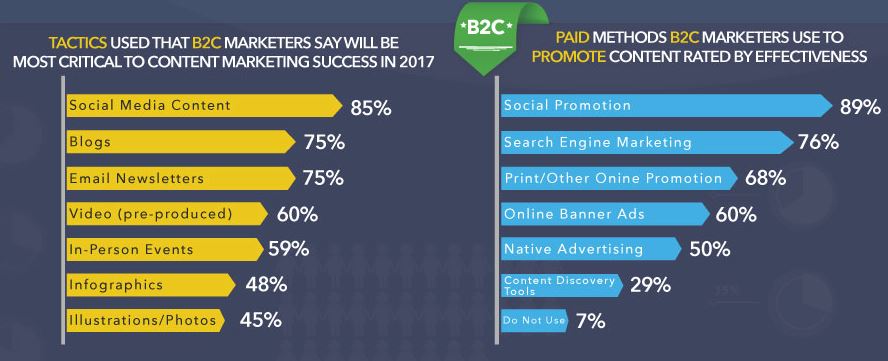 Your Content Builds Momentum Over Time
All these fundamentals for a practical content strategy are pieces of a larger puzzle. You have to dedicate yourself to putting them together to see the big picture.
Here's another piece, a not-so-secret secret you should know about strategy + content. This one may make all the other pieces worth it:
The longer you stay dedicated to your content strategy, the better.
The results of keeping at it and not quitting are cumulative.
As HubSpot demonstrated, content you create one week continues to build momentum long after you stop promoting it or talking about it.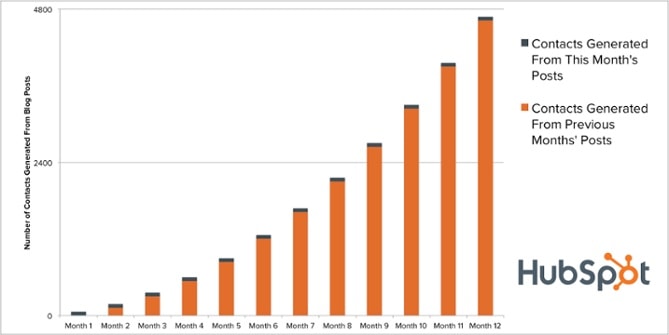 People will keep looking up those keywords you targeted. Your audience will continue to find your posts over time. They'll read, share, comment, and more, long after you've moved on to new posts. You'll earn leads, conversions, and sales from your backlog of quality content.
But…
It can't begin until you do.
That's why it's so essential to start building your content strategy right this second. The longer you wait, the longer it will take to see the benefits.
However, once you start, and once you stay consistent, it snowballs.
So, if you're ready to set sail for success, it's time to get on board.
It's time to start strategizing.
More Content Strategy Resources Here:
---
Image Credits
Featured Image: Created by Julia McCoy / Express Writers
Screenshots taken by Julia McCoy, December 2017.