Dataopedia.com is a new tool giving you a wealth of information on any website. Unlike other tools aggregating a lot of website-wise data on one page, Dataopedia also adds useful stats regarding the domain social media popularity:
Reviews on StumbleUpon;
Reddit domain mentions;
Delicious Bookmarks;
Digg domain mentions;
Twitter search results for [domain name].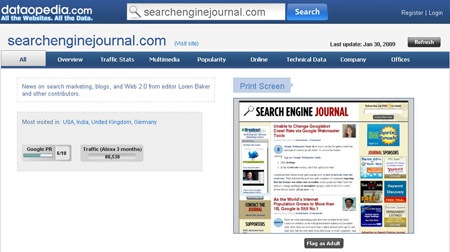 Apart from the above information you will also be able to see:
Compete, Quancast and Alexa traffic graphs;
Website popularity by country;
Multimedia results (images and videos found on the site);
Domain registration and hosting information;
Meta data.
The site offers (or promises to soon offer) a few cool tools for its easier access:
Access dataopedia.com from Twitter (coming soon). When the feature is live you will be able to send @dataopedia a domain name and you get a reply containing a link to the report. Another cool *future* feature is "report by email": send an email with the domain name in the subject and you´ll receive an email in html format with all the data about that website.
Access any report right from the address bar fron any browser: type dataopedia.com/domain.com where domain.com is the domain you want to research. Alternatively, you can use Dataopedia search plugin or FireFox bookmarklet (to view stats for the current domain).
Please check SEJ disclosure on reviewing SEO tools.