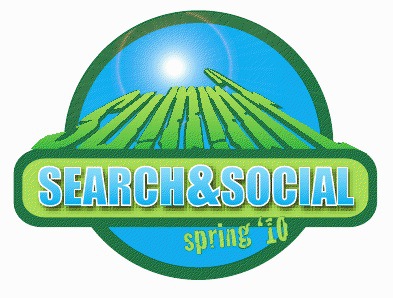 Hey everyone!! It's that time of the year again for the Spring Summit and we have some great contests going on! With the success of our Twitter #team contest (which is currently going on until midnight), we decided to roll out ANOTHER contest today. If you're interested in winning a free ticket, then try your luck on this one! It'll be fun.
Contest details and the video to post a response to can be found here: Contest Video.
On this, you'll have the chance to reply to the video that I'm putting up. I ask a very simple question- what funny/weird/strange/awesome experiences have you had thanks to social media? I'll start the video off with one of my own (the bear video) as an example, but you need to send a video response to our video entitled "Search & Social Spring Summit Contest #3" and get your friends to rate you or comment on you. Whoever has the most votes wins a free Search & Social Spring Summit ticket!
Go to our youtube channel located here: Contest Channel
Watch my video for information on the contest
Send in your own "video response" with your funny/weird/awkward/awesome social media story.
The winner will be decided by how many votes/ratings yours gets and runs until April 1st.
If you click to see more comments and responses, you will be able to see this area that allows you to add your own video response-

Now, I don't want to get any comments about how ditzy I sound on this video- I swear I don't sound like that in real life. Something about webcams just doesn't flow well with me. I recorded many a video and, sadly, this was the best one. I happened to ramble alot on it but I hope you hang on through the whole video so you can post your video response! In addition to what I said in the video, it hit me after I recorded it that something else happened to me on social media that would have been far more fun to mention.
My bosses are trying to pimp me out to fight a bear during the summit. Ahhh yes, you can probably find the multiple posts due to the magic of Twitter hash-tags (#SSSS) showcasing their eagerness to see me duke it out with a live (and heavily clawed) animal. It started out as a ping, which turned into a tweet, which turned into multiple re-tweets…. now, this might be a fly by night rumor, or it might be true… but either way, I guess you'll have to upload your video response and try to win a free ticket to find out 🙂
As you can tell from my video there are absolutely no standards for how you record it. Use whatever webcam you have- or even your iPhone if you want.
Be honest, don't hold back. Did you meet your boyfriend through social media? Say it. Did you get stalked through social media? Do tell. But only if it's not serious. I don't like hearing about harm happening to people via the internet…only hilarious stuff! Did you win something or get randomly picked for a prize thanks to your social media account? Are you that girl that Conan O'Brien singled out to follow on Twitter and now you're famous!? Remember- the way to get the most votes/ratings is to just have something completely unexpected. I want to hear EVERYTHING and ANYTHING! Make them fun. The contest ends April 1, 2010.
This ticket will include access into the eight speaker sessions, networking with experts and businesses from across the country, admission to casino night and calypso night, and breakfast, lunch and dinner on both days of the conference.
Good luck to you all, and I'll see you at the Summit 🙂 I'll be congratulating our winner personally. Perhaps I'll use the location finder on Twitter to find you so you have another story to tell 😉
PS: Check back to the SEOtini Youtube Channel as well as our SEOtini blog. They'll be some fun updates coming up!