Countless hours spent researching, writing, and editing until your eyes feel like they're going to pop out of your head and what do you get for it?
Just a blog post sitting dormant on Page 5 of Google search results.
Sadly, content isn't always enough to give your website the visibility you need to grow.
As we currently understand, the two most important ranking factors for organic success include:
The number of links referring to a site.
The content relevance to user intent.
While content and link building have become the focus of SEO, remember, we're out here trying to create unicorns.
Google's main focus remains to be their own users' experience.
If users aren't clicking, sharing, engaging with, or returning to the content on your site, no amount of manual link building will be enough.
What do you offer users and search engines that the competition doesn't?
Here are a few strategies and considerations that you should keep in mind when trying to push content to the top of Google SERPs.
Understand Your Potential
One reason your content may not be ranking well is because you're competing against established brands in a saturated vertical.
Our keyword research and content marketing strategies often focus on underserved niches or keywords with high volume and little competition in the space.
But consider how saturated the cryptocurrency space has gotten.
While it's ideal to create content that focuses on Bitcoin, it's going to face much more competition to scale than other topics.
For example, a Google search for "What is Bitcoin?" comes up with a CNN article as its first result.
Check out the total search volume and number of backlinks this CNN article has, according to Ahrefs:

The second result from Coindesk has over 21,000 backlinks.
The 10th result? Not nearly as much.
While there is definitely room to push for the keyword query, it'll be hard to crack the top four spots where a majority of traffic and clicks goes to.
Manual link building and content promotion will be wasted if you're competing against an established brand in the space.
However, that doesn't mean you can't write about broad topics. They're still important for crafting pillar pages and other subtopics. You're providing user value while increasing your indexation rate.
So how can you acquire greater organic visibility?
Well, if you're writing a topic about Bitcoin, you could create a title tag featuring "The Complete Guide to Understanding Bitcoin" or "The Ultimate Guide to Bitcoin" to attract more user clicks.
Go in-depth as well to provide information that the competition isn't providing.
A better strategy is to try push content on alternative topics with high search volume.
Consider our Bitcoin example. The search volume for "how to invest in Bitcoin" on SEMrush is 18.1k.
Check out the first result in the featured snippet box: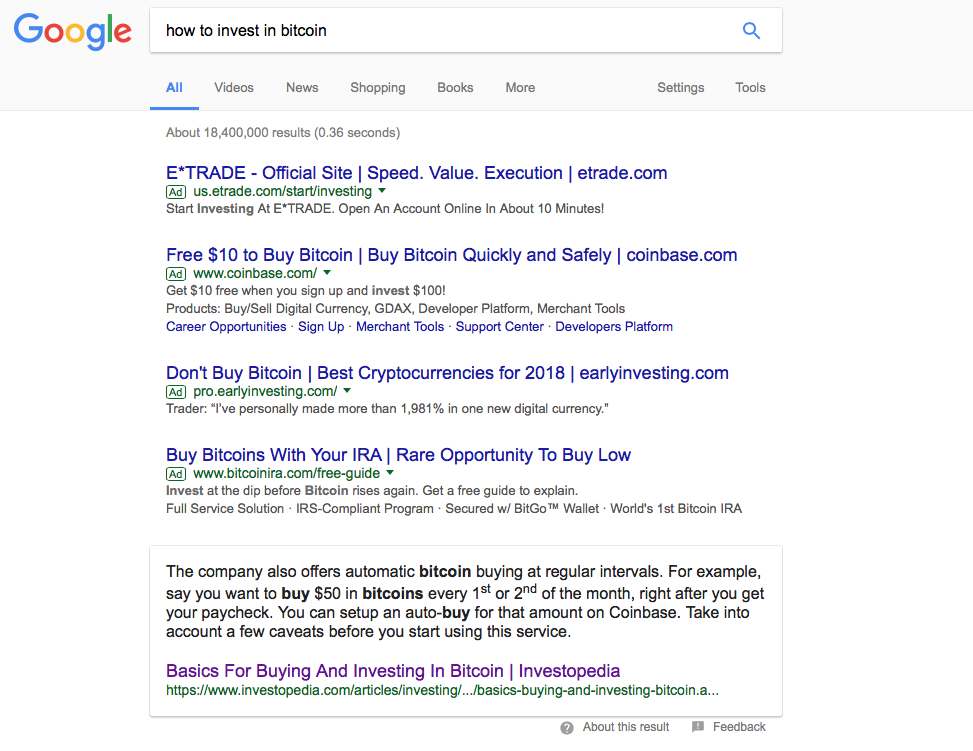 What does Investopedia's backlink profile look like?

Acquiring that many backlinks isn't difficult.
Also, if you click on the content, it's no more than 300-400 words. This wouldn't even be considered a niche topic either.
Other areas, such as a buyer's guide to Ethereum and Ripple or understanding ICOs gets more in-depth and captures the same intent.
This is important to understand before you waste your time and budget on manual link campaigns on a piece of content that has very little wiggle room to move.
Big brands don't have to work as hard to get content to rank because they've already established trust with search engines and users.
Google understands that people are more likely to click on these listings, which is, in part, why they rank high.
With this in mind, we now need to understand how to push content to that first-page ranking to acquire that visibility and trust.
How to Set Up Your Content to Rank
So you've conducted an exhaustive link building campaign and generated a lot of exposure and shares to your content. Yet, it's still not the number one result – maybe it isn't even ranking on Page 1.
Well, there are a lot of factors hidden underneath the surface that may be preventing your content and website from ranking.
You need to ensure that the hierarchal and technical structure of your website is optimized to help content rank. This includes:
Having a responsive website.
Opening up crawl paths.
Ensuring pages are being indexed (check robots.txt files).
Cleaning up 301 redirects.
Eliminating duplicate content.
I'd recommend sending an XML sitemap to search engines to get your pages indexed faster, so your content can rank faster.
Optimize Your Content for Users
Having a high organic search ranking on a search engine is important, but not as important as creating the desired user experience.
With other channels available to get visibility, the main focus of content should be on answering user questions and provoking the desired action.
Create unique content that seeks to answer as many user questions as possible, while providing actionable solutions.
Creating content with users in mind is critical to establishing rank organically.
Your content needs to be unique, original, and add value in a way that your competitors can't.
The Importance of Link Building
The number of backlinks to a page correlate with high organic rank more than any other factor.
In fact, an SEMrush study found that there was a huge drop off of the number of unique referring domains in high volume keyword searches for SERP listings 2 through 15.
While backlinks are important, the number of unique referring domains is even more important. From a broad perspective, backlinks serve as a third-party endorsement of your content.
As Google can't truly analyze the creative elements of your content, the more unique domains that link to your content, the more people that endorse your content.
Directory links and links from the same website are not counted with as much weight because they're easier to spam. That means your strategy should focus on acquiring relevant and authoritative backlinks.
But without visibility, how do you attract backlinks naturally to your site?
This will involve a link building strategy. Many tactics will be involved in this.
First, you'll need to develop an outreach template that you can use to contact various people you want to get links from.
There are many sources to acquire backlinks if you know where to look.
Guest posting with a branded or contextual link back to your content.
Contact influencers for links, shares, or mentions back to your brand.
Link reclamation from de-indexed links or brand mentions.
These are only basic outreach strategies to manually push links back to your website.
The more sources you hit, the more likely your content is to rank higher for a specific keyword search.
Still, it's important to focus on relevant sites and influencers in your vertical and to shoot for high authority websites.
Branding & Other Campaigns
Unfortunately, manual link building can be complicated and difficult to pull off. Not only will you face rejection, but you also run the risk of getting caught for manually trying to influence your backlink count.
Today, branding is everything.
If you supply somebody with a stellar article, chances are the next time they conduct a similar search they'll click on your content to get their query answered.
One way to kickstart a branding campaign is through a paid promotion.
This will get your content in front of the eyes of your target audience or even influencers.
Using Facebook's Audience insights you can segment people based on specific demographic and psychographic boundaries based on who would be most interested in your brand and content.
You can also consider remarketing campaigns to promote content to people who have interacted with your website in the recent past.
The entire idea is to create visibility and media exposure for your brand.
That's why influencer marketing and social media promotion should be the primary focus of your media exposure campaign.
Not only does this place your content in the front of a previously untapped audience, but it also generates buzz, social shares, and feedback for your content.
Optimize and improve based on that feedback and repurpose content to give it greater organic visibility and a chance to rise in Google's search results.
Conclusion
Organic search visibility is important, but it's only one piece of the pie.
Acquiring search visibility comes hand-in-hand with social media marketing, influencer marketing, branding campaigns, and maybe even some advertising.
With proper keyword research, the right marketing campaigns, and a little creativity, you can create a unicorn that disrupts the space and establishes your business as an elite brand.
---
Image Credits
All screenshots taken by Kris Jones, January 2018