Content marketing and inbound marketing are not separate from SEO at all. Content marketing has become an integral part of today's SEO.
Its umbrella offers the widest, most effective reach for online visibility and real ROI. And SEO is just one part of what's under that umbrella: the fragment of "optimizing for search," which is the meaning of SEO by itself.
Content Marketing vs. SEO: One and the Same?
Businesses simply can't ignore the big picture of content and inbound marketing, with SEO as a part of the whole, if they want an effective online presence today.
Yes, you should be optimizing your content for Google if you want Google to find your content. But, it's not just about keywords – or SEO as a single concept–anymore. For all marketers, content marketing should be the focus of their investment for online exposure that will provide real results.
So how and why has SEO become an integrated part of content and inbound marketing, as a whole? Let's delve in.
Reason #1: The Big Picture
The best way to start discovering how SEO is an integrated piece of the overall puzzle of content and inbound marketing is to actually look at the definitions of these three things (content marketing, inbound marketing, and SEO).
Hubspot: "Inbound marketing is about creating and sharing content with the world. By creating content specifically designed to appeal to your dream customers, inbound attracts qualified prospects to your business and keeps them coming back for more."
Search Engine Land: "SEO stands for 'search engine optimization.' It is the process of getting traffic from the 'free,' 'organic,' 'editorial' or 'natural' search results on search engines."
Content Marketing Institute: "Content marketing is a strategic marketing approach focused on creating and distributing valuable, relevant, and consistent content to attract and retain a clearly-defined audience — and, ultimately, to drive profitable customer action."
Content marketing and inbound marketing are synonymous: they include the approach of creating the best content tailored to your audience, consistently, which then drives ROI and brings customers from your audience.
SEO is the process of getting traffic from Google.
If we were in an era where the web was a baby, you might get by with just having a presence on Google.
But today, the web is a raring, partying adult: you're in a sea of content.
You have to do more than just have a presence. You have to stand out in the sea.
And content marketing is the big picture that gives you the real blueprint on how to do just that.
Reason #2: Optimize for More Channels
Here's a simple fact: your readers aren't just coming in from Google anymore. With the rise of more social platforms, content types and channels, and the growth of existing social platforms, you can't afford to overlook your presence there. Here are some other channels besides Google where you could be earning qualified targeted, conversion-oriented traffic:
Email
Referral
Social media
Direct
Sponsored ads
Live video platforms (Periscope, Blab, etc.)
Even Matt Cutts said it: "Don't just rely on Google anymore: rely on a wide variety of avenues where you can reach people that will want to know about you."
Reason #3: The Mindset Shift
Let's go back in time to see how content and inbound marketing has become the new mindset of SEO.
Pre-2011, when I started out in online marketing as a freelance copywriter, there was a totally different mindset about SEO. Consumers who wanted a web presence would just fork over money to SEO guys for results. It was an industry that very often gamed Google.
Their tactics included dark link schemes, mass forum posting, comment back linking, multiple interlinking domains, and having content written stuffed with keywords. It was all about how to one-up Google.
Things drastically changed after Google Panda came out (the Panda/Farmer update in late February of 2011). That's when Google started looking at content from a truly human perspective. I saw marketers completely change how they approached Google. Stuffing keywords throughout every page of copy was no more. Recycling duplicate copy from someone else's site was now a huge no-no. And no one used the keyword density formula any longer. Marketers started investing in content that would match up to and interest their target audience. Content marketing began happening.
And since then, Google has continued to get smarter and smarter. Today, they use real people to evaluate websites. Their Search Evaluator Quality Guidelines, a 145-page document explaining what their human reviewers look for in websites Google subsequently ranks well, was released in November 2015. The acronyms notated there, E-A-T (Expertise, Authoritativeness, Trustworthiness) and Y-M-Y-L (Your Money or Your Life), are guidelines on what Google looks for in solid web content, and great foundations to go by for us creators.
This mindset shift has been tremendous in creating a better web for all of us.
A low-quality web became a high-quality web simply because Google shifted towards what works best for their users, the real people on mobile or desktop doing quick searches to find results to give them the best answers to their problems. They needed to access solid information quickly. What was the best pizza store nearby, or what guide offered the most insightful advice on how to promote their latest blog post?
Algorithm gaming isn't the way to go today, creating real content that matters is.
SEO as a Part of the Content Creator's Strategy
Since Google looks at content from the user's perspective today, you can't go wrong if you go by this one guideline for creating great content: Write engaging content your target readers will be most interested in. Google will appreciate it too.
So, creating content, from blogs to web pages and videos, should be centric to what your audience wants and needs if you want to do well in the SERPs. And if the usefulness, engagement, and quality factor is truly there, Google will appreciate and love it, too.
However, optimizing your content with your best keywords, discovering and researching what keywords offer the best opportunities, and publishing well-optimized content is in your best interests. Google certainly appreciates websites that publish content that is easy to read and optimized correctly: it saves their crawling time and shows up effectively, ready to rank immediately.
Let's talk about two key fundamentals that will help you optimize your online content for SEO.
Two SEO Practices You Should be Using Consistently to Publish Rank-Worthy Online Content
Here are two key basic SEO skills you should be consistently doing to optimize your online content.
1. Perform Keyword Research
Tools are a must if you want to find your best keyword opportunities. I like SEMrush for powerful overall keyword research, and KWFinder for hardcore niche-ing down to find your long-tail keywords.
Once you have the tools, how do you select the best keywords? Let's explore briefly.
How to do your best keyword research:
Look for low competition numbers (easy wins), a presence in CPC (that values your keyword at what the going bid for it is in the Adwords area, $0 usually means a non-valuable keyword), and relevancy in the key term itself to what you offer as a service or product.
Think long tail in terms of keywords. They are usually more relevant and can bring in more visitors with buying intent.
Traffic amount metrics matter last when evaluating your best keywords. Why? Well, if you have a high traffic keyword, but it's not relevant enough, or you have very little opportunity with it at a high competition, you're probably going nowhere. So it's better to have 140 people potentially visiting you per month than 5,000 if the keyword with 140 searches has a legitimate opportunity (it matches your service in relevancy, and it offers low competition in ranking opportunity).
2. Optimize Every Piece of Web Content
Never, ever let a blog post or web page go un-optimized. (One of my biggest online pet peeves.) That typically means leaving the "Yoast" section of your post blank—the most commonly used SEO plugin for WordPress sites.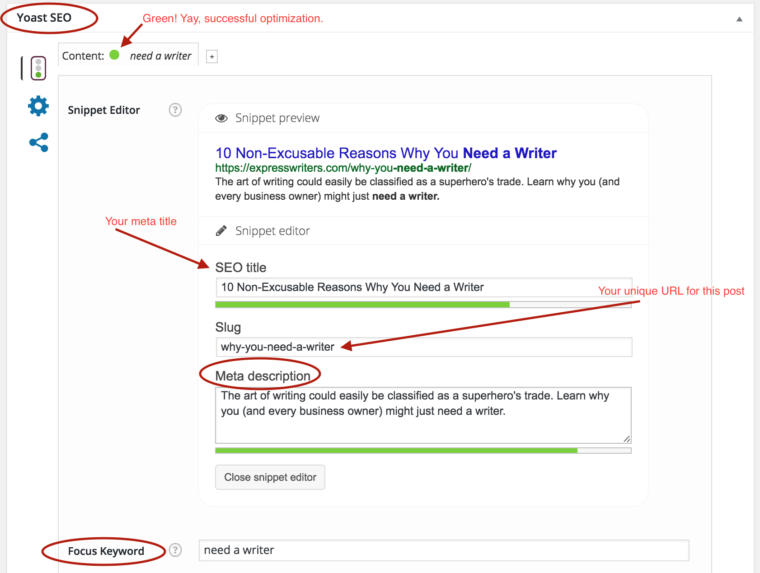 Here's a rundown of key areas you'll need to optimize for a post you're publishing (my visual above shows these areas in the Yoast plugin):
Your focus keyword: This is the key term of your post. Tip: Don't force it; pick one that's relevant.
Your meta title: Make this slightly different from your post title itself. Making it unique means you add a boost of additional content power to the optimization.
Your meta description: These are 160 characters (roughly 20-30 words) long. You want to stay within the just-right length on this—Yoast will turn green when you've hit it. Don't be too long, and don't be too short.
Your URL for the page: Ideally, this should be a) short and succinct and b) include the focus keyword.
These are the two consistent practices you should be doing for ongoing content publication that meets Google's standards. There are more things you should be doing for your overall presence, especially if you're launching a new site or need to update current sites.
Here are a few resources to look at:
How to do a content audit (effective for ongoing, up-to-date SEO optimization of your entire site)
Moz's on-page ranking factors discuss how to do links in your content and overall SEO best practices
Benefits of Having a Set Content Marketing Strategy: My Content Success Story
76% of marketers say they'll produce more content in 2016: yet only 42% of marketers say their content marketing is effective. And even worse: only 32% of marketers have a documented content strategy. (Stats: CMI)
In a world where customers are flooded by content, having a documented content strategy can spell the difference between making content that converts and counts, or disappearing into the online abyss of "just like everything else."
Don't be the one left behind in the pile of 68 percent of marketers who don't know how to do effective content marketing. Be the smart marketer: have a set content marketing strategy in place where you can succeed.
The benefits of a set content marketing strategy are huge. Content marketing has long been argued as one of the best long-term winning strategies for online presence today. I wholeheartedly agree.
The best evidence I can present is how it's actually worked for me and my copywriting agency startup. I've been 100% personally invested, with no outside investors for my business' lifetime (and we're working in an industry where competitors have millions in outside funding).
Content marketing is the fuel of how I exist.
Here's a brief rundown of how I grew my online presence 100% through content marketing:
Blogging on my site: Since 2011, I've published over 700 blogs on the Write Blog, at the rate of three per week consistently. We've seen some of them convert tremendously because of the presence many of these blog posts have now achieved in Google. It's taken a lot of a) hard work and b) patience. We vary our content with infographics, gifographics, and long-form blog posts, and have even hired a custom artist to draw illustrations for some of our blogs. And the rankings have taken time. It took over eight months for us to hit #1 for "what does a copywriter do" in Google with our infographic on that keyword, posted as a blog. 94-95% of our conversions, income, and entire company clientele base is built off of the leads and traffic that come in from Google.
Guest blogs: I see real ROI happen off many of the guest blogs I've published. For example, last year I saw a $5000 client walk in from a guest blog I published on SiteProNews. He was so impressed with my current, up-to-date knowledge in SEO and content marketing showcased in the guest piece, that he hired my writing team on the spot to do all his online content. He was already convinced when he walked in, and needed very little convincing to sell (a few minutes in a phone call was all it took).
Podcast: I created a podcast with bi-weekly, 30-minute episodes of audio content, myself hosting and a guest speaker with a few solo episodes. I posted these and 6,000+ word transcriptions on my site. I hit New & Noteworthy in iTunes soon after launch and saw a 10-15% jump in overall monthly traffic to expresswriters.com.
Twitter chat: I created a weekly Twitter chat, #ContentWritingChat this January, announcing to my email list (blog subscribers and clients) that it was coming out. I hired a social media manager to help me run it, schedule guests, and create questions/answers and a blog recap of the weekly live chat. Inside just six months we hit the trending sidebar on Twitter and were the #11th most talked about hashtag on Twitter during its live hour.
Published book: I self-published a book on Amazon this April, without an ounce of advertisement money and solely reliant on my existing audience built through content marketing. I had a list that I groomed for a year: I worked on the book for more than 12 months and talked about it online in my groups the whole time, building anticipation. Without a publishing firm to help me, I sold over 100 copies in the first month, and it continues to sell on its own at two to three copies per day. It hit bestseller on Amazon the second day after launching and has stayed in the #3-#4 spot in its category since launch.
The Verdict? SEO and Content Marketing Go Together
Content marketing is your best route for online marketing that works: there's no other way to put it. And SEO is just a part that makes it a whole.
Whether you're looking for more conversions, reputation building, brand faith, revenue streams, or low-cost advertising that will outperform traditional advertising methods: if you work within the right parameters, content marketing is your key to online success.
I believe it, and have seen inbound and content marketing work so effectively for me that it has become the primary channel of my entire business. And, I've seen an audience (like my Twitter chat) sprout up out of nowhere, all because I simply created a topic and conversation that was needed in the internet universe.
If you go the route of content marketing, just don't go at it superficially.
Put a whole-hearted passion into it, bring in your expertise, focus on solving a real need, and stay consistent in what you create online: and you'll come out on top.
Photo credits: garagestock via Depositphotos