I have reviewed numerous rank checkers as well as SERPs trackers and ranking comparison tools in the past. But that's always great to have a choice. So this time I am reviewing a new player in the field – a nice looking keyword position checking and monitoring utility.
KPMRS is a web-based tool where you can quickly check your site rankings for one word in Google, Yahoo and Bing (without login) as well set up tracking for as many as 5 words per site and multiple domains (after you join).
Inside you will find:
Handy and usable interface (I like the way you can quickly switch between domains and keywords);
Email alerts once your rankings change;
Ranking history (graphed on a flash chart);
Exporting and printing options;
Social activity tracker;
Backlink tracker (it's just about the number of your site backlinks based on Yahoo! and Alexa);
Facebook integration (to "share your rankings with Facebook friends").
The features I personally enjoyed:
Email alerts
I really liked the email alert feature which seems to work pretty well. The email alert looks like this: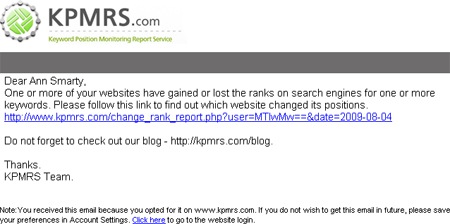 The link in the email brings to the brief report showing how rankings have changed:

Ranking graphs
Keyword position change is represented on a handy graph:
What I didn't really like:
Inadequate navigation options: for example that change report I mentioned above lacks any linked numbers. I'd love to click on the position number to be taken to the actual graph.
Only 5 keywords per domain.
No social activity tracker: you can check the actual numbers but why not add some tracking ability?
Conclusion: a very easy-to-use useful tool for small sites and blogs.
More related reviews:
The tool was reviewed under SEJ policy.