A while ago I did a few posts on checking and monitoring your keyword position in Google with free web-based tools. Unfortunately, the handy tool (SERPArchive) described in one of these articles seems broken now and thus I've been looking for another solution to get updated of your keyword rankings.
SheerSEO is one such tool which is free, has a user-friendly interface and, apart from tracking multiple keyword positions both in Google and Yahoo, offers a few more valuable options. Once you register, the tool will look at your site and suggest your keywords to monitor and pages to track:
You can choose any phrases from the list or add your own. After that the tool finds your rankings for the approved terms and starts tracking any changes. You will see a little table consisting of your search terms in one column, their current position in Google and recent change (if any):

The ranking history is saved for each term and is represented graphically – you can set the date range to see your term position change over time: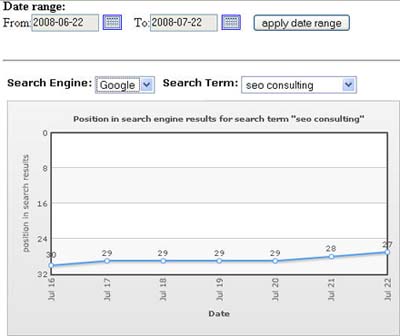 Besides that, a few handy features include:
regular email updates;
brief report of Digg and Del.icio.us mentions;
backlink data change (per Googleor Yahoo);
historical changes in the number of indexed pages;
single-, double- and triple-word keyword density.
What the tool still lacks:
direct links to the aggregated data (e.g. Google results page where the site currently ranks);
more backlink data;
more sorting and filtering options;
the ability to track multiple "projects".
Still the tool is new and promising and you can check it for your home-run projects.