Quotes are always re-shared like crazy. This is one of those things that's almost sure to work no matter how many times you do it. Quotes never get old.
The fun thing about sharing quotes is that it will get more re-shares than comments. But any interaction works while it's improving your Klout Score, right?
Besides, it's always nice to hear from friends and quotes are hard to resist: You may hear from someone you haven't talked to in a while!
Here are some tips for increasing your social media interactions with quotes!
Know Your Sources
There are plenty of sites collecting quotes for you to use, share and get inspired by:
I simply LOVE this resource of fun fake quotes from famous people. Really tweetable and fun way to engage your followers. I'd like to note here that, if you end up sharing fake quotes, make sure they are easy to identify as fake. That's just from ethical standpoint.
Quotery.com is a high-quality resource of quotes. You won't find millions of unverified quotes there. They manually collect and organize best quotes you are sure to get inspired from. They have visual quotes too: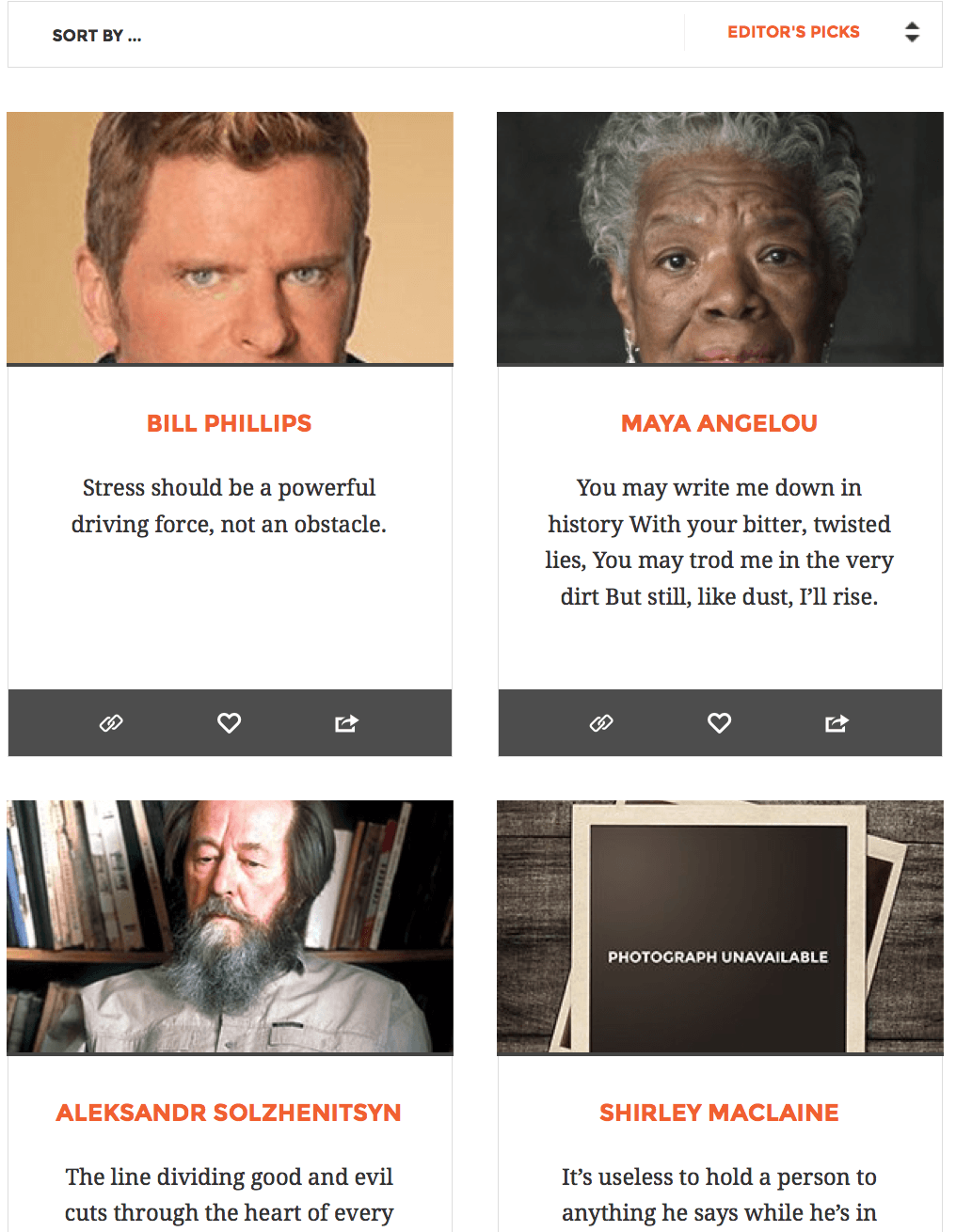 Play With Hashtags
Hashtags should not be overused (especially on Facebook), but in many cases they are the key for getting discovered on social media. I've seen my Google Plus updates go hot when I use a popular hashtag.
Searching Google Plus /Explore sections gives quite a few hashtag ideas to use in your update (on both Twitter and Google Plus):
Some of my favorite hashtags that work both on Twitter and Facebook:
#quoteoftheday
#inspirationalquotes
#lovequotes
Create Visual Quotes
Visual quotes have been on the rise for a while now. They work great on Google Plus, Pinterest, and Facebook. They shouldn't be overused on Twitter because most Twitter users seem to dislike visual tweets (especially if you use them too often).
My favorite way of using visual quotes is creating consistent columns, for example:
"My Wednesday 'AHA' moment"
#MondayQuote
"Friday Food for Thought", etc
Creating this social media editorial tradition has the potential to pick up and engage more of your friends week by week. Also (more importantly) it helps you get organized and holds you accountable. Consistency and creativity go a long way in the social media strategy!
There are plenty of tools to create visual quotes. My favorite tools are:
Canva: For its easiness, flexibility, and awesome screenshots
Chisel: For its browser bookmarklet. I love tweeting and pinning quotes while reading an awesome article. This bookmarklet helps me do that in the most efficient and beautiful way.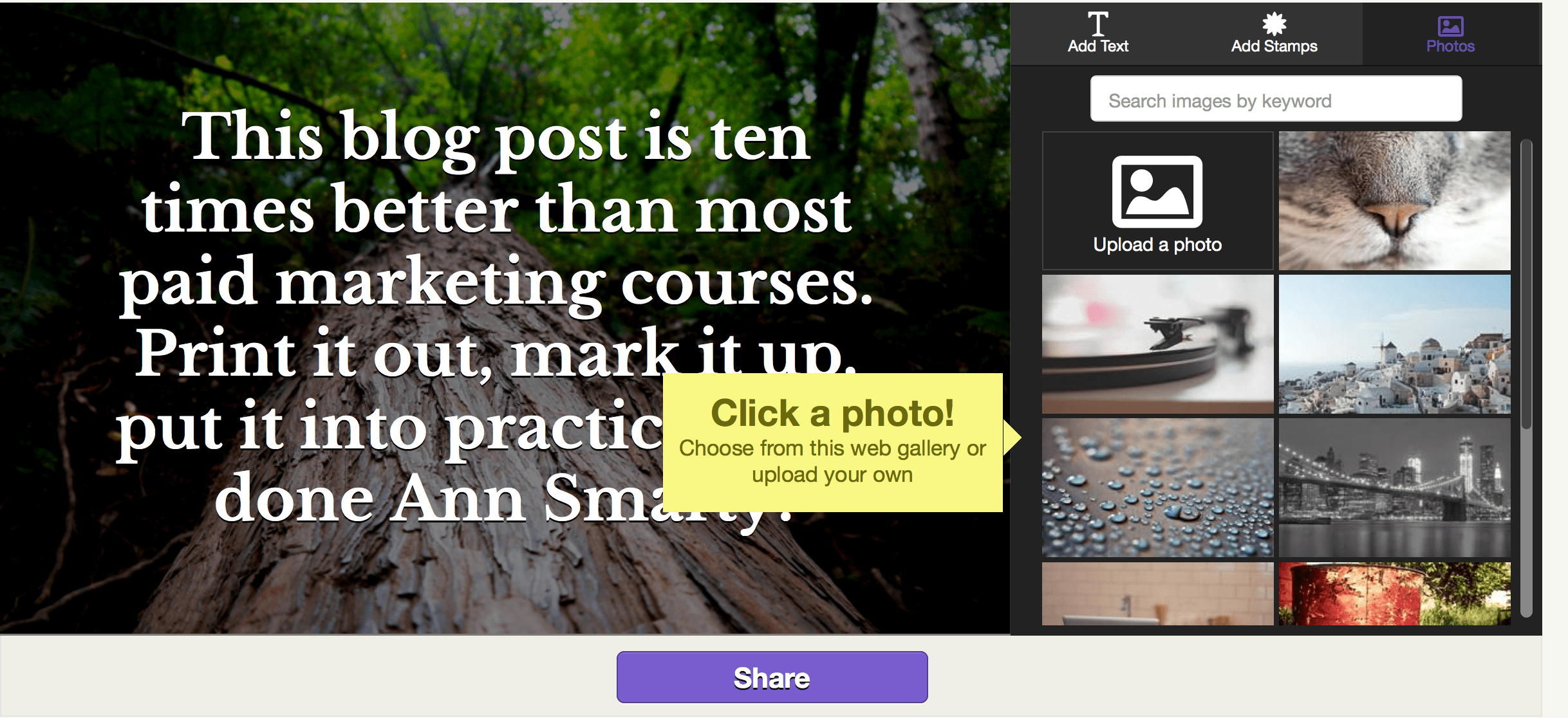 Visual quotes work great for expanding your reach beyond your niche. There are a ton of popular Google Plus communities – all about quotes, and especially visual quotes – where you can get active and discover new people to connect to:
Visual quotes rock on Pinterest as well, obviously. One of the best ways to make the most of visual quoting on Pinterest is to create a group board:
Note how active the above boards are! And most pins there are liked and shared a lot. If you are looking to increase your Pinterest interactions utilizing visual quotes and group boards is a must!
Remember Flickr? Photo quotes (especially if you use your own photography) can be a great way for brand visibility on Flickr. With your unique photographic quotes, suddenly you become a valued guest in some of the most active Flickr groups: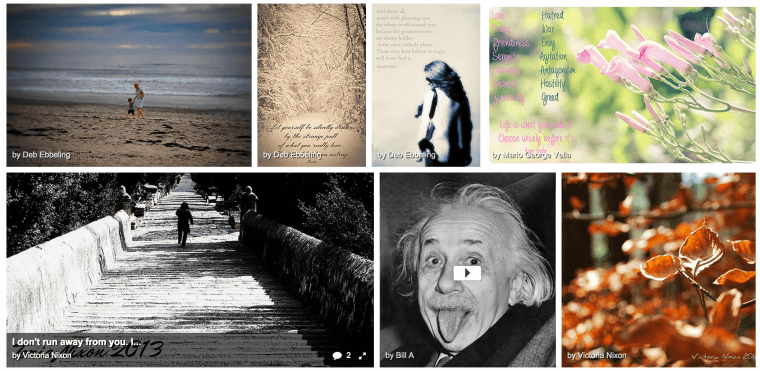 Visual quotes are great because they can be used in multiple channels and hugely increase your reach (especially if you incorporate them into your branding with columns approach mentioned above). Another great thing about visual quotes is that you can use them in your content to beautify your posts. You can also use them as the basis to create more content types, i.e. repackage.
Re-package
The beauty of incorporating quotes into your social media marketing is that they make absolutely amazing content no matter which packaging you choose:
You can grab your visual quotes and create an awesome-looking presentation to use on Slideshare. See what @problogger is doing for example (note the number of views!). Slideshares can also go hot at LinkedIn.
Collect your visual quotes and create an inspirational video! Tools like Animoto will let you do that in the matter of minutes. Suddenly you can market on Youtube and, once again, Pinterest (but this time with the collection).
The beauty of this concept is that you don't have to spend hours or days creating content. You simply maintain your weekly social media editorial commitment (while enjoying interactions) and then after a while re-package that collection into a new piece of shareable content. So, for example:
Commit to creating original visual quotes weekly, say, every Monday and tag them as #MondayQuote (your hashtag may have your brand name as well for better visibility). Keep your hashtag short: It may end up as a Twitter chat, for example!
Share your original quotes throughout all your social media channels (Facebook, Twitter, Google Plus, and Pinterest) using other hashtags. It may make sense to tweet the text version of your quote (to avoid posting too much visual content on Twitter).
Find popular Pinterest group boards and apply to post there.
Join a couple of most active quote-related Google Plus communities and Flickr groups and start posting (and commenting there as well).
After a couple of months, you'll have enough AWESOME quotes, that you can put together a cool Slideshare presentation (don't forget to brand it well!). You spend that month promoting that presentation.
Next month you grab all those visual quotes and put together an inspirational video (using a tool like Animoto which will also add music to it as well!) to upload to your Youtube channel and rank it.
Now, after a couple of months of this minimum activity you have lots of original branded content, new connections, and channels you can keep marketing to.
Are you utilizing quotes in your social media marketing strategy? Please share your tips and case studies with the rest of us.
Image Credits
Featured Image: WeKnowMeme.com
All screenshots taken September 2014