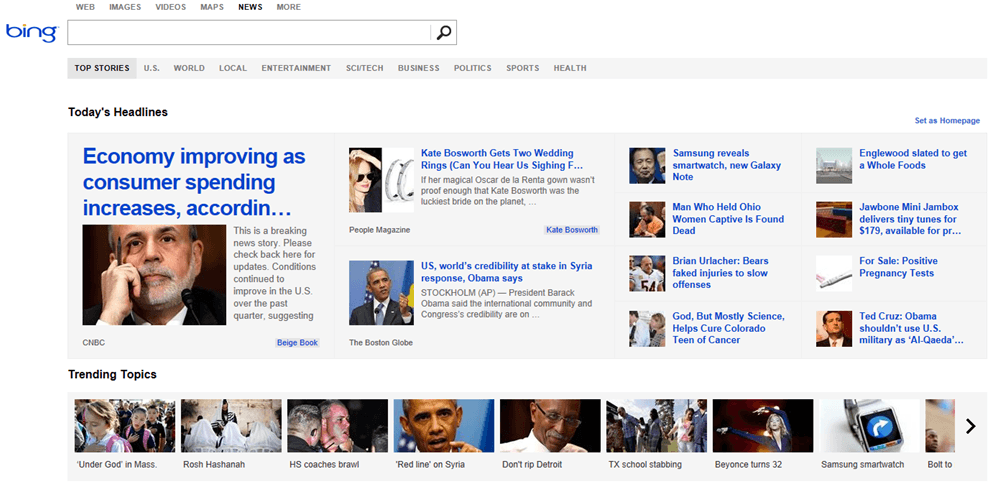 Bing continues to upgrade their user experience with an announcement made today about changes to Bing News.
In an attempt to modernize their search experience (and possibly compete with Google News), Bing has refreshed the Bing News section to showcase trending topics from Facebook and Twitter, the popular social media platforms.
This change may reflect a shift in how we are getting our news.
The Bing News Team describes the reason for these changes:
"At Bing, we know that keeping pace with what's happening in the world can be a full time job. People want to access the news in real-time whether it's on a phone, tablet, or PC. That's why we've refreshed Bing News to make it easier for you to stay on top of the stuff you care about."
Taking a closer look, Bing News now helps users filter through the noise and highlight buzz-worthy topics from Facebook, Twitter and Bing. Bing News offers a real-time view of the most relevant breaking trends and conversations on social media.
Bing News is also able to identify individuals associated with trending topics by harnessing Satori technology. Now you can view at a glance the people and places that are involved in the top headlines of the day without having to leave the page.
These changes to Bing News are coming off the heels of an announcement yesterday about improvements being made to Bing Video Search.
Bing is going to great lengths to stay competitive in the search engine market. Is it paying off for them? Try out the new Bing News and let us know what you think in the comments section!