In Q1 2021, there were 3.48 million apps available for Android users on Google Play — and Apple App Store has approximately 2.22 million apps in place for iOS users.
The dilemma marketing teams face today is not whether to invest in apps to engage with their audience, but how they can enable people to discover their apps in the first place.
This is where app store optimization (ASO) is so important.
In this article, you'll learn:
What is app store optimization?
How to achieve higher rankings within app stores.
Types of app stores to promote your company app.
Tactics to improve your organic rankings for apps.
Whether you are new to app store optimization or simply keen to refine your approach to ASO, this post shares practical insights which are proven to maximize app store success.
What Is App Store Optimization?
App Store Optimization (ASO) is known by a few names, including App Store Marketing and Mobile App SEO.
ASO is fundamentally about improving the visibility of your apps inside an app store search engine such as Google Play or Apple App Store. By increasing impressions, you can support other goals such as traffic to your online app and downloads.
The focus of ASO is expert resource applications related to improving the ranking of mobile applications (apps) directly within app stores (like iTunes, Google Play, and Windows Store).
The main mobile phones that apps are created for are the iPhone/iPad, Android, and Windows Phone.
The goal of ASO is nearly always app downloads, but supplemental goals can include items such as:
Increased brand exposure.
Positive app reviews and ratings.
More frequent and increased volumes of app reviews.
Audience engagement.
Additional marketing channel diversification.
Are you considering how to justify an investment in ASO?
Well, you should know that app store users and app downloads are growing fast!
According to Statista.com, since 2016 the number of mobile app downloads worldwide continues to grow:
140.68 billion in 2016.
192.45 billion in 2018.
204 billion in 2019.
218 billion in 2020.
Understanding App Store Optimization
If you are new to ASO, it may be a more familiar approach to your business's online marketing than you initially thought.
There are quite a few overlaps in approach between traditional search engine optimization (SEO) and ASO – something we'll cover in more detail in the next section.
When you think about it, this makes perfect sense.
App stores are, in effect, a closed site search engine, which in turn rely on:
Easy content (app content) discovery.
Plus, app ranking algorithms tied to:

Perceived app quality.
Freshness.
Brand scale.
User value signals (e.g., reviews, ratings, engagement).
Sound familiar? It should.
These factors are all important organic search ranking signals, too.
Marketing experts focusing on generating increased ROI from app stores are primarily targeting key performance indicators tied to increasing app visibility:
Ranking.
Impressions.
Shares.
Engagement (reviews/ratings).
Downloads.
Just like SEO, optimizing for your app's visibility is a constantly evolving and ongoing process.
When you build an app, your goal is to drive traffic.
With a commitment to ASO, consistently tracking and measuring performance and results, you can stand out in the App Store and Play Store where your reach is limitless.
In case you are wondering what categories have the most traction in app stores, the top 5 most popular Apple App Store categories in March 2021 were:
Games (21.53%).
Business (10.11%).
Education (8.67%).
Lifestyle (8.62%).
Utilities (6.24%).
The percentages outside of the top 5 categories are closely grouped between 2% and 4% and include travel, food/drink, health/fitness, and more.
The only exception to this close grouped trend being entertainment, which has 5.72% of popularity.
Organic Optimization: Your ASO Foundation
The key ingredient missing from many ASO marketing delivery approaches is organic search optimization and integration of app stores within the broader organic marketing mix.
There is more overlap with ASO and SEO than direct competition between the two.
The integration of these areas, and the application of consistent focus on ASO, can support numerous search marketing gains.
You may be surprised to discover that lots of the traditional search engine optimization tactics that work for search engine performance, such as Google and Bing, can also be directly applied to ASO.
Examples of this include:
App name, title, and URL optimization.
Keyword research for ASO.
App rating and reviews generation and handling.
Deep linking within mobile apps.
Indexation of Apps in Google SERPS (search engine results pages).
Click-through rate (CTR) optimization.
The biggest marketing mistake, however, when it comes to integrating SEO and ASO is overlooking the role of the website for driving volumes of referral visits directly to your store page, and app downloads section.
Your website should be seen as the driving force behind leading people throughout the information seeking and buying funnel from your main online entity (your website) through to an engaged, ready-to-buy/download audience (your app store).
As content levels are limited within the app stores themselves, the more that you can leverage your website content to increase app awareness and discovery to build external app authority and visibility, the greater the wider value, traffic and downloads your app will receive.
In-App Store Tactics
A number of specific optimization areas within app stores, including Google Play and other app promotion platforms, can be targeted for updates, refinement, and ongoing optimization.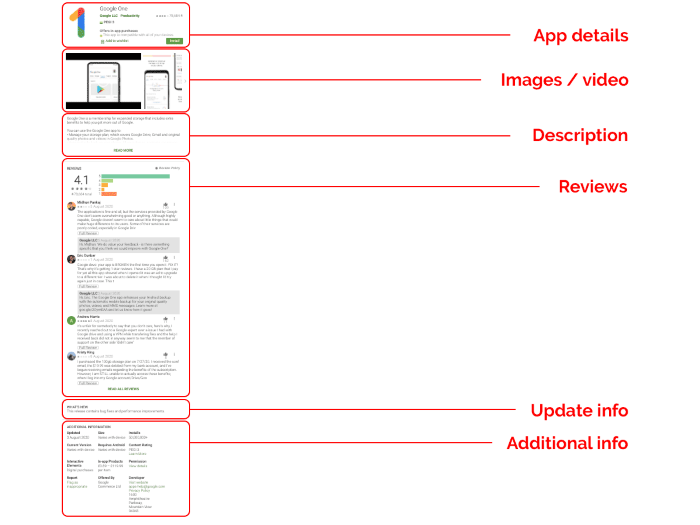 The vast majority of all app downloads are directly attributed to app stores, so you cannot overestimate the value of in-app store maximization.
While app store features and available fields will vary, the following are the core optimization items you will need to focus on and improve:
App name, URL, and subtitle
Ensure they reflect the core keywords describing your app as well as reinforcing value, differentiation, and other perceived value signals. It is important that these areas reflect the highest value keywords and user search behavior.
You should also note that there are character restrictions in place for areas such as app title (name), and be cautious about potentially implementing low-quality or spam tactics. Keyword stuffing, for example, is easy for algorithms to identify, demote or penalize, so should be avoided.
If in doubt, speak with an expert, or ask yourself why you are adding in this combination of terms? Do they speak to the user? Are they reflective of their search habits?
App keyword field(s)
These are imperative to get right and to update to show the latest and changing user search queries. Traditional keyword research is required for optimizing this. Ensure you take time to gather a comprehensive data set and put in place measures to review, refine and improve this and the other key items in an iterative way (likely monthly).
App ratings and reviews
These are a core trust area for users as well as a ranking signal for app stores. Volume, freshness, and rating all matter.
You will need to have a framework in place for generating regular reviews as well as for replying to and engaging with reviews. Front line staff can provide a wealth of value in this area, and having in place some form of staff training and incentivization can help motivate and empower your team to be proactive and consistent in gathering positive volumes of app reviews.
App downloads
As you would expect, the more downloads your app receives, the higher the perceived buzz, demand, and user value associated with the app. Increasing the volumes of downloads will support increased prominence within the app store's organic ranking.
It is as important to integrate your marketing channels outside of the app store to drive people to the app as it is to maximize the in-app performance. The better you can combine marketing channels and track the interactions between them, the greater your ability to impact them.
App Updates: Downloads Deserve Freshness
The top-performing apps in app stores are those that are ever-evolving (reflecting user feedback, technology changes, feature additions, and improvements).
They are also those apps that are constantly changing, evolving, and reflecting the feedback and requirements of the audience.
Apps that get updated more frequently tend to derive more positive and more frequent reviews.
They also provide iterative ways to update, engage with, and service your company community.
Updating your app at regular intervals can bring with it added relevance for your product to your audience and enable your brand to react to changing audience needs and competition changes with app refinement and improvement.
Both the Apple App Store and the Google Play Store take into account the regularity of app updates as part of the ranking algorithm.
This means that the more your brand is dedicated to progressing your app product offering, the greater your likely app ranking and in-store performance will be.
It is also a useful means to ensure your app remains fit for purpose and supportive of positive reviews and open feedback loops with your audience.
5 Extra App Store Optimization Tips
Here are a final few more tactics that you can deploy for app store gains.
1. App stores use keyword triggers in your app name, title, description, and associated fields, so ensure that you spend time researching the best keywords to use and that you revisit them at regular intervals for optimization opportunities
2. How you present your app store product page will have a big impact on the conversion rate value (downloads) you get from the page. Product page CRO should be an ongoing focus area for generating downloads.
3. Thumbnail images and screenshots used to promote your app in app stores will directly impact the click-through rates (CTR) of impressions compared to clicks to extra app pages.
4. A/B test each of your app store fields for continually improving key metrics associated with the field (CTR, CRO, etc.). This type of experimentation and hypothesis testing is critical for getting every ounce of value from the available optimization areas within app stores.
5. Consider using Apple's Spotlight Search. By using this app store users can search the apps that they have already installed on their mobile phones. When you enable Apple's Spotlight Search you can also impact app use and engagement levels as people are going to be exposed to your app more frequently.
Conclusion
App store optimization (ASO) continues to outperform growth trends.
Over the past few years, the necessity and value of apps within the marketing mix have been cemented as a key marketing tactic.
The initial challenge now is how to get apps discovered by users organically within the major app stores.
Hopefully, you now have practical steps to take today to refresh, refine, and better position your apps to generate increased results.
More Resources:
---
Image Credits
In-Post Image #3:Vertical Leap/Vertical-leap.uk