Evaluating your competitors' link profile is vital to your SEO success. It can help you discover areas in your strategy where you can improve. You'll also be able to find relevant backlink opportunities that you can likewise pursue.
Nowadays, various competitive analysis tools make monitoring competitor backlinks more easy and convenient. However, it can be confusing to choose the most useful one.
That's why we asked the Search Engine Journal Twitter community which tool they prefer to use when monitoring competitor backlinks.
What's Your Favorite Tool for Monitoring Competitor Backlinks?
Here are the results from this #SEJSurveySays poll question.
According to a survey sent out to Search Engine Journal's Twitter audience, 59 percent said Ahrefs is their favorite tool for monitoring competitor backlinks. The rest of the respondents chose Moz (22 percent), Majestic (14 percent), and Buzzsumo (5 percent).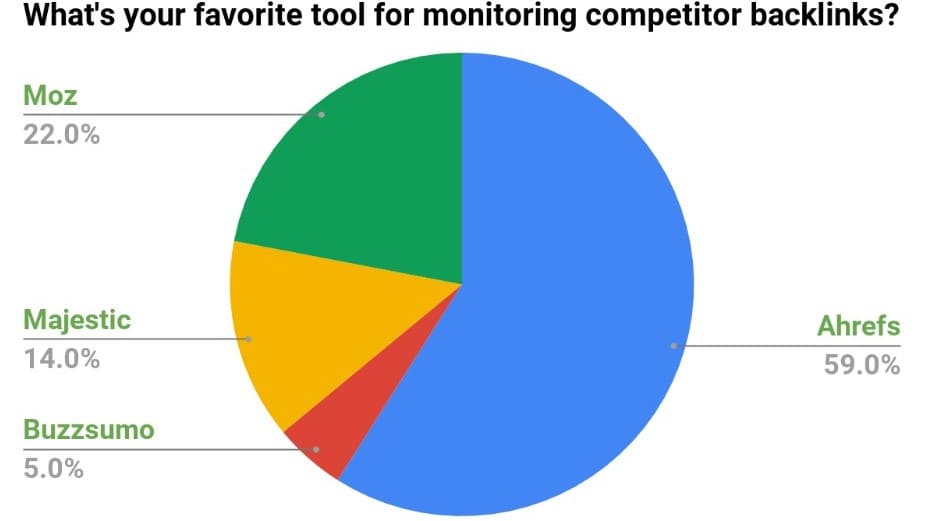 Here Are a Few Comments from Our Twitter Followers
Ahrefs, which also auto corrects to "shreds"… which is exactly what it does to the competition 👌🏼📈

— OLLIESBLOG 📈 (@olliesblog) September 19, 2017
We run a pretty small site, so @moz really gives us what we need.

— Jared Hoffmann (@jhoffkc) September 20, 2017
@Moz as a tool, but @ahrefs for backlink profile because it's more comprehensive

— Rhys Buckney (@RhysBuckney) September 19, 2017
— Amit Kothiyal🇮🇳 (@tisamit) September 19, 2017
More Insights on Monitoring Competitor Backlinks
Are you already analyzing and monitoring your competitors' link presence? If you haven't yet, you're missing out on a lot of valuable insights on how you can ace this ultra-competitive industry that is SEO. Check out this list of articles from our SEJ contributors and learn more about competitive link analysis:
Have Your Say
What's your favorite tool for monitoring competitor backlinks? Tag us on social media and have your say in the next survey by checking out the hashtag #SEJSurveySays on Twitter for future polls and data.
---
Image Credits
Chart created by Shayne Zalameda