Getting featured on Product Hunt is a great way to kick-start your business — especially if you're a new app developer or an entrepreneur with a hot new piece of tech. A front page exposé can open a lot of doors for you, including collaboration opportunities, more visitors on-site, and additional coverage on websites like TechCrunch.
The only problem: Getting featured isn't as easy as simply submitting your million-dollar idea for review. In this article, I'll introduce how Product Hunt works and discuss best practices for getting featured.
What Is Product Hunt?
For tech junkies, few websites are as thrilling as Product Hunt. Product Hunt's front page is a cornucopia of up-and-coming apps, games, websites, and devices, and their newsletter is a great way to get the scuttlebutt on who's about to take the world by storm with the "next big thing."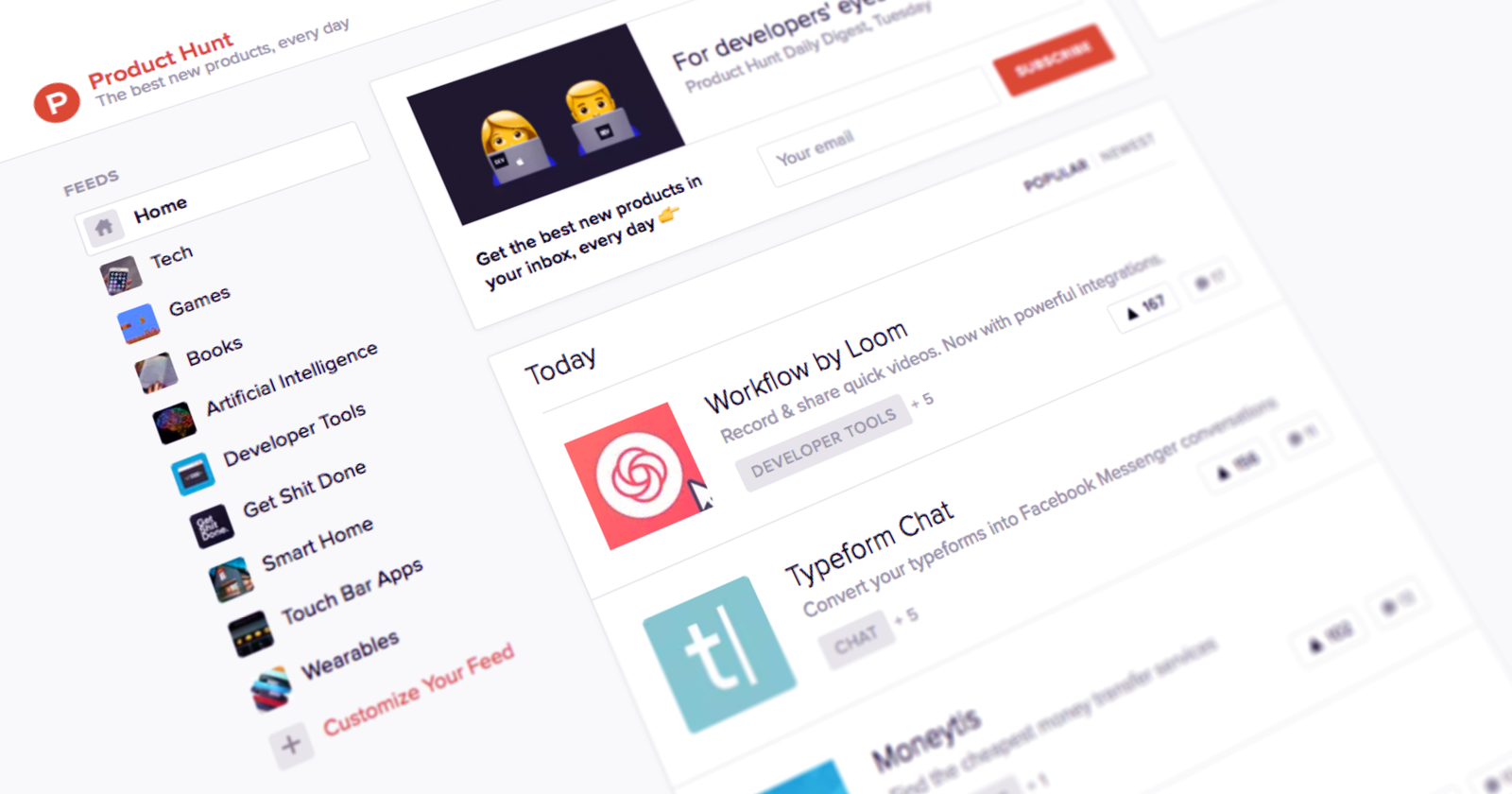 Getting featured on Product Hunt often comes with a lot of perks. Marta Bogacz recently wrote about how launching on Product Hunt may result in:
More on-site visitors (some have reported 100+ unique visitors per hour)
Increased revenue
New business opportunities such as partnerships and product development ideas
More features on sites like TechCrunch and Business Insider
For an inspiring story, read Bran Kanstein's accounting of having the #1 most upvoted product on Product Hunt (Startup Stash). This former Product Hunt community manager scored a front page feature, which net him more than 35,000 unique visitors and 1,140 new newsletter subscribers in under 48 hours. Now that's the dream.
Of course, with a lot of benefits comes a lot of competition. Hundreds of new products are submitted to Product Hunt daily, which means it's easy to get lost in the shuffle, especially if you don't understand how Product Hunt features work.
How Does Product Hunt Work?
The first thing you need to understand is that Product Hunt mainly focuses on new tech — or tech that's just undergone a large revamp. Despite Facebook's popularity, you won't be seeing it featured on Product Hunt.
Second, Product Hunt is built by a community of tech enthusiasts. If you want to fit in, get shared, and make a really big splash, you need to understand the platform before you launch your product.
Take the advice of Yoni Shechter, founder of Favorize: "Before you launch on Product Hunt, you should understand its curation algorithm, take the pulse of its community and look at what similar products do to receive love and feedback."
You should know also know that not all products are eligible. You can check if your product is eligible on Product Hunt's FAQs.
Finally, you should understand that launching your product on Product Hunt isn't a golden ticket. You need to work to make your launch successful, especially if you post your product yourself.
When you post your product to Product Hunt, it automatically goes to the /newest page, not the front page. To reach the front page, you'll need to wow the community and start scoring (organic) upvotes.
Product Hunt has internal curators who are on the lookout for amazing new tech to feature. These 'Hunters' have a trusted reputation and can post products directly to the front page. The 500 Hunters app will tell you more about Product Hunt's most influential Hunters.
Bottom line: Getting hunted is excellent, but it's not the only way to get your product featured.
How to Get Featured on Product Hunt
1. Do Your Homework
As with any launch, the number one key to success is to understand your platform and your audience well before your launch. For the best results, you should research similar products to find out how they handled their launches.
And, while it sounds simple, make sure you understand your product. Understand your unique value proposition. Figure out how to reach your core audience. Build your landing page ahead of time and craft some compelling taglines. And get people excited well before your launch.
You tend to gain the most traction within the first 24-48 hours after launching, so plan accordingly.
2. Build Interest Before You Launch
Foundr published a big guide on Product Hunt back in 2015, and one of the key takeaways from that guide is that "you need to know a lot of people in the online space for a successful Product Hunt launch." Don't let that distress you too much if your audience is currently small; give yourself a few months to hone your messaging and build up a consumer base before you launch your product.
Don't underestimate the power of supportive fans and investors when you're launching your product. You need word to travel fast if you want to gain traction on Product Hunt.
3. Contribute to the Community
In addition to building your personal following, I also recommend reaching out to other influencers on Product Hunt and building relationships months before you consider posting your product. Product Hunt has a tight-knit and very supportive community, and you can learn a lot by getting to know them.
So get involved! Start upvoting products you love, leave comments, and maybe consider attending a meet-up with other creators. If you ever have questions, you'll always find someone happy to respond.
And, if possible, find someone from the community to hunt your product for you.
Just don't schmooze for the sake of self-promotion. Be yourself. Get to know people. Product Hunt responds warmly to an authentic personality.
4. Time Your Launch for Maximum Impact
Gauge the website before you launch your product. If Product Hunt is saturated with tech that looks very similar to yours, consider holding off for a week or two.
You should also carefully consider the time and day you launch on; weekends tend to be slower on Product Hunt, whereas the site has heavier traffic on weekdays. So while launching on a Tuesday might win you more eyeballs, you'll face less competition if you launch on a Saturday (which might be better if you don't have a large following).
And this probably goes without saying, but do not launch your product on the same day Apple unveils a new iPhone. You will be lost in the app store's explosion of new downloads.
5. Learn from Your Submission
A lot about Product Hunt has changed since Chris Toy wrote 7 Ways to Improve Your Product Hunt Submission, but his advice that "Product Hunt's comments section is arguably its most valuable return" still rings true.
Even if your launch doesn't get featured or catapult your product to instant fame, you can still use your submission to learn something about your audience and your offering. Take what you learn and improve your product — constructive feedback may even lead to a relaunch down the line.
My Product Hunt Experience
WebSite Auditor was recently featured on Product Hunt, much to my delight. I'm very proud of the tools my team's created, so a Product Hunt exposé is a great way to show it off to people who may never have heard of SEO PowerSuite tools.
One thing I learned, however, is that if you want to get the most out of your Product Hunt feature, you need to use the space given to you. Use the product's description to describe what your tech does, how it helps your target audience, and why it matters in a world already chock-full of apps.
I also learned — thankfully before spreading the news over social media — that Product Hunt has very strict rules when it comes to sharing your feature. You can (and should) share your product features on social media, but DO NOT ask for upvotes. Asking for upvotes or any perceived gaming of their system will get your feature kicked from their list, if not removed from their site entirely.
Finally, you should consider joining in on community discussions, upvoting products you like, and leaving constructive (and positive!) feedback. Getting involved is the best way to get noticed.
My feature gained WebSite Auditor a modest amount of exposure, but for a lot of new start-ups, a feature can launch their product from relative obscurity into sudden fame.
Product Hunt is ready and willing to celebrate your exciting new tech with you, so use it to your advantage. Who knows? Maybe you have the next big thing on your hands!
Image Credits
Featured image and in-post photo are by the author.