Seth Godin once said: content marketing is the only marketing that's left.
What do you love most about your favorite commercials? Flo's antics for Progressive? The talking llama who touts the services of Bank of America?
Or, maybe it's the talking lizard from GEICO, Kevin Hart imposing on his daughter's date (part of which takes place in a Hyundai), or those dressed-up Doritos dogs?
How about the last blogger you read from that helped grow and chisel your skills, from writing a better social media post to marketing your entire presence online more effectively?
Incredible examples of effective brand marketing are not difficult to find, especially in an age of social media and instant connection. Great content marketing that supports a brand well leaves a positive impression, causes us to remember names, and gives us an in during office conversations around the coffee machine. Effectively done, it gives a brand an image and a voice that speaks volumes to our direct needs and problems, with a solution.
Cost and effectiveness? Content marketing far outweighs traditional media advertising and marketing. Let's talk more about why content marketing is today's marketing.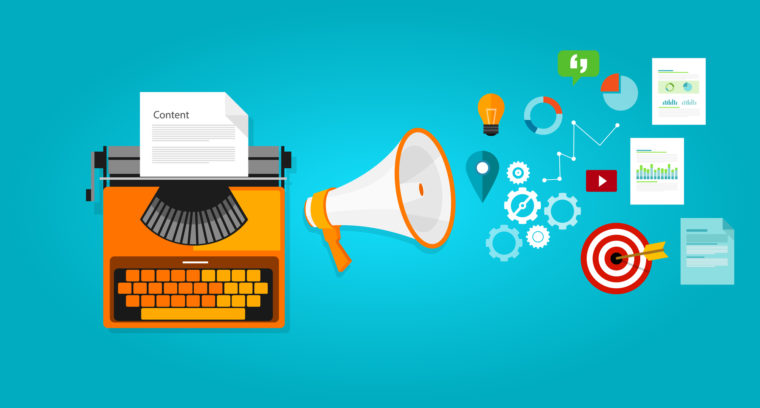 First: What Good Branding & Marketing is Not
CopyBlogger is right on track here:
Branding isn't your company name. It's not a tag line. It's not a logo. Branding is just another name for creating a perception.
A brand is not a website, a color, or a design. It isn't even a name. Rather, it's the meaning behind the words, which is why content marketing is so important.
Americans don't spend money on expensive coffee because they love the green and white mermaid who graces the cup, but because of what's inside. If the content of the cup was lacking in flavor and extra-hot-triple-shot mocha goodness, no one would buy it.
Content marketing may be as pretty as our Instagram filters can make it, but if it's lacking in depth and relevancy, it won't speak volumes about the brand. The cup will be empty and no one will want to stop for a drink. You have to go deep–think deep, create deeply, feel your audience deeply.
Here are a few brand examples for inspiration.
What Does Good Brand Marketing & Strong Copy Look Like?
1. Nike
The athletic wear giant has a fantastic social media presence. One scroll through Nike's Twitter feed is proof of their quick response to users; the company even took an extra step by setting up a separate account dedicated to customer service, @NikeSupport. The content Nike puts out is real, authentic, and relevant to their fans.
2. Coca-Cola
Coke released its Share-a-Coke campaign a few years ago, which placed personalized bottles into the hands of cola lovers everywhere. The social media marketing, positioning of the campaign through fun copy and visuals, and widespread word-of-mouth was incredibly effective. Suddenly, we could enjoy our favorite beverage while it wished us a happy birthday or sent us love right from the label. The effects were astounding, as pulled from their campaign history page: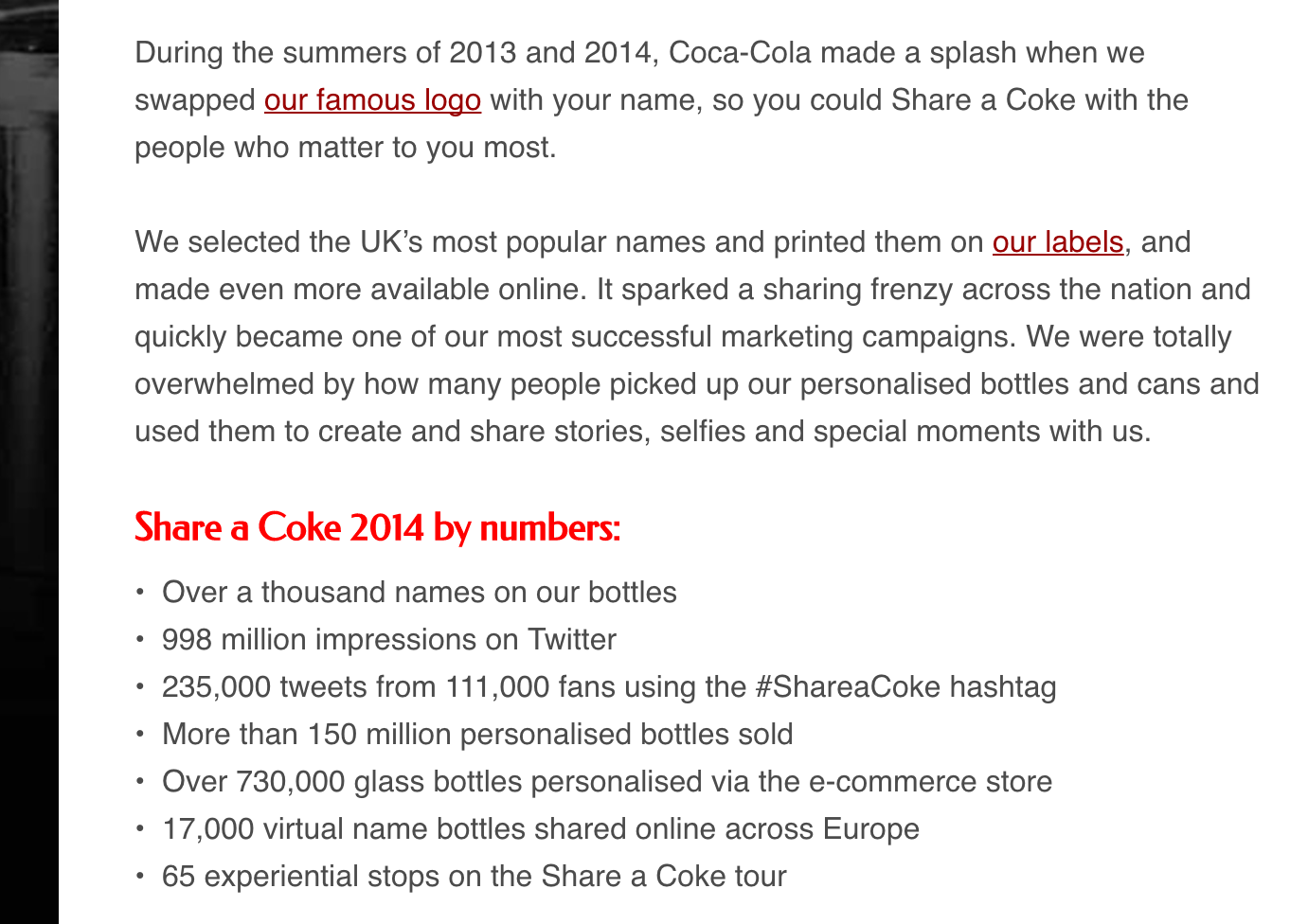 3. New York Times
The implementation of NYTVR combined virtual reality with Google Cardboard to give users a new view of the world. Times subscribers received the Cardboard viewer, slipped in their smartphone, and then immersed themselves in a variety of virtual content.
Check out the powerful wording on their landing page for the new NYTVR: See for yourself. Put yourself at the center. All it takes is a smartphone. It's dedicated to the user and makes them feel like they're the one wielding the power, not the NYT. Brave move.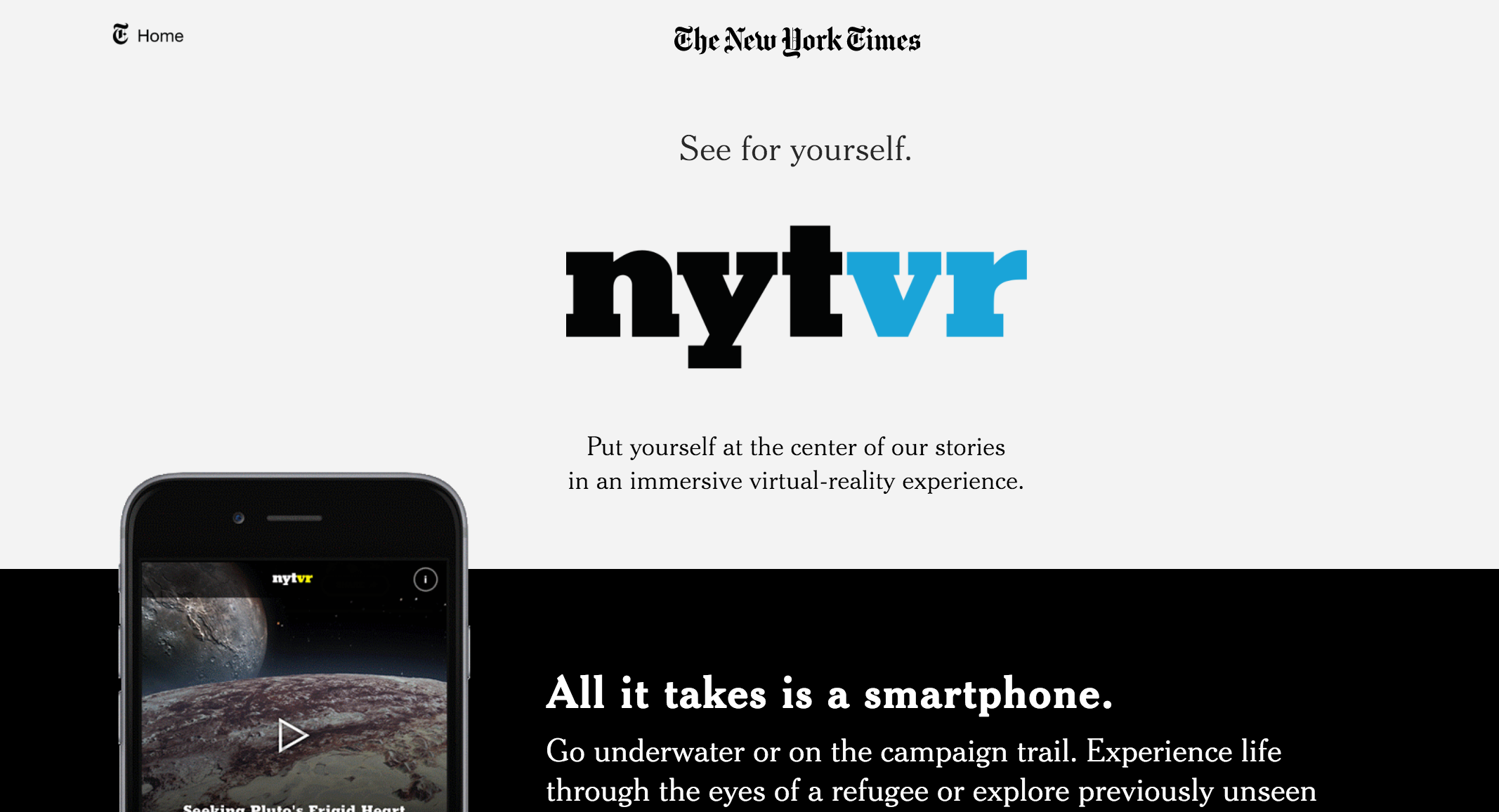 8 Statistics to Help Prove the Value of Your Content Marketing Development
Next, to prove that content marketing really is the best brand marketing: here are eight of the top statistics. Use them to convince your clients why content marketing is the best approach!
1. 60% of Marketers Create at Least One Piece of Content Daily
(Stat from Emarketer) Consistency is key, no matter what that looks like for you. Write a blog post, create a podcast, make an infographic—whatever it takes to deliver your relevant content on a regular basis.
2. Content Marketing Costs 62% Less Than Traditional Marketing
(Stat from DemandMetric) The quality of work does not always correspond to the cash on hand. The difference? Great content trumps the size of a budget every time, and that comes when we blaze new trails, take leaps, and meet our audience where they are.
3. 68% of B2B and B2C Marketers Use Blogging in Their Social Media Marketing
(Stat from SocialMediaExaminer) This type of original content ranked above video and podcasting, which gives hope to those of us who do not excel at creating exciting infographics and Canva images.
4. Across 600+ Marketers, 82% of Companies Have a Specific Process in Place to Repurpose Content
(Stat from Curata) Repurposing content is one fantastic way to get a ton of mileage out of just a small amount of content. For example: if you find one hot topic in your industry, that could mean a long form blog guide, which can then be turned into an e-book (downloadable lead magnet!), a presentation, an infographic, a video, social media blurbs–and on and on.
5. 2 Million Blog Posts Are Written Every Day
(Stat from MarketingProfs) The key to producing written content is to stand out and be relevant. If you work on creating 10x content, you can be the one to stand out from the crowd and be the blog that matters. In a world that's now used to ongoing blog posts — from creating to reading them daily to solve a common problem — it's easy to create, but not to dominate. If you can learn how to create content that dominates in your space, you can win serious ROI.
6. 65% of Companies Say That Generating Traffic and Leads Is Their Top Marketing Challenge
(Stat from Hubspot) This is the main challenge in content marketing that some have solved, but the majority of others haven't. Content marketers are not alone in their efforts to attract an audience and keep 'em coming back.
The good thing about this being a challenge is that if you are aware and know that promotion matters just as much as creation, content marketing can achieve serious ROI. Keep your eye on the prize–don't just create, promote to generate real leads from your content.
7. The Average Word Length of Google's Top Shared Content Is Between 1,100 – 1,200 words
(Stat from SearchMetrics) The average word count of Google's top-ranking content is between 1,140 and 1,285 words. As SearchMetrics reminds us, "the importance of quality, relevant content cannot be understated." Long-form content is one way to create super relevant, effective content for your reader. In a busy internet world full of content, they want to land on a one-stop content piece where every question is answered. A long-form guide is just that.
8. Reading Content on Mobile Outranks Time Spent on Desktop 51% to 42%
(Stat from SmartInsights) Mobile digital content reading outranks time spent on desktop computers 51% to 42%. Failing to provide a usable and efficient mobile experience means you may miss out on visitors staying to absorb your content. On the flip side, creating AMP-friendly content, a fairly easy thing to do, can put you seriously ahead of the crowd here — and doesn't require a ton of time or money invested.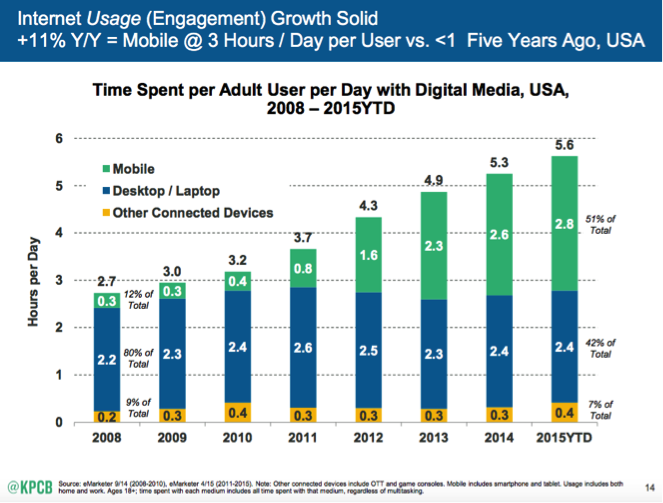 Upping Your Game on the Content Marketing Field
Some days, it can feel like you are on the losing team in the content marketing game. You kick the ball, but miss the goal. You make the shot, but it bounces off the rim. You swing the bat, but still strike out.
In other words, all the statistics in the world won't help when you've run out of inspiration.
Here are a few places to look when you need help getting back in the game:
Use content marketing tools like BuzzSumo, which helps with everything from keyword research to content ideas plus performing in-depth content analysis on the most-shared content for inspiration.
Know where to look for relevant questions and problems to solve: start with your customer and user base. Keep your eyes focused on the goal, otherwise, you may end up where you don't want to be. Your readers and customers want content that's relevant and up-to-date.
Know your audience. You have the answers they need and the solutions they're seeking, but unless you know them, you can't provide these resources.
Content Marketing Should Go Steady with Brand Marketing
Content marketing takes many forms, from social media and press releases to podcasts and blog posts. The medium isn't as important as what is being shared by your readers and the kind of conversations that are being generated about your services and products.
The good thing? There's room for content marketers who dedicate themselves to creating the best and seriously standing out. In a world full of content and brands, not everyone is doing it right. Those that are, gain real attention. Patch up your strategy, connect the dots, and get in gear with the right resources and teamwork–and your brand will attract steady attention and big ROI. Time to capitalize on the wonderful tools and methodologies within content marketing to boost your brand.
Image Credits
Featured: Julia McCoy / Express Writers
In-post Image 1: bakhtiarzein/DepositPhotos
Inset graph 1: Curata
Inset graph 2: Emarketer
Screenshots Julia McCoy 2016