Part of any keyword strategy is knowing what your target keywords are. With that, you can optimize your research and campaigns to ensure that you're ranking for the right keywords on SERPs. But how do you measure success for your keyword strategy? One way to do that is through keyword ranking reports.
Keyword ranking reports may be essential, but do SEO marketers really send them out to their clients?
According to a survey sent out to Search Engine Journal's Twitter audience, majority of the respondents (70%) send keyword ranking reports to clients, while 30% don't. Based on these results, keyword ranking reports are a relevant metric to send out to clients. But why don't some SEO marketers send them? Let's take a closer look.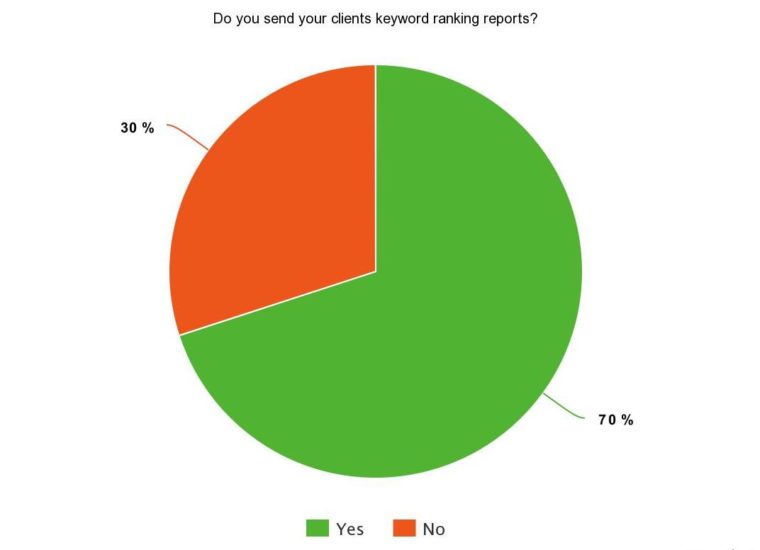 Why Keyword Ranking Reports Are Important
Keyword ranking reports allow you to keep track of the progress of your keyword strategy and SEO campaigns. You can use this report to manage your keywords and identify what your high-ranking and low-ranking keywords are. You can then use this data to reinforce your campaigns on strong keywords and boost your strategy for low-ranking keywords. You can also see how your rankings change over time for your target keywords and modify your strategy accordingly. In a nutshell, keyword ranking reports show you what's working, what isn't, and what you can improve on.
One of our survey respondents weighed in, emphasizing the importance of keyword ranking reports:
I do @sejournal. I think it's an important way to demonstrate results, measure progress and prove campaign #ROI. #SEO #DigitalMarketing

— Liam Saunders (@LiamRDSaunders) November 23, 2016
We also shared our survey on Facebook and received a comment to our post saying that you should send weekly rank tracking reports to clients:
I mean… if you're actually doing what you should be doing for your clients… why the heck *wouldn't* you send them weekly rank tracking reports? Once you have your targeted ID'd, that's exactly what you should do – so when you get to work, they can see how what they're paying for is paying off.
Other Metrics to Focus On
If keyword ranking reports matter, why don't all SEO marketers send them to clients? Cyrus Shepard laid the case for the death of keyword ranking reports, citing certain problems these reports have such as not knowing if a keyword you rank for is actually sending you traffic, not being able to track for long-tail keywords, and changes in SERP features. Keyword rankings may be important to keep track of but this isn't the only metric you should focus on.
Jenny Halasz, SEJ's resident SEO columnist, identifies four key areas you should measure for SEO, which includes SEO traffic, SEO position or ranking, customer engagement, and revenue or leads generated. Andrew Raso also noted other metrics to look out for when measuring the success of your SEO campaigns, such as monitoring time on-page, tracking your site's usability, and monitoring traffic by device, among others.
So keep sending your clients those keyword ranking reports, but mix it up and send them other relevant metrics for a comprehensive view of your keyword strategy and SEO campaigns.
Have Your Say
Do you send keyword ranking reports to your clients? What other metrics do you focus on? Share your thoughts in the comments below and have your say in the next survey by checking out the hashtag #SEJSurveySays on Twitter for future polls and data.
Image Credits
Featured Image: Rawpixel/DepositPhotos
In-post Image: Meta-chart by Caitlin Rulien