Thinking of putting more effort into your digital marketing activities? Wondering what area of digital marketing to focus your budget on?
The Search Engine Journal Twitter community shared their insights on what percentage of their overall marketing is digital. Let's take a look at the results.
According to a survey sent out to Search Engine Journal's Twitter audience, 52% say majority of the overall marketing activity for their business is digital.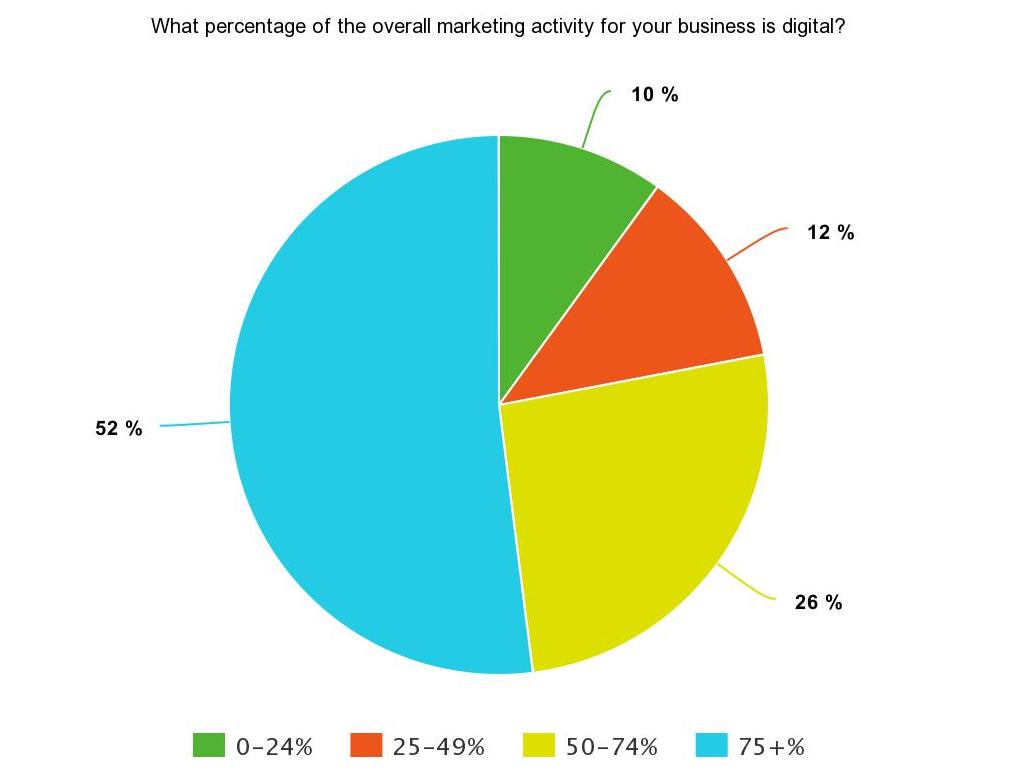 Some of you weighed in on this matter, with both ends of the spectrum represented:
@sejournal by budget non-digital spend is 10x digital spend

— Christopher Johnston (@chrisjohnston) January 30, 2017
@sejournal Our's a B2B business, fully depends on digital marketing (Over 90%) No.1 source is @Google, followed by @LinkedIn & news networks

— Zubair Abbas (@ZubairAbbasMe) February 3, 2017
The poll results show that digital marketing is a key activity for businesses. If this is the case, would you allocate a considerable percentage of your budget to digital marketing? What aspect of digital marketing should you spend more on? Keep reading to find out!
Key Insights on Digital Marketing Spend
AdRoll, a performance marketing platform, released the results of its latest report on the 2017 State of Performance Marketing. The study was based on a survey of 1,000 marketers across the US.
Here are some takeaways from AdRoll's report on how marketers spend their digital marketing budgets. It's also worth reading the full report for a more comprehensive view.
1. 65% of marketing decision makers spent more than half of their marketing budget on digital marketing.
The study findings are in line with our poll results above and show that digital marketing is the way to go. So if you're still on the fence about allocating more of your budget to digital marketing, this serves as encouragement to do it.
2. Within the customer journey, marketers allocate 36% of their marketing budget to prospecting for new customers.
Another 36% is allocated to converting prospective customers, while the remaining 16% is for activating or upselling existing customers and 12% is to drive loyalty or retain existing customers.
Respondents also said that when trying to attract new customers, paid and organic social media were the most successful channels. Other channels that worked for marketers include programmatic display advertising, paid search, traditional media buying, referral, and events.
Gaining knowledge of user behavior in all stages of the customer life cycle is important so you know at which stage to put more of your efforts in and adjust your digital marketing strategy accordingly.
3. 42% of marketers spend their budget on retargeting.
Respondents believe that retargeting performs the same or even better than display campaigns, search campaigns, and email efforts. Marketers also said their most common objectives for retargeting campaigns include brand awareness, lead generation, social engagement, driving new sales, and customer retention.
4. In 2016, 50% of marketers spent more than half of their budget on programmatic advertising.
While programmatic advertising can be considered relatively new, the study shows that year-over-year investment in this practice has grown. In 2013, only 7% of marketers dedicated more than half of their budgets to programmatic advertising. By 2015, this percentage increased to 32%, and jumped to 50% last year. Over 60% of marketers also report greater ROI from programmatic advertising than traditional media buying.
5. Almost 40% of marketers spend their budgets on attribution and measurement.
Marketers recognize the importance of measuring the impact of their advertising efforts and evaluating their results. Close to 75% of respondents believe that attribution is critical to marketing success. Most marketers (65%) still subscribe to the single-click attribution model, but plan on changing it in the future.
Have Your Say
What percentage of the overall marketing activity for your business is digital? Which aspect of digital marketing do you spend most of your budget on? Tag us on social media and have your say in the next survey by checking out the hashtag #SEJSurveySays on Twitter for future polls and data.
Image Credits
Featured Image: Variant/DepositPhotos
In-post Image: Meta-chart by Caitlin Rulien