No matter how far you can go customizing the best (per my opinion) free traffic analyzer, what it really lacks is live traffic reporting. I need this option mainly because I often deal with social media and once one of my or my client's posts hits Digg, Reddit or StumbleUpon front page or is Tweeted by someone with thousands of followers, – when this happens, I want to be one of the first to know (to watch and answer comments, for example).
In this case, live free stats-reporting tools are what I always need, so here are 3 of them I've had some experience with:
| | | | |
| --- | --- | --- | --- |
| | SiteMeter | GetClicky | BLVD status |
| Private stats | No | Both private or public | Private |
| Report types | current day , last hour, past week, average per day, total | Current day; previous day; 2 days ago; last 7 days; last 14 days; last 30 days; last month; + Custom date range | Recent (or set the date range) |
| Save reports | No | Yes | No (?) |
SiteMeter
SiteMeter is the simplest of the three. Yet, it is quite enough if you don't need anything fancy. See the traffic numbers for today, last hour, past week, average per day, total and average visit length. Filter reports by:
details (IP address, Internet provider, user agent);
referring URLs;
world map;
location;
out-clicks;
entry pages;
exit pages.
Additionally, view stats graphs for the current day, previous 7 days, previous 30 days, previous 12 months.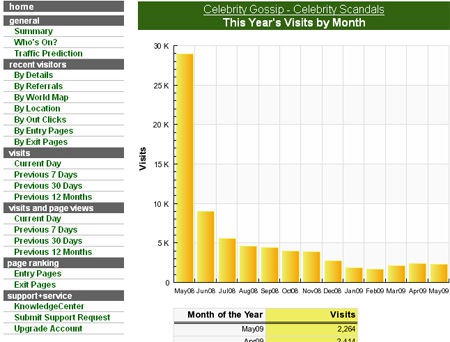 GetClicky
GetClicky is a more advanced and varied tool than the above one. The free version of it offers quite a number of goodies including trend (in per cent), detailed visitor analysis (including "actions" count, i.e. how active the visitors are), each page analysis, keywords, etc.
Each report can be filtered by keyword, saved and trended.
Reports can be sorted by:
Current day;
Previous day;
2 days ago;
Last 7 days;
Last 14 days;
Last 30 days;
Last month;
+ Custom date range
BLVD status
BLVD status (reviewed on SEJ) is another advanced tool for live traffic reporting. It refreshes automatically every 30 seconds or every 1, 3 or 10 minutes.
There are reports available for each site URL, search engine keywords and all referrals. What's more you can set up goals and watch them live: e.g. how many subscribers you are getting from current social media campaign.
Reports can be either "recent" or based on the date range you set.