One of the first steps to take when analyzing on-page SEO (and accessibility) is looking at the text-only version of the page. This way you remove all the clutter of CSS styles, images, JavaScript and flash and see what really is important: text content that matters to crawlers and users.
Google's text-only cache version of the page is one of the possible ways to do that. But not the only one. This post looks at 3 ways to quickly access the page text-only version of the current page:
1. Fangs creates a textual representation of a web page similar to how the page would be read by one of the modern body-part named screen readers. After installing (and restarting Firefox), browse to a web page, right click and select "View Fangs". A new window will open with the text rendered by Fangs.
The page will be rendered into the text version with separate H-headings and links outlines: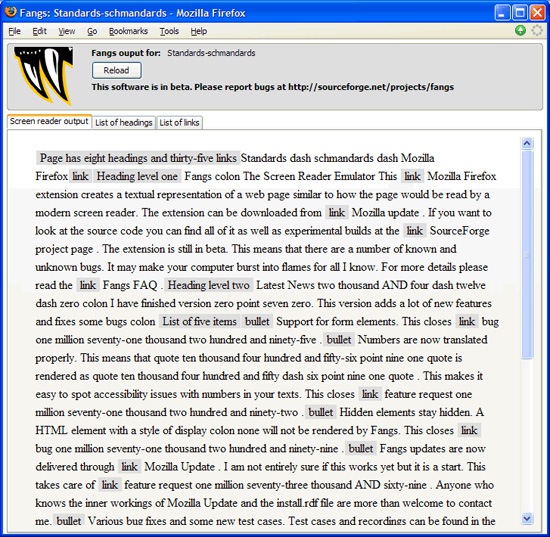 2. TidyRead is a service that extracts the text from almost any web site and displays it on an easy to read page "that removes all of the clutter". It is quick and easy to access (via the statusbar) and shows the rendered page in a popup (with the original page in the background):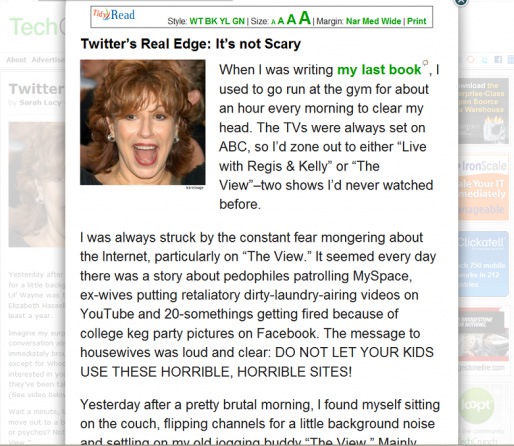 3. Textise is a FireFox addon that can create a text-only version of almost any web page. Besides checking your page SEO and accessibility, it also:
Allows safe navigation to suspicious web-sites.
Can make cluttered pages easier to read.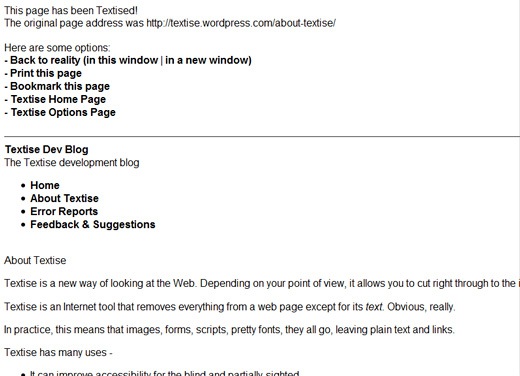 4. Also you can view the (partially) text-only version of a page with Web Developer addon by checking these options:
Options > Persist Features (if you want to browse only text versions always. Quick tip: You can create a separate FireFox profile for that);
CSS > Disable Styles -> All Styles;
Images > Disable Image > All Images;
Disable > Disable JavaScript > All JavaScript.