It's hilarious how many truly awesome features we fail to notice even with the tools we use daily. I've been using Gmail for ages and have learned about the three features below just recently. Whether you are aware of them or not, I find them pretty awesome and worth covering here.
Indicators: Identify Personal Messages
If you are often copied on some messages, you may want to identify those messages (where you are not the only recipient) from those emails which have been meant and sent only to you. Gmail Indicators feature is what you need!
When enabled, the feature displays an arrow ( › ) by messages sent to you and a group of others; and a double arrow ( » ) by messages sent only to you. Arrows won't appear next to messages sent to a mailing list.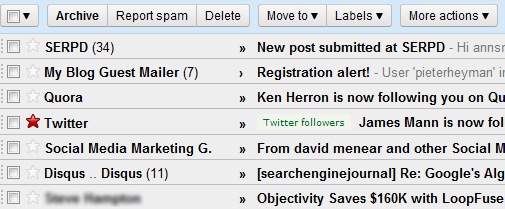 How to set up: Navigate SETTINGS -> GENERAL, scroll down and enable "Personal level indicators".
(Smart) Mute: Filter Out Long Irrelevant Threads
There's a tendency for most people to keep exchanging emails hitting "Reply to all" without noticing that there are more people who are copied on that conversation. If you find this really annoying or if you often find yourself copied on irrelevant correspondence, you may love Mute feature which helps to filter out those threads from your inbox.
A better alternative of the default feature is the Gmail Labs project called "Smart Mute".
Unlike the default "Mute" feature, the Smart Mute makes sure that you are safe from seeing muted conversations again and again: Both Default and Smart Mute features prevent muted conversations from reappearing in your inbox unless your email address is added to the To or Cc field or you are the sole recipient. However the Smart Mute goes one step further: if your email address is already on the To or Cc field and you choose to mute a conversation, it will not reappear in your inbox unless you are the sole recipient.
All the muted conversations can be accessed using Gmail search, just use is:muted filter.

How to use: On the message thread, click "More actions" button and select the last option called "Mute"
"Filter Messages Like This": Quickly Create Filters for Any Message
Gmail Filtering and labeling options are powerful tools for task and time management as well as for de-cluttering your inbox. The ability to create quick filters while reading an email is pure GOLD!
With Gmail you can easily create a filter for messages similar to one you're currently reading.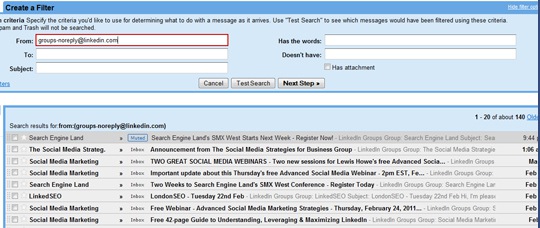 How to use: On the message thread, click "More actions" button and select "Filter Messages like This"

Note: You can create an unlimited number of filters, but only 20 filters can forward to other addresses. You can maximize your filtered forwarding by combining filters that send to the same address.