Gmail is an awesome tool that can be used in hundreds of ways (besides actually sending and receiving email). Recently I have found a great way to manage my web tasks with Gmail filters and a FireFox addon I discovered a few days ago.
Here's the tip:
Step 1: Create a Gmail Filter
A Gmail Filter is used to:
Collect your to-dos in a separate folder;
By-pass the inbox (if you don't want to clutter it);
Mark your tasks in some way (star them for example);
Forward a copy of your task to someone (a person who manages you or your employee).
To create a Gmail Filter, navigate Settings -> Filters and click "Create a new filter". Set up the filtering criteria:
From:me
To:me
Subject: TO-DO

Now specify the action to take to the mail matching the criteria:
Set the task to skip the inbox (this is up to you, I myself have it checked)
Star the messages (to be able to un-star them once the task is completed);
Apply the label (I am using TO-DO);
(Possibly) Forward it to an email address of your choice: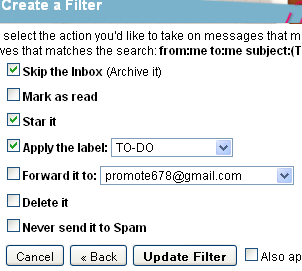 Step 2: Install and Use "Email Yourself" FireFox Addon:
Email Yourself! allows you to email yourself the link, title, and a selected summary of the webpage you are viewing using GMail.
Before using the extension, edit the two preferences (accessed via Tools -> Addons menu):
1. Enter your gmail address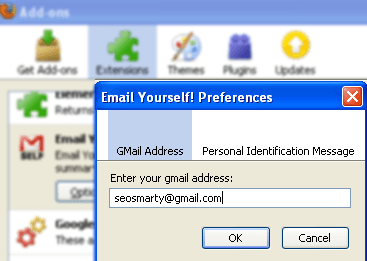 2. Enter a personal identification message (suffixes your subject). By default it's set to "-Sent via Email Yourself!" This feature was implemented so you could setup a gmail filter/label to filter out emails that you send to yourself: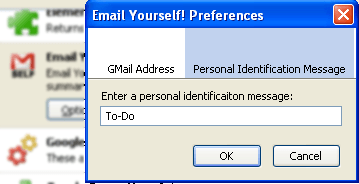 After you are done, chances are you won't find the addon icon anywhere. This is because FireFox hides new icons by default. To find it:
Navigate: View -> Toolbars -> Customize (or right-click on one of your toolbars and click "Customize")
Find the icon and drag-and-drop it to the place in your toolbars you want it to be: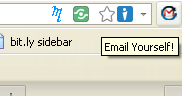 Try the tool:
When on a web page you want to add to your tasks (read or research earlier), select some text and click the "Email Yourself" icon. What you should see now is the "Compose Mail" screen containing the page info and the text you selected:
Now, go to your Gmail inbox (the message you have sent should have skipped it according to the above settings), locate your TO-DO folder and find this message there (starred and labeled accordingly):

A great additional task manager tool worth trying out! What are your thoughts?