Over the past weeks, I've come across a few highly valuable and inspiring articles on using Gmail filters as well Outlook rules for better productivity. This actually goes about organizing your email more effectively in order to do your job better and faster.
This prompted me to optimize my SEO process using email filtering to a achieve higher productivity. Just an hour or so of playing resulted in quite a few cool tips I am thrilled to share on SEJ:
1. Create a separate folder / label to store your weekly analytics reports
I use Google Analytics reports feature that sends me CSV traffic reports weekly. Now I have a separate folder to store all those report. I have also set them up to skip my inbox because I can now access my folder any time to find the most recent one (the latter one is optional. Some people prefer to receive the reports to the inbox and thus be reminded to go check their traffic / rankings trends).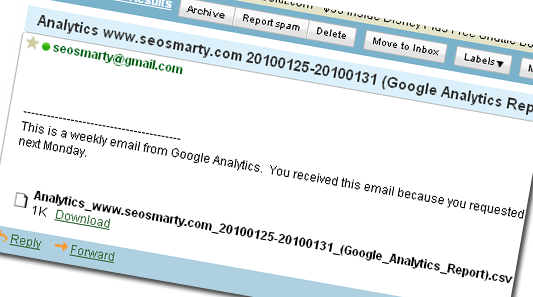 2. Automatically star Google Alerts updates.
Like many other Internet marketers I use Google Alerts to track my brand name mentions. I now automatically star all updates coming from Google Alerts service to unstar them once I go through the updates.
3. Store client work in various folders
I have set up filters / rules for mail from my clients to get sorted into different folders. Now, once a message comes from any of my clients (From:*@clientdomainhere.com), it gets into the separate folder dedicated to this client. I can thus store and quickly access all the email correspondence from any person.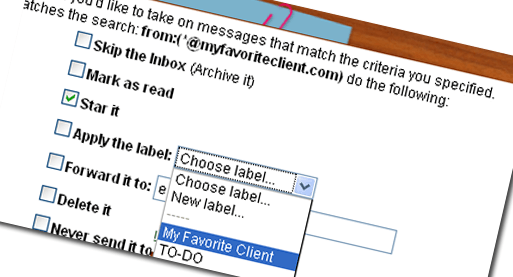 4. Send yourself reminders of upcoming tasks
I have created a separate label / folder to store the reminders. Now once I need to remember to do anything, I send an email message to myself and this task is stored in my TO-DO folder unread until I go and do that.
5. Send reminders to others
I can also automatically forward specified messages to the people I manage for them not to forget to do the task. For more detail on this one, refer to my Gmail productivity post on MUO.
6. Send an SMS to your phone once your story gets Dugg
Well, actually I haven't seen this one in action yet because none of my posts has been dugg since the last week but I have this set up. I use BLVDstatus to update me via email once my webpages see some unexpected traffic spike. Then I use this post as the guidelines for setting up SMS alerts for those email messages.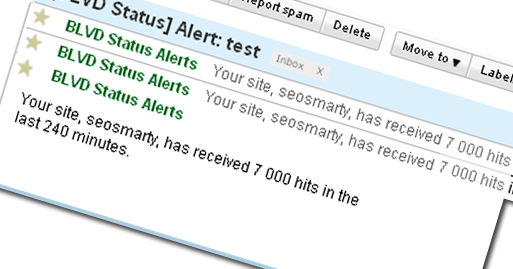 7. Get uncluttered: filter social media updates
As much as I love my social media friends and always vote for all the stuff they share with me, the updates keep me from being productive by instant updates in my Gtalk. It is much more efficient if I access one folder daily and read all the shares and vote for them in one go.
Therefore I have created a separate label for Mixx, Digg, StumbleUpon, etc shares and now those updates skip my inbox and go straight to "Social" folder. They are marked unread there until I enter the folder, read every message, check the story shared and vote for it.