Last time I posted a tutorial on creating quick search ("smart keyword") bookmarks in FireFox enabling you to quickly search any site or search engine right from the address bar. This time I am sharing my list of 17 quick searches that (if you are like me) you will find useful.
17 SEO related quick searches you might find helpful – with this list you don't need to create a quick search bookmarks yourself. All you need is:
Right-click the link;
Choose "Save Link As…" and save;
Go: Bookmarks =>Manage Bookmarks => Import;
Choose the saved page… and you are done!
Alternatively, you can go to YubNub, install their search plugin and instantly access all the below quick searches (I created all the bookmarks there also).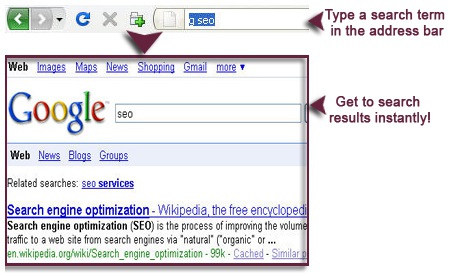 Here is what you will find in the list:
Search Engine Journal: find latest search engine news and SEO tips at SEJ;
SearchEngineLand Quick Search to search Search Engine Land;
Mashable.com Smart Keyword Search;
Flickr Tag Quick Search;
Twitter Quick Search to look through discussions at Twitter;
Search through Archive.org to look up any site previous records;
WebmasterWorld.com Quicksearch to browse SEO-related discussions at WW forums;
Google and Yahoo Search to search both Google and Yahoo;
Search Google Insights to perform keyword research with Google Insights;
Google Trends for Websites to check Google Gtrends for any website;
Search Google Trends to research any term trends;
Domain Tools WhoIs lookup to access Whois information for any domain name;
TheFreeDictionary Quick Search to find related words and definitions;
Urban Dictionary Quick Search to look up a slang expression in Urban Dictionary;
Delicious Tag Search to search through tags and submissions at Delicious.com;
Google Webmaster Help Group to search through Google-related discussions and troubleshooting;
Seroundtable Smart Search to find recent SEM news at Seroundtable.com.
You can also check the list of FireFox quick searches shared by LifeHacker.