Content marketing is seriously on the rise, as an integral form of brand and online marketing.
It dominated in 2016, and it's fixing to claim even more ground in 2017.
Right now: 200 million people use ad-blockers (which means that content is virtually the only way to reach them), 88% of B2B marketers are using content in their marketing strategy, and it's a well-known fact that the ROI on content is higher than it is for traditional advertising — brands relying on inbound marketing save over $14 for every new customer acquired (Hubspot).
Along with this, it's no surprise that over 150,000 digital marketing jobs are predicted to be open by 2020. With the rise of content marketing as a whole is the need by hundreds to thousands of companies for a smart "content marketer." I see companies all the time listing relevant jobs applicable to content marketers. A few of the titles: "Content Specialist," "Content Strategist," "Inbound Marketer." What they really need? A super-savvy content marketer!
Are you on the road to becoming a modern-day content marketer? Your skill sets will be in demand.
On the fence, a maybe-but-not-so-sure-yet that you're a natural-born for this calling? Here you go: the top 10 signs that make up a fabulous, modern-day content marketer! Enjoy.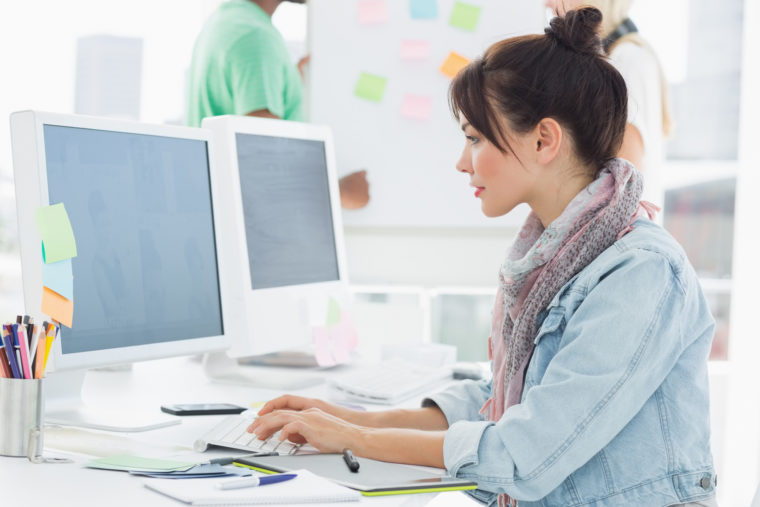 10 Signs You Were Naturally Born to Be a Content Marketer
If you're wondering whether you were born to be a content marketer, consider these ten tell-tale tips (straight from the pen of a Top 50 Content Marketer for 2016):
1. You Live on Coffee (and Books)
You have to live on coffee to be a content marketer. Because, coffee. This nectar of the gods is actually the stimulant of energy and concentration, all necessary to a content marketer's daily lifestyle.
Also, reading. If you don't love to read, you won't love content marketing. Seriously. It ties into #2.
Did you know reading is a natural intelligence booster? (You already did, if you're a natural-born content marketer.) You learn new vocabulary; your brain is enriched with storytelling. Reading is huge for a more enhanced lifestyle.
2. You're All About Improving Your Skillset and Self-Teaching
If you can't take critique or learn and adapt quickly, the truth is you won't be a great content marketer.
The best content marketers learn new blogging skills almost every day. I optimize headlines according to what tools like Yoast and AMI's Headline Analyzer reveal (heck, we take critique from a robot!).
Self-learning is essential.
This ties into being self-disciplined. If you're able to self-discipline and self-learn on your own time (this could include working from home), you're a fantastic candidate for a content marketer. If you tend to pick up the TV remote all the time when left alone working from the couch — content marketing may not be for you.
3. You Did Well in (and Liked) English Classes
Go all the way back to grade school here. If you naturally did well in English, you're probably an excellent written communicator — and great writing is the key to content marketing. Even if you had to learn to write well, you're not ruled out. As long as you came by it somehow, and you somewhat enjoy things like reading a dictionary or learning a cool new word, or get called a Grammar Nazi now and then, you're probably a good candidate for content creation.
4. You Learn New Trends Voraciously
New trends are the name of the game in content marketing. You must love to read and learn to be a great content marketer ahead of the game. This will give you a competitive edge in the industry and help ensure you're always delivering the content your readers want and need.
5. You're Unafraid of New Platforms, Ideas, and Styles
What about starting a podcast next month? No problem, for a natural-born content marketer. (If it is a problem, don't stress out — you could just be a content marketer that's just slammed with a long to-do list.)
What about a Twitter chat? A blog tackling one of the major issues in your industry? New hashtags in your next Instagram post to target higher ROI? No problem for a natural-born content marketer.
6. You're OK Hitting up Strangers Just to Make Cool Connections
Connecting with influencers is the name of the game if you want to expand your content marketing skill sets and content value, and sometimes that feels a lot like "hitting up a stranger."
However, the resulting connection, which is super cool, is worth its weight in gold, so it'll be worth it! If you're okay with this, you're a natural-born content marketer.
7. You're OK With Living and Learning
Through mistakes, failures, and similar scenarios.
You live and learn a lot as a content marketer. When I wrote a blog that contained wrong information (publishing too fast, too late), and got called out by a major influencer back in the day — we're talking five years back — I fixed my error, lived, and learned. Today, my editing and proofreading schedule, based on the lesson I learned that day, is second to none.
I've done a lot of that living and learning throughout my content marketing career. Be okay with this life trend, and you're ready to go as a content marketer. It'll also help you be super adaptable as a person.
8. You Like Researching, the Internet, Marketing, and Tech
Remember when I talked about headline analyzers? Yeah, that type of stuff. If you like digging around on the internet, learning stuff from Google, the world of marketing, learning about new tools and features of tools as they come out (hello, Instagram Stories), you're a natural-born content marketer. Welcome to our world!
9. You're a Creative at Heart
While people think creativity is the stuff of artists and poets, it's a real, critical skill for content marketers. From finding an exciting way to tell a boring story to develop a unique approach to a brand's marketing and message, creativity plays a massive role in content marketing, and you won't cut the mustard without it.
10. You're Willing to Work Hard
Content marketing is a massive industry, but it's also tough work. Today, many content marketers spend 10 or 12 hours each day at their computers, trying to figure out the new best way to connect with audiences and make a difference online – which can be tough because content marketing is also a very dynamic industry, which shifts and changes all the time.
That said, if you're willing to work hard and dedicate yourself to the industry, content marketing may just work for you!
Content Marketing: A Great Industry and a Great Career
Even if you've never considered going into content marketing before, it's possible you were meant for this industry! If you're creative, dedicated, and excellent at self-starting, you might find that you love the flexibility, contact with clients, and creative freedom content marketing provides. Now is the perfect time to dive in and find out.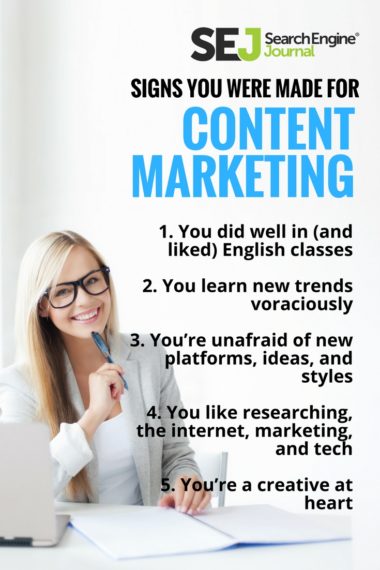 Image Credits
Featured Image: Express Writers
In-post Image: Wavebreakmedia/DepositPhotos