Ahead of Advertising Week, YouTube will be announcing Video Reach Campaigns, which offer brand marketers "simpler ways to drive growth across the customer journey with video," according to a blog post this morning by Vishal Sharma, the Vice President of Product Management at YouTube.
Now, if you boiled down the 665 words in Sharma's post, then here's what might appear in Position Zero in a Google featured snippet:
With Video Reach Campaigns, advertisers can simply upload multiple video ads into a single campaign. Then, Google's machine learning will serve the most efficient combination of YouTube ad formats to help brands reach their target audiences at scale.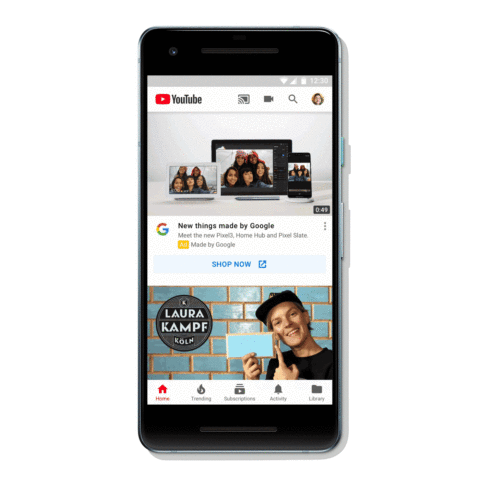 So, this announcement is bigger than a breadbox, as my mother used to say. And, it's worth noting that YouTube is emphasizing the impact of Video Reach Campaigns on big brands like Ford.
But, what's the potential impact on Madison Avenue advertising firms like the ones that will also be sending a small army of Mad Men and Mad Women to Advertising Week?
These are good questions, even if I do say so myself.
So, I'll begin by taking a hard look at today's big news story.
Since you don't know the details yet, I'll do this by providing a simultaneous translation of each paragraph from marketing-speak into plain English. And then I'll share a little instant analysis of what this means not only to brand marketers, but also for their advertising agencies.
Simpler Ways to Drive Growth Across the Customer Journey with Video
"Consumers are moving faster, jumping from channel to channel, and researching more often in unexpected ways. This explosion of touchpoints means more opportunities – and more complexities – for marketers," according to Sharma.
"But just because today's customer journey is more complicated, doesn't mean orchestrating your advertising campaign has to be," Sharma added. "At Advertising Week New York, we're sharing new ways to help marketers use video to more efficiently and effectively connect with consumers across their purchase journey."
Well, the customer journey has moved in unexpected ways, which does mean our storytelling needs to adapt to the shifting landscape.
And, yes, this requires agencies to move beyond the traditional 30-second ad and explore new narrative structures.
Generally, marketers have wanted to seize opportunities, while their agencies have wrestled with avoiding the pitfalls.
So, if the complexities go away, then that's good for the marketers, but it may be bad for their current agencies.
A Simpler Way to Drive Reach
Sharma said:
"We're constantly working on better ways to help you achieve your marketing goals – whether you want to build awareness for a brand, shift perceptions, or drive a specific action. But while it's great to have options, mixing and matching these solutions takes time and can add complexity. Today we're announcing Video reach campaigns – a simpler, more efficient way for marketers to achieve their brand awareness goals with YouTube."
Actually, television networks have been offering simpler, more efficient ways for marketers to achieve their brand awareness goals since the 1960s. It's called, "the three-martini lunch."
Perhaps, this explains why it's taken until 2019 for digital ad spending in the U.S. to finally exceed traditional ad spending. And, according to eMarketer's latest forecast, digital will surpass two-thirds of total media spending by 2023.
So, the three-martini lunch is history.
"Rather than managing separate campaigns for 6-second bumper ads, skippable in-stream ads, and non-skippable in-stream ads, now you can upload multiple video creatives into a single campaign," Sharma said. "From there, Google's machine learning will automatically serve the most efficient combination of these formats to help you reach your audience at scale. This will allow for optimized, more effective campaigns and free up your time to focus on more strategic priorities that can differentiate your business."
Now, video reach campaigns may free up a marketer's time to focus on more strategic priorities that can differentiate his or her brand.
But, the Mad Men and Women at their agency will have to put in some overtime to learn how this newfangled solution works.
Next, they'll need to update their digital marketing skills or hire a bunch of new people who have them. So, they shouldn't expect to get back home by six o'clock.
In his post, Sharma said:
"Early adopters like Ford are already seeing strong results using Video reach campaigns. In alpha tests, the automaker lowered their campaign cost over 20 percent compared to their previous YouTube benchmarks."
And Lisa Schoder, head of U.S. media at Ford, added:
"Ford is using data and machine learning technology, like Video reach campaigns, to drive a learning culture across all of our media. The positive results of the Video reach campaign not only provided cost efficiencies while maintaining effectiveness but also the confidence to implement this tactic across additional campaigns."
Now, you don't need a simultaneous translator to turn, "the automaker lowered their campaign cost over 20 percent compared to their previous YouTube benchmarks," into plain English. It's pretty obvious in any language that this means video reach campaigns are "worth the candle."
Of course, you might be curious about what Ford's previous YouTube benchmarks were.
But, we should be shocked, shocked that they weren't disclosed. I was a PR guy long before I became an SEO. So, I know how hard it was to get Schoder's quote approved by Ford's legal department. So, cut her some slack.
A Complete Solution Across the Journey
But wait, there's more!
In his post, Sharma also announced:
"For brands looking to build a full-funnel video strategy, we recommend complementing video reach campaigns with TrueView for action to drive whatever online action is important to your business. Soon, TrueView for action ads will seamlessly extend to the YouTube Home feed, a tremendous opportunity for any advertiser looking to drive more, high value conversions. The Home feed has long been a great place for users to discover their next favorite creator, and now it can be a great place for them to take action with your brand."
Now, TrueView for action campaigns enable marketers to drive leads and conversions by adding prominent calls-to-action (CTAs), headline text overlays, and an end screen to their video ads.
Many brands are already using this video campaign subtype to encourage customers to explore new products or services, share their contact information, or take other actions that are valuable to their businesses.
To see the top 2018 TrueView for Action ads from the U.S., check out the YouTube ads leaderboard – TrueView for Action edition. So, my only question for Sharma is: How soon is soon?
Reach Audiences Where They Are Watching
Finally, Sharma must believe in the rule of three, a writing principle that suggests that a trio of events or characters is more humorous, satisfying, or effective than other numbers.
Why?
Because his post included a third announcement.
The Vice President of Product Management at YouTube said:
"In addition to Video reach campaigns, we're also bringing the YouTube Masthead to our fastest growing surface — the TV screen, where daily watch time tops 250 million hours per day. This means advertisers have a unique opportunity to reach people who are increasingly cutting the cord, right where they are watching their favorite content."
Here's my simultaneous translation:
Ad budgets for TV shows have already been canceled in 2019, including "The Passage," "Fam," "The Kids Are Alright," "Happy Together," "Murphy Brown," "The Cool Kids," "Rel," "The Enemy Within," "The Village," "Whiskey Cavalier," "I Feel Bad," "The Code," "The Fix," "Proven Innocent," "Paradise Hotel," "Abby's," "The Red Line," and "The Alec Baldwin Show," can now be redeployed to YouTube.
Sharma added:
"Through the globally-available beta, marketers can purchase the YouTube Masthead on TV screens on a cost-per-thousand (CPM) basis, and customize the audiences they want to see it. Like CPM-based Mastheads on the desktop and mobile home feed, it will be available as a reserved placement to ensure brands can drive the visibility they need on the dates that matter most. It can be purchased as part of a cross-screen or single-screen Masthead buy."
Now, YouTube didn't disclose what a Masthead on TV screens costs or how many people it can reach. But, consider this:
More than 2 billion logged-in users visit YouTube each month and, every day, people watch over a billion hours of video and generate billions of views.
More than 70 percent of YouTube "watch time" comes from mobile devices. In fact, on mobile alone, YouTube reaches more 18-34-year olds in the U.S. than any TV network.
In his post, Sharma revealed:
"We know the rich audio and visual experience of YouTube on TV screens means the potential to drive upper-funnel impact is greater than ever. And according to a recent experiment we conducted with Media Science, YouTube ads on TV screens drive a 10 percent greater lift in recall than ads on linear TV. See what your creative will look like on the TV screen with our preview tool."
Now, conventional wisdom says YouTube's biggest competitor is Facebook. But, based on my analysis of today's announcement before Advertising Week, I'd say "linear TV" is the competitor that the Vice President of Product Management at YouTube is focused on.
What's linear TV?
Nearly all broadcast television services count as linear TV.
Why is YouTube focus on it?
For the same reason that Willie Sutton reputedly robbed banks: "Because that's where the money is."
Sharma's post concluded with this call-to-action:
"By focusing on marketing objectives rather than media tactics, we believe we can be a more strategic partner to help you sustainably grow your business. We hope these new solutions help you make it easier for you to get ahead of the pack and drive real results across the entire customer journey."
Now, I think it's perfectly clear who is responsible for setting marketing objectives and who is responsible for implementing media tactics. So, it's also perfectly clear who the strategic partner is that Sharma's talking to.
The only irony is that YouTube will be sharing this message at Advertising Week with a lot of people responsible for media tactics.
What Does This All Mean for Advertising Agencies?
So, now we have a pretty clear idea of what Video reach campaigns mean to brand marketers like the early adopters at Ford.
But what does today's YouTube's announcement mean to all of the people working on Madison Avenue who are currently managing media tactics for their clients?
Well, as Sancho Panza says in the song "A Little Gossip" from the 1965 musical, "Man of La Mancha" by Dale Wasserman, "You know what they say, whether the stone hits the pitcher or the pitcher hits the stone, it's going to bad for the pitcher."
No, there's no way to talk your clients out of testing Video reach campaigns.
In times of economic uncertainty – when the future outlook for the economy is unpredictable – it's impossible to ignore something that promises to lower your campaign costs "over 20 percent" and/or give you "a 10 percent greater lift in recall."
Toss in the latest buzzwords like "machine learning" and you're at risk of making a "career damaging move," or CDM, if you even question the wisdom of tilting at windmills.
So, suck it up, buttercup. If you don't master Video reach campaigns quickly, then you might lose your client to another agency that does.
Or, you might prompt your client to bring their implementation of media tactics in house. And we wouldn't want that, now would we?
What Can You Do?
Well, here's my best advice:
Don't wait for your Google Ads salesperson to contact you.
Contact him or her today and ask if YouTube plans to offer a free online training course for Video reach campaigns.
If he or she says, "I'm not sure if we plan to do that," then let your salesperson know that Google offered a free online course back in October 2012 entitled, "YouTube for the holidays." (Disclosure: I was the instructor.) Hey, if they did it once, then why wouldn't they have plans to do it again?
Then, if your client calls and wants you to launch a Video reach campaign as soon as possible, then you can say, "YouTube hasn't even rolled out their online training course on best practices for using what they've just announced at Advertising Week. But, I've already contacted them and signed up for their first one.
And did you notice that Ford's results came from alpha tests? And we'll be able to build a full-funnel video strategy "soon," but not today. So, by the time Video reach campaigns are ready for prime time, we'll be ready to implement them."
Then, you will need to race around like Mad Men and Mad Women to stay 20 minutes ahead of your client.
Hey, if a brand marketer wants to tilt at windmills, then their agency's job is to act as their squire.
But, let me share one final strategic insight:
You can't implement Video reach campaigns without a programmatic advertising platform. So, if you've already mastered programmatic buying, then you can "simply upload multiple video ads into a single campaign" and get back home by six o'clock.
But, if you haven't gotten around to mastering real-time bidding and data-driven creative yet, then you know what they say, "Whether the stone hits the pitcher or the pitcher hits the stone, it's going to bad for the pitcher."