YouTube is holding its first-ever "Small Biz Day" on June 24, an all-day event dedicated to helping small businesses use video to reach their audience.
The event is being held as part of Google's International Small Business Week as an initiative to assist business owners with growing their YouTube presence.
According to survey data, 72% of small businesses in the US say YouTube helps them boost their online visibility, using it as a tool to spotlight their products and services.
Here's more about what businesses can expect to get out of attending YouTube's Small Biz Day, which has a full schedule of panels, speakers, and a live shopping stream.
YouTube Small Biz Day: Schedule & Speakers
Small Biz Day kicks off at 12:00 p.m. ET on Thursday, June 24 on the Google Small Business YouTube channel.
The event will begin with a live shopping experience where viewers can buy from a variety of businesses across the US and Canada.
The following panels are also scheduled, along with a live workshop:
Secrets to Success (Panel): Tips and tricks to getting started and standing out on YouTube.
Stories of Resilience (Panel): Learn how business owners pivoted during the pandemic and used YouTube to connect with customers.
Create Videos That Attract Customers (Workshop): Learn how to create engaging YouTube videos for your business and showcase your products on video.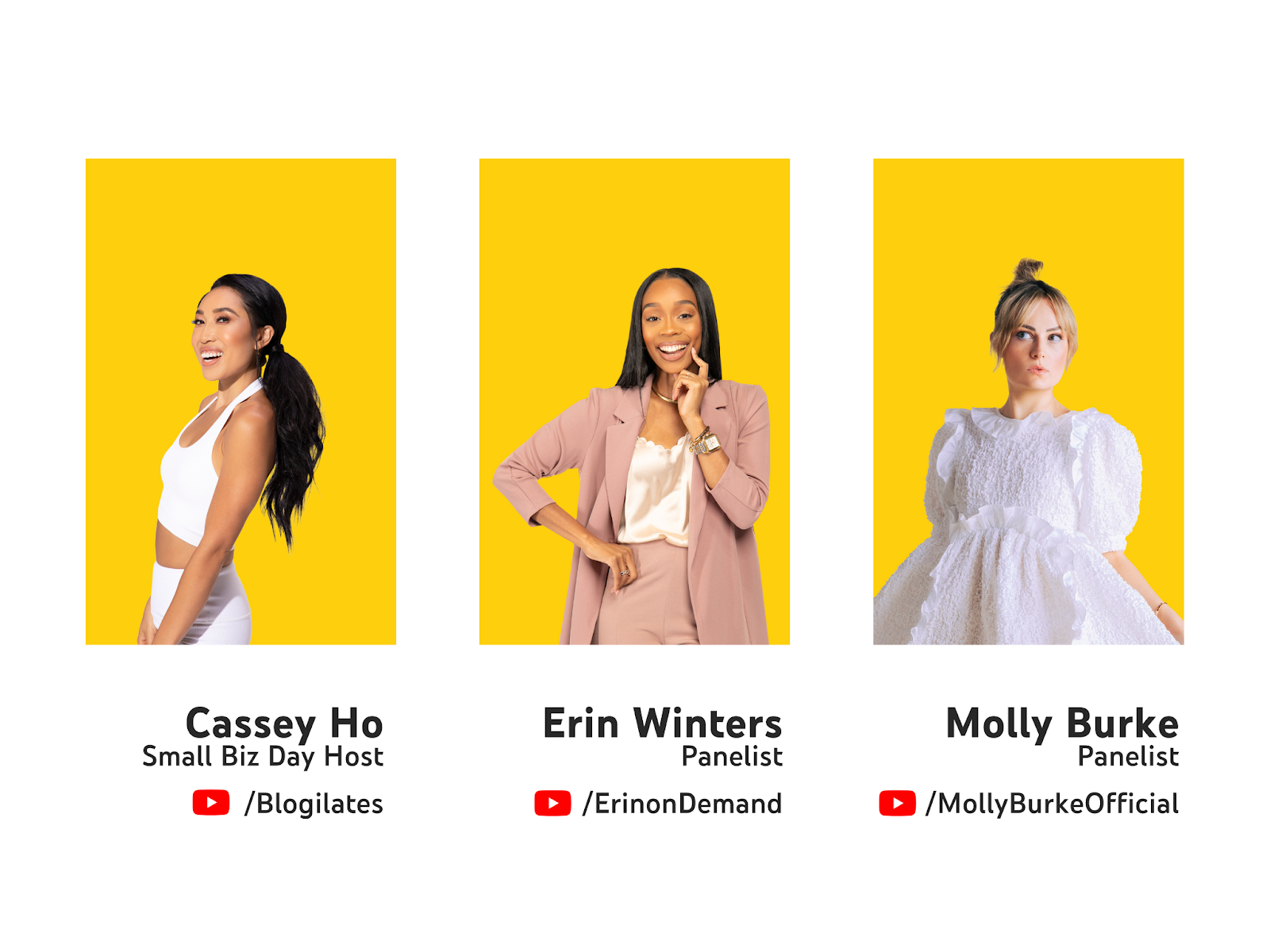 YouTube has the following speakers scheduled for Small Biz Day:
Cassey Ho (5M subscribers): 11 years of experience on YouTube, and founder of the Blogilates channel.
Molly Burke (2M subscribers): A Canadian YouTuber and motivational speaker. Content focuses on disability rights, fashion, and makeup.
Erin Winters (268K subscribers): A full-time entrepreneur who helps small business owners "take demand of their brand."
The Domestic Geek (1.94M subscribers): Champions small businesses in the culinary world.
Asia Jackson (419K subscribers): Produces content focused on makeup reviews and clothing hauls.
Tyler and Todd (84.6K subscribers): Known for their original lifestyle vlogs, how-to videos, and more.



Attending YouTube's Small Biz Day is free. You can either tune in at the start time on the Google For Small Business channel, or register in advance.
If you're unable to attend live, the content will be available afterward on demand.
Source: YouTube Official Blog