In a press release issued this morning, Verizon has announced it will acquire Yahoo for roughly $4.83 billion in cash. In 2015 Verizon acquired AOL — future plans for Yahoo involve integrating it with AOL, which Verizon's CEO believes will put the company in "a highly competitive position as a top global mobile media company."
Yahoo and AOL have a combined total of over 25 brands in their portfolio, which makes it one of the largest portfolios of owned and partnered global brands. The combination of the two companies has the potential to amplify Verizon's distribution capabilities, which is a good thing for both publishers and advertisers.
According to Yahoo internal metrics, the company has over 1 billion monthly active users, 600 million monthly active mobile users, and 225 million monthly active users of its email service. Not to mention the company has search advertising deals with Google and Bing, making Yahoo a great fit for integration with AOL which handles the bulk of Microsoft's advertising in mobile, display, and video. Certainly another thing Yahoo has going for it is that it is the third largest search engine in the US. This lends credence to the statement that the acquisition will "create a new rival in mobile media technology."
The deal is expected to officially close in Q1 2017, until which time Yahoo will continue to operate as its own company. The deal does not include Yahoo's cash, its shares in Alibaba, or its shares in Yahoo Japan. Yahoo's CEO Marissa Mayer is expected to walk away with over $50 million from this deal.
What Do Investors Think?
What's particularly interesting is that when rumors started to circulate about Yahoo being bought out, its stock price started to rise over the past few weeks. Following Yahoo's investor call this morning, its stock price has been in decline, dropping by over 2%.
Here's a look at Yahoo's stock over the past 5 days, it should be abundantly obvious when the drop started to occur: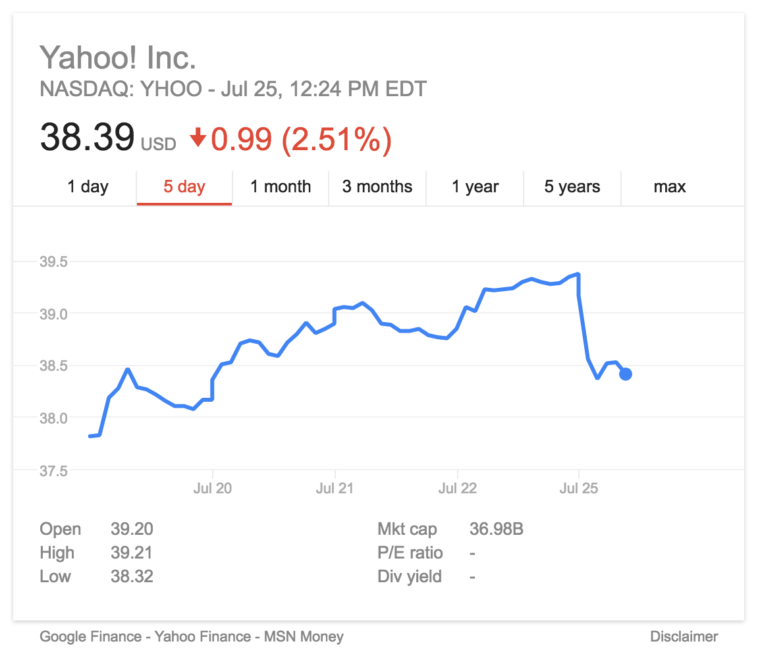 Verizon's stock has been fairly erratic today since the announcement was made, but ultimately is down by almost 1%. This is also interesting because on Friday, when it was all but confirmed Verizon would be buying Yahoo, it's stock price went up.
Here's a look at the past 5 days of Verizon stock: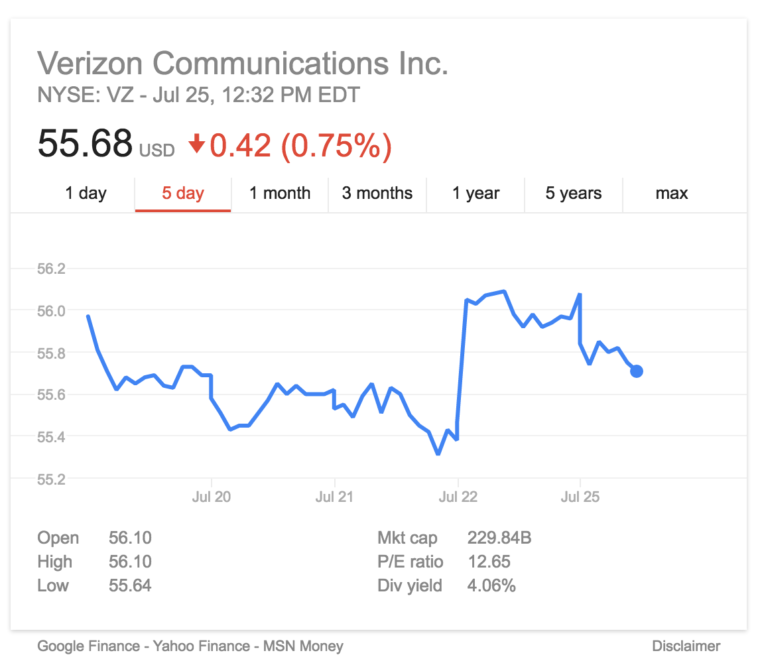 Is this a sign that investors aren't as thrilled about the acquisition as Verizon and Yahoo are? If so, why? Once the deal is officially signed, sealed, and delivered at the beginning of 2017 we will have a better understanding of the impact it will have on Verizon's mobile media business.
What Does Everyone Else Think?
By and large, the Yahoo/Verizon deal is being considered a great move. Of course, people are quick to point out how Yahoo's value has decreased over the years:
*A brief Yahoo history:*
2000: Valued at $125B
2008: Microsoft's $44.6B offer rejected
2016: Verizon buys for $4.8B

— Brajendra PRATAP (@ContactPratap) July 25, 2016

But in the end, the combination of Verizon, AOL, and Yahoo could collectively surpass Facebook and Google sites in terms of monthly unique visitors:
With the Yahoo deal, Verizon will pass Google and Facebook to become the biggest web network https://t.co/8qJdP3ydnJ pic.twitter.com/qOwEkmZsJy

— Saravanan (@sourav_0031) July 25, 2016
There's no doubt that there will be a shakeup in mobile media in the new year, and it would be wise for industry folk to pay close attention to the latest developments.