So it's Friday 13th, a notoriously unlucky day for some but with it also drawing to the close of two thousand and THIRTEEN has this been an all round unlucky year – and more importantly, has it been unlucky from a marketing, search or social point of view?
Every year see's its own mistakes and mishaps (I'm just sad I couldn't include the Susan Boyle album release hashtag of #susanalbumparty as it came at the end of 2012) but 2013 has seen some truly unfortunate PR disasters and others that are just plain senseless or distasteful. However no matter how much they make us laugh or cringe, each example teaches us, as SEO's, marketers or PR's, a lesson so that we don't make the same mistakes when 2014 rolls around. So before another happens becomes a worldwide trenching topic, let's take a look at the worst marketing fails of 2013.
HMV's Employee Twitter Takeover
Speaking of trending topics, it only makes sense to start with what is now firmly a fundamental aspect of any business's marketing strategy: social media. All companies will have disgruntled employees and none more so than HMV during its collapse at the beginning of the year, with an employee liveblogging what was hashtagged as #hmvXFactorFiring and described blow for blow the internal 'mass execution' that was taking place to HMV's near 64,000 followers.
Lesson: Always know who has access to your social accounts, especially in possible times of turmoil. The most embarrassing moment of the Twitter takeover comes with the tweet: "Just overheard our Marketing Director (he's staying, folks) ask "How do I shut down Twitter?"" Ouch. Social is so important today, know it through and through and don't allow just anybody on to the account as it is the most easily accessible version of your brand's voice.
Tesco's Horsemeat Tweet
Staying with Twitter for a second, here's another lesson in how vital keeping a handle on your social accounts is. Most of us will remember the Tesco Horsemeat scandal that also came about in January which in itself was a PR catastrophe, but what added flames to the fire was a scheduled tweet reading "It's sleepy time so we're off to hit the hay". Of course the tweet went viral and the supermarket giant was forced to apologise.
It's sleepy time so we're off to hit the hay! See you at 8am for more #TescoTweets

— Tesco (@Tesco) January 17, 2013
Lesson: There's nothing wrong with scheduling posts but keep account of everything that is set to be going out. The horsemeat scandal broke on the 15th and the tweet went out on the 17th, giving the Tesco team more than enough time to stop it from sending if they had at least checked that day what was set to be tweeted.
The Pepsi x Bape Font Fail
Over to good old fashioned advertising now and a collaboration between Pepsi and Japanese clothing company BAPE's sub-brand Aape that had subway goers scratching their heads as the choice to stick with Pepsi's font for 'Aape' resulted in it reading 'Pepsi x Rape'.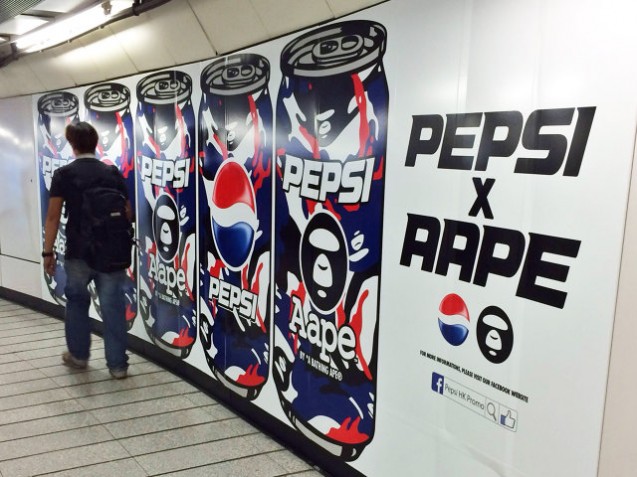 Lesson: How was this even allowed to happen? It's hard to know how this actually made it out with 2 big companies at play but the main lessons here are (aside from common sense) to check and check again and to ask others outside your team for their thoughts. At times you can be too involved in designs or ideas, so take a step back and get some thoughts from someone who isn't connected to the campaign at all… because in the end they're the people that will be seeing it when it does launch.
The Magna Carta Holy Fail
2013 was also the year that saw a first for the music industry with Jay-Z penning a $20 million deal with Samsung to exclusively release his new album to 1 million Samsung Galaxy owners almost a week before it hit stores. Brilliant PR stunt right? Well this is 2013 so not only did the app crash and prevent fans from downloading and viewing its other exclusive behind the scenes content, but questions were also raised about the app's terms and conditions which focused on the privacy of the consumer.
Lesson: Thorough testing is paramount. Now it can be argued that Samsung would not have foreseen the huge demand for the app and therefore the album, but this is Jay-Z we're talking about so that would have been extremely naive. If apps or any form of technology for that matter play a part in a campaign, test and ensure you have the resources to keep up with heightened demand.
A Misleading, Misjudged Infographic
From one end of the spectrum to the other, this infographic shows that even lesser known names get picked up if you do it wrong. Seemingly everyone has jumped on the infographic bandwagon over the past 3 years and Great Lakes, Student Loan Company e-mailed out one which led to widespread criticism as it appeared to quite boldly suggest that the only way not default on student debt was to engage with their social media accounts. What do you think?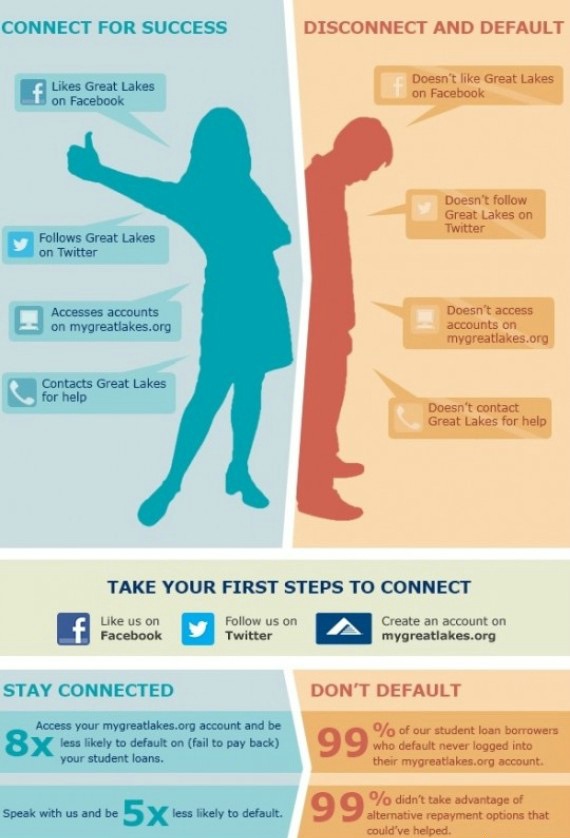 Lesson: There's quite a few lessons to be learnt here. First of all, don't be so blatant in trying to drive people to your social accounts – it'll do the opposite. Consumers need to be given a valuable and tangible reason to connect with you. Secondly, don't make such lofty claims (are the two 99% stats at the bottom believable and where is anything to back them up?) Finally, don't let this put you off about being slightly controversial or shocking with your content as that is part of what will get you out there – just ensure that everything is researched and can be backed up. I saw this in March when the company I work for gained coverage on the MailOnline for an infographic on the cost of attending a wedding. The shocking amount of money mentioned made the story yet it could be backed up with research (the comments section of course still makes an interesting read…)
Coca-Cola Forced to Bottle It
So Pepsi got a mention earlier but their rivals Coca-Cola haven't made it out of 2013 unscathed either as their recent Canadian campaign for their Vitamin Water range of pairing randomly generated English and French words on to the bottle caps backfired when a customer received the pairing of 'You Retard'. Now that IS unlucky.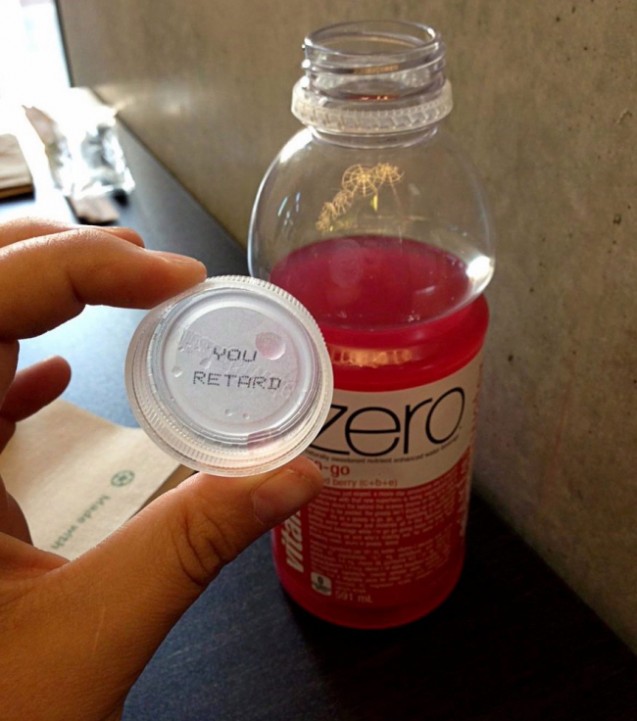 Lesson: Never leave anything up to fate or chance. We're beginning to see a theme arising here and that is that planning couldn't be more paramount when it comes to SEO, social or big PR campaigns. Here an aspect of the planning had to be 'what could happen?' when the crux of the campaign was random pairings of words. Because what could and shouldn't have happened… did happen. Think all ideas through and don't just go with the first, because it could also be said that this bottle cap idea wasn't even a good one in the first place!
The Most Distasteful Form of Piggybacking
Now before we finish with possibly the biggest story of the year in terms of search, on to something that isn't unlucky but instead plain distasteful. Earlier this year the Boston Marathon was the victim of a terrorist attack and while many took to Twitter to offer their condolences, Epicurious decided to use it as an opportunity to promote themselves with the following posts before finally apologising…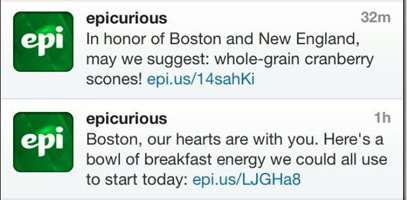 Tweets have since been deleted, screenshot from mrmediatraining.com.
Lesson: This one is obvious: quite simply, don't do anything of this nature. Piggybacking off of certain events is a brilliant idea as you can instantly tap into a wider audience, but a tragedy like the Boston Marathon or anything even close is definitely not something to use. This also goes back to the opening point about keeping close control over who is operating your social media accounts and outline strict rules and a tone of voice/'character' to be used. Only ever use positive events and even then, be much more imaginative than the above if you are trying to make an impact on an existing story.
Interflora-gate
To round off this selection of fails from the year almost just gone, I couldn't really choose anything but the story that had SEO's talking (and evidently still talking) for months. If you're on this website you should already know about it but to keep this short, Interflora – a market leader in online florists, sent a bunch (excuse the pun) of influential bloggers flowers in the hope of getting a boost in links and mentions just before Valentine's Day. The strategy worked as they did, however Google quickly weighed in and penalised them with the brand not even appearing for their own branded terms at one point.
Lesson: What happened to Interflora can be seen as Google sending out a very strong message on what they deem to be acceptable and see as 'unethical' link building strategies. So here it is all about keeping it natural or keeping it 'nofollow'. Interflora's stunt could very much have worked in terms of building blogger relationships for future links and gaining traffic through social mentions but by keeping all links 'follow' you're instantly running the risk of appearing on Google's radar and slipping down the rankings because if it.
There you have it, quite possibly the biggest marketing blips of 2013, (unless you've come across any others to tell me about?) and the lessons we can all take away from them. Now let's just hope none of us end up in a 2014 list!
Image credits: reddit, Blake Loates Facebook, and abovethelaw.com