There is a good chance that you've already heard about all of the drama recently with Google slapping all the search rankings away from Interflora, one of the top floral web sites on the internet, after they sent a bunch of bloggers free flowers in exchange for hopefully getting some nice mentions on these bloggers sites. If you haven't, here's the full story.
If someone sent you flowers out of no where for Valentine's day… would you blog about it (if you were a blogger)? Of course you would, especially with Valentine's day right around the corner (at the time) and if you had a blog that was focused on flowers and gifts or about your everyday life and blogging occurrences.
Well, that is exactly what Interflora did and also getting what they expected… a bunch of bloggers thanking them and linking back to their site. What they also got and DIDN'T expect, was Google giving them the smack down for their "unethical" link building methods.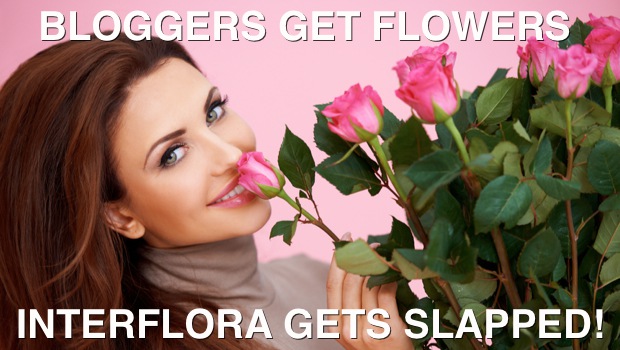 When it comes to building links on the internet, we all have a good idea of what's ethical in Google's eyes and what isn't… so to many it was surprising to see Interflora get nailed so badly in the search rankings for their little promotional stunt. The problem wasn't that Interflora was providing bloggers with free gifts, the issue was that the links weren't set as "nofollow". Had all of the bloggers linked to Interflora using this simple tag, no one would be talking about this today.
Here we are now a week later and it looks like Google is giving back some love to the Interflora site and letting them rank in the search results once again. Even if you've never heard of Interflora, they are still a massively huge site and have ranked in the top three for very highly sought after terms like "flowers", "mothers day flowers", "flower delivery" and even "roses". In other words… they had some pretty amazing organic rankings that are nearly priceless!
Now after the Google slap, Interflora is starting to appear in the results again, but not where they used to be. At one point the site wasn't even ranking for "Interflora" in the organic search results, and only their paid advertisements were appearing.
Even with Interflora back in the search results, many SEO and online marketers have had their say on the situation and we've highlighted a few of the best ones below.
There's millions of sites on the internet, and many of them are already established and talking about products that Interflora already sells. Linkresearchtools.com goes into detail on 101 different ways that Interflora could have focused on building links without getting penalized by Google.
With all of the Google slapping going on, SEOBook is letting everyone know that Google should start following their own rules. Aaron Wall points out that Google is currently buying links and running advertorials of their own!
Interflora suffers SEO setback for Mother's Day
The Independant brings up an interesting point, which is that Interflora was extremely lucky that their site wasn't slapped before Valentine's Day… but with the current damages in place they are definitely going to be hit hard during the massive flowers and gifts that will be purchased during Mother's Day.
Yes, Interflora is back in the search results and Google is on the prowl and looking for others to make examples of… the big question is "who and what is next!?"
So what are your thoughts on the whole Interflora link building and Google smack down situation?